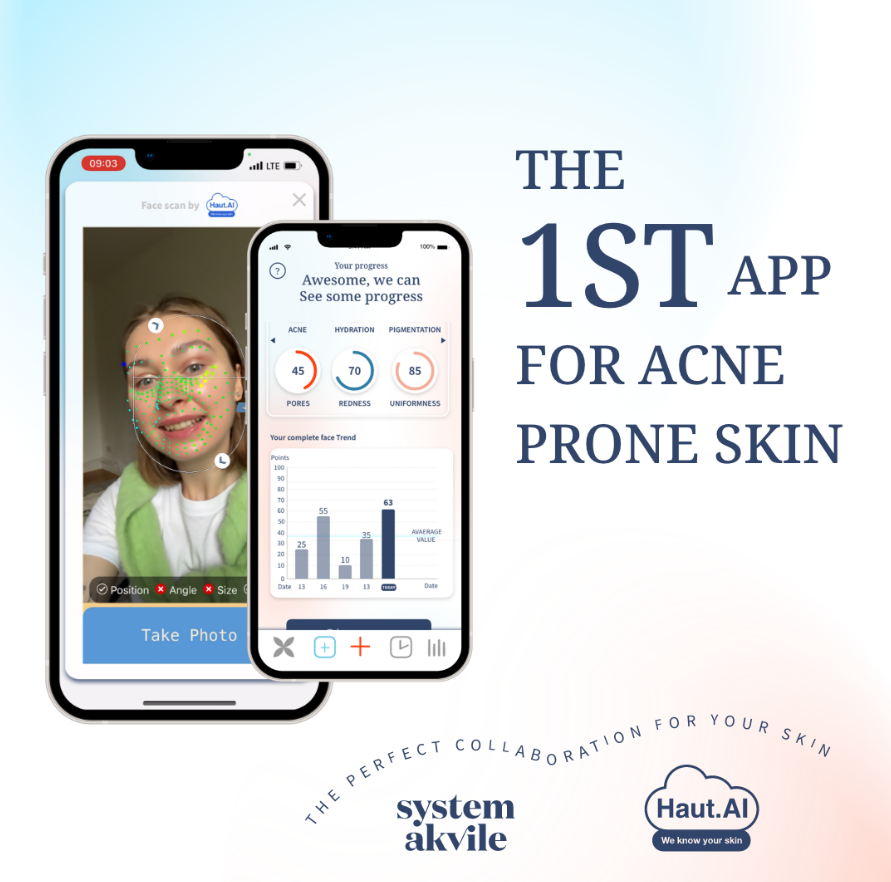 System Akvile is an all-in-one app for skin health, with the initial mission to help people with acne prone skin. Acne is the eight most common disease with a global prevalence of nearly 10%. It affects over 40% of Millenials and GenZs.
People with acne-prone skin often live in the long shadow of the condition. Standards of beauty portrayed in the media, reinforced by brands promoting their products, create unattainable and unstainable skin-care practices. Combined with societal misconceptions about the condition, they can be left with little hope and an abundance of disappointment.
"People with skin conditions often feel like they are perpetual flaws. This comes from long-standing myths, inaccuracies, taboos, and they are constantly reminded of it by today's distorted standards of beauty. They are in charge of their skin, but not in control. This is neither healthy for the skin nor for the mind. We want to put control in their hands with innovative and accessible tech." Explained Dr. Akvile Ignotaite, the founder of System Akvile and a data-scientist.
System Akvile does skincare differently by creating a comprehensive approach - identifying triggers, tracking progress, and educating users with scientific facts. This helps users understand the effect their lifestyle has on their skin's condition. Haut.AI technology plays an important role by implementing a set of AI algorithms in the app to produce high-quality scan data, with the capability to assess up to 150 visual wellness biomarkers of the skin. This powerful combination delivers accurate personalized analysis of the skin, tracks changes and ultimately gives users the knowledge to manage their skin health.
"This partnership is an example of the social impact that Haut.AI technology has. Holistic evidence and scientifically proven methods for achieving acne free skin developed by the System Akvile team combined with accurate biologically relevant skin analysis by Haut.AI is the real beauty tech opposed to just trying being beauty tech. Our partnership gives consumers more than just data - we are giving understandable and actionable insights for higher quality life and well-being." said Anastasia Georgievskaya, CEO of Haut.AI.
The Haut.AI technology has already received 17,000 face scans within five months of its integration into the app. This high-rate of adoption suggests that there is a need for best-in-class technology among users who are looking for an effective solution to their chronic skin condition.
The insights and learnings from the acne-prone users will help open up opportunities for people with other skin conditions.
About System Akvile
System Akvile wants to change the approach to skin health. The market is currently highly fragmented and does not meet the short and long-term needs of people with skin conditions. With rising numbers of people who suffer from skin conditions an innovative and sustainable approach is needed.
System Akvile's all-in-one data-driven app will make this change with data-analytics, clinical science and best-in-class technology. This is presented in an easy-to-understand and user-friendly platform. Through a personalized experience that caters to each and every skin need, the app breaks the trial-and-error cycles and prevents associated mental-health consequences.
Founded by Dr Akvile Ignotaite, the app launched in 2021 focusing on acne-prone skin. Since then, it has gathered significant user numbers and confidence levels. Plans are underway to add other skin conditions.
About Haut.AI
Haut.AI is a leading global artificial intelligence company specializing in skincare and longevity. It combines advanced deep learning techniques for machine vision, deep generative models for synthetic data generation, and reinforcement learning with expert human dermatologists, nutritionists, and biogerontologists for the development of advanced hyper-personalized recommendation engines for beauty, skincare, and longevity.
Haut.AI is headquartered in Estonia, the digital hub of the European Union. It prides itself on supporting diversity and inclusion by developing AI that works equally well for different skin types and skin colors, as well as developing novel techniques for recognizing bias. The company's SaaS solution currently serves global skincare brands, retailers and contract research organizations in 27 different markets.
---
Method of Research
News article
Subject of Research
Not applicable