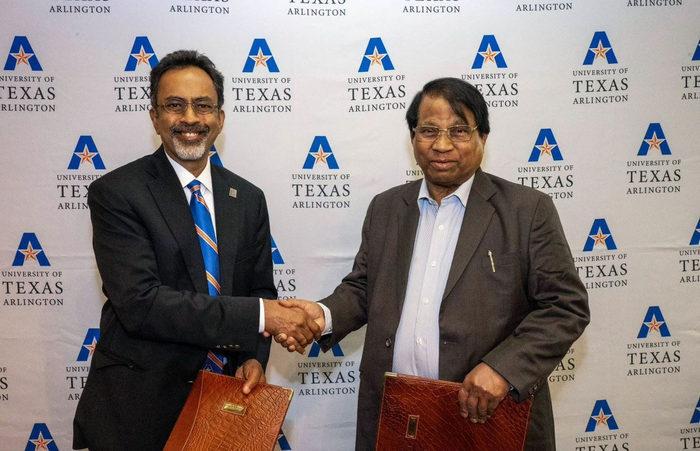 The University of Texas at Arlington has signed a memo of understanding with India's Vellore Institute of Technology (VIT) to fast-track VIT's graduates into a master's program and conduct a faculty exchange for guest lectures in India.
Pranesh Aswath, senior vice provost for academic planning and policy, said UT Arlington is always seeking to expand the University globally.
"This alliance with VIT will allow us to send students there to experience education on an international level," Aswath said. "It helps those students become more well-rounded."
G. Viswanathan, founder and chancellor of VIT, said these agreements are important in sharing research ideas and projects, too.
"We have common areas of interest and share cutting-edge technologies in research and development," Viswanathan said.
Stephen Mattingly, UTA professor in the Department of Civil Engineering, is leading the alliance at UT Arlington. A key colleague will be Sasanka Bhushan Pulipati, a VIT professor who earned his doctorate in civil engineering from UT Arlington in 2013.
"These partnerships are critical to provide opportunities for our students to engage with other cultures," Mattingly said. "They're also important to facilitate collaborative education and research opportunities with Indian colleagues in an increasingly global research environment."
UTA and VIT agreed to start the alliance in civil engineering and expand to mechanical engineering in the future. The agreement allows VIT bachelor's degree graduates to accelerate their graduate degree attainment to just one year instead of the traditional two to three years.
VIT, founded in 1984, was established with the aim of providing quality higher education on par with international standards. It consistently seeks and adopts innovative methods to continue improving its educational offerings. VIT boasts four campuses with 67,000 students in three Indian states.
The stated purposes in the agreement are to:
Promote interest in the teaching and research activities of the respective institutions
Deepen the understanding of the economic, cultural and social issues environment of the respective institutions
To achieve these goals, UTA and VIT will:
Promote institutional exchanges by inviting faculty and staff of the partner institutions to participate in a variety of teaching and/or research activities and professional development
Receive undergraduate and graduate students of the partner institution for periods of study and/or research
Organize symposia, conferences, short courses and meetings on research issues
Carry out joint research and continuing education programs
Exchange information pertaining to developments in teaching, student development and research at each institution.
---