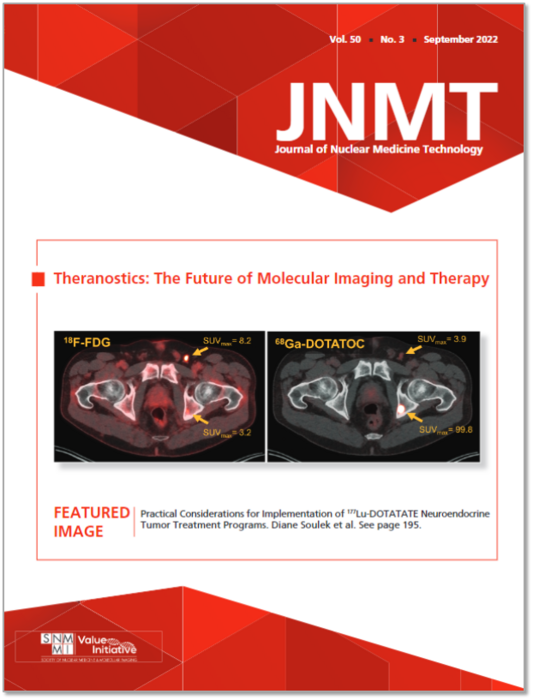 Reston, VA — A special issue of the Journal of Nuclear Medicine Technology (JNMT) focuses on theranostics, a nuclear medicine innovation that allows a cancer treatment to be tailored to a specific patient, optimizing their outcome. The issue explores theranostics as it relates to technologists and includes articles on quality and practice management, imaging, and radiation safety, as well as continuing education articles.
"Theranostics"—derived from the terms "therapeutics" and "diagnostics"—uses a targeted radiopharmaceutical to both image and treat a tumor. Theranostics is currently used to treat neuroendocrine tumors, thyroid cancer and prostate cancer and has the potential to be used for many other types of cancer in the future.
"In the past 50-plus years, the diagnostic and therapeutic capabilities of nuclear medicine and molecular imaging have significantly advanced thanks to the constant improvement in imaging technology and continuous addition of new diagnostic and therapeutic radiopharmaceuticals," said JNMT editor Kathy S. Thomas, MHA, CNMT, PET, FSNMMI-TS. "Today, excitement in nuclear medicine and molecular imaging lies in the new frontier of theranostics, and technologists are well-positioned to take an active lead as the field of theranostics grows."
Articles in the special issue include:
Going Nuclear with Amino Acids and Proteins: Basic Biochemistry and Molecular Biology Primer for the Technologist
Krystle Glasgow, Mike Dillard, Eric Hertenstein, Allen Justin, Remo George, and Amy Brady
Practical Considerations for Implementation of 177Lu-DOTATATE Neuroendocrine Tumor Treatment Programs
Diane K. Soulek, Molly E. Martin, Nic J. Mastascusa, and Stephen A. Graves
177Lu-DOTATATE Peptide Receptor Radionuclide Therapy
Amanda Abbott and Heather Jacene
177Lu-PSMA Therapy
Ephraim E. Parent, Bital Savir-Baruch, Isis W. Gayed, Frankis Almaguel, Bennett B. Chin, Austin R. Pantel, Evan Armstrong, Amanda Morley, Robin C. Ippisch, and Robert R. Flavell
The Nuclear Medicine Technologist's Role in Theranostics: SNMMI-TS Advocacy's Vision
Dmitry D. Beyder, Cheryl L. Rickley, Tricia L. Peters, Jeremy L. Iman, and Christina M. Arenas
Analysis of Residence Time, Effective Half-Life, and Internal Dosimetry Before Radioiodine Therapy
Caio Vinicius de Oliveira, Tatiane Sabriela Cagol Camozzato, Patricia Fernanda Dorow, and Jessica Pasqueta
Stability Matters: Radiochemical Stability of Therapeutic Radiopharmaceutical 177Lu-PSMA I&T
Madhusudan Vyas, Remy Lim, Jessica Fagan, and Rudresh Chandrashekar
Discordance Between Histopathologic Grading and Dual-Tracer PET/CT Findings in Metastatic NETs and Outcome of 177Lu-DOTATATE PRRT: Does In Vivo Molecular PET Perform Better from the Viewpoint of Prediction of Tumor Biology?
Aadil Adnan and Sandip Basu
Validation of Convolutional Neural Networks for Fast Determination of Whole-Body Metabolic Tumor Burden in Pediatric Lymphoma
Elba Etchebehere, Rebeca Andrade, Mariana Camacho, Mariana Lima, Anita Brink, Juliano Cerci, Helen Nadel, Chandrasekhar Bal, Venkatesh Rangarajan, Thomas Pfluger, et al.
Reducing Radiation Exposure from PET Patients
Shorouk F. Dannoon, Saud Alenezi, Naheel Alnafisi, Samar Almutairi, Fatma Dashti, Medhat M. Osman, and Abdelhamid Elgazzar
Radiation Dose to Medical Staff from Administering 177Lu-PSMA-DKFZ-617 Therapy
Elahe Mahmoudi, Elahe Pirayesh, Mohammad Reza Deevband, Mahasti Amoui, Mohammadali Ghodsi Rad, Mehrdad Ghorbani Rad, and Mahdi Ghorbani
Plus brief communications, a teaching case study, and three practical protocols.
The JNMT theranostics issue is available at https://tech.snmjournals.org/content/50/3.
###
Please visit the SNMMI Media Center for more information about molecular imaging and precision imaging. To schedule an interview with the researchers, please contact Rebecca Maxey at (703) 652-6772 or rmaxey@snmmi.org.

About JNMT and the Society of Nuclear Medicine and Molecular Imaging
Published by the technologist section of the Society of Nuclear Medicine and Molecular Imaging (SNMMI), the Journal of Nuclear Medicine Technology (JNMT) focuses entirely on the technology crucial to nuclear medicine. Every quarter the journal offers peer-reviewed articles centering on imaging and instrumentation, radiopharmacy, quality assurance, radiation safety, and more. JNMT also serves as an invaluable continuing education tool, with teaching editorials, reviews of programs, certification updates and continuing education articles.
The Society of Nuclear Medicine and Molecular Imaging (SNMMI) is an international scientific and medical organization dedicated to advancing nuclear medicine and molecular imaging—precision medicine that allows diagnosis and treatment to be tailored to individual patients in order to achieve the best possible outcomes. For more information, visit www.snmmi.org.
---
Journal
Journal of Nuclear Medicine
Article Publication Date
1-Sep-2022