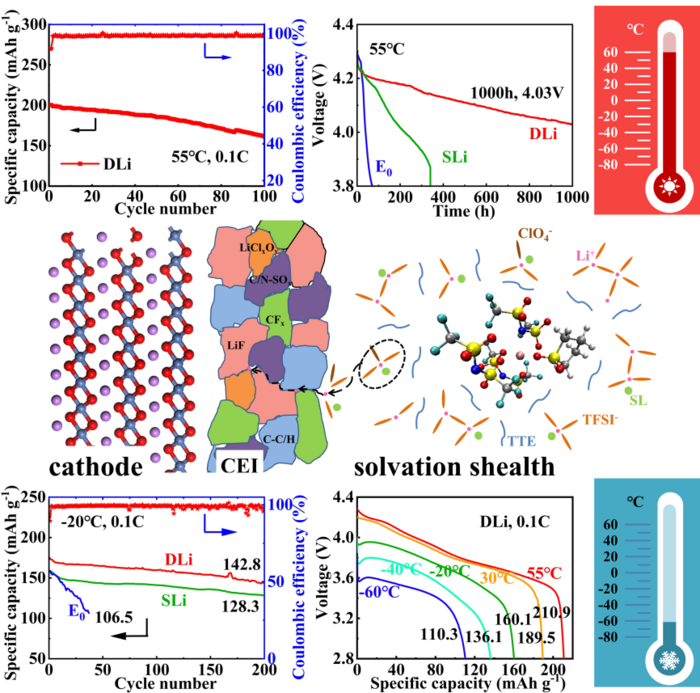 As our need for high-density batteries increases with widespread adoption of electric cars and alternative energy sources, improving the stability and capacity of lithium-ion batteries is a necessity. Current lithium-ion battery technology, which often uses nickel, is less stable at extreme temperatures, leading to overheating due to both temperature and high voltages. They also tend to deteriorate quickly.
To solve this problem, researchers are studying new chemical combinations that can address these drawbacks. In a recent study, scientists demonstrated how a solvent and an inorganic compound additive can improve the stability and performance of lithium-ion batteries with nickel cathodes.
They published their results on Sept.12 in Nano Research.
The basics of how batteries work are the same, whether you are thinking about an industrial lithium-ion battery or an average household AA battery. The cathode is the positive electrode, the anode is the negative electrode, and between them inside the battery is a solution called the electrolyte. Positively and negatively charged ions flow through the electrolyte and a chemical reaction generates electrical energy. In this study, researchers identified a sulfolane-based liquid electrolyte with lithium perchlorate added to it as a potential solution to common lithium-ion battery drawbacks.
"For nickel-based cathodes, good low-temperature electrochemical performance is usually achieved at the expense of property and safety at room temperatures. This is because electrolytes with low melting solvents deteriorate dramatically. The high volatility and flammability of these electrolytes also limit their application at high temperatures," said professor Fang Lian at the School of Materials Science and Engineering at the University of Science and Technology Beijing in Beijing, China. By adding lithium perchlorate to the sulfolane, researchers found they could improve upon many of these drawbacks.
Sulfolane is a solvent that was originally created for use in the oil and gas industry, but it is now used in many different industrial settings because it stays stable at elevated temperatures. Lithium perchlorate is an inorganic compound that is combined with the sulfolane to help maintain the electrolyte's stability. A third chemical is added to dilute the electrolyte and help the electrolyte's stability at a wide range of temperatures.
To test how well the proposed electrolyte worked, researchers created a battery using the electrolyte and performed a series of tests and theoretical calculations. They found that the solvent was able to maintain conductivity at a wide range of temperatures, varying from -60 to 55 degrees Celsius. In comparison, traditional electrolytes tend to solidify at temperatures below -20 degrees Celsius. Adding lithium perchlorate to the electrolyte strengthens the way the different chemicals in the electrolyte interact with each other and reduces the amount of energy required, making it easier for the electrolyte to work at lower temperatures.
"The diluted high concentration sulfolane-based electrolyte with lithium perchlorate additive realizes the wide-temperature application in high voltage cells. This combination improves the lithium-ion transference and reduces the desolvation energy, while inhibiting the continuous decomposition of the electrolyte and the acute deterioration of the cathode at high temperatures," said Lian. "Our work provides a comprehensive understanding of the molecular design of the electrolyte, facilitating the development of high energy density lithium batteries."
Other contributors include Yixin Zhu, Shuang He, and Jiayi Ding of the School of Materials Science and Engineering at the University of Science and Technology Beijing and Guangyu Zhao at the University of New South Wales.
The National Natural Science Foundation of China (Grant Nos. 52172180, 51872026) and the National Key R&D Program of China (Grant No. 2018YFB0104300) supported this research.
The paper is also available on SciOpen (https://www.sciopen.com/article/10.1007/s12274-022-4852-y) by Tsinghua University Press.
##
About Nano Research
Nano Research is a peer-reviewed, international and interdisciplinary research journal, publishes all aspects of nano science and technology, featured in rapid review and fast publishing, sponsored by Tsinghua University and the Chinese Chemical Society. It offers readers an attractive mix of authoritative and comprehensive reviews and original cutting-edge research papers. After 15 years of development, it has become one of the most influential academic journals in the nano field. In 2022 InCites Journal Citation Reports, Nano Research has an Impact Factor of 10.269 (9.136, 5 years), the total cites reached 29620, ranking first in China's international academic journals, and the number of highly cited papers reached 120, ranked among the top 2.8% of over 9000 academic journals.
About SciOpen
SciOpen is a professional open access resource for discovery of scientific and technical content published by the Tsinghua University Press and its publishing partners, providing the scholarly publishing community with innovative technology and market-leading capabilities. SciOpen provides end-to-end services across manuscript submission, peer review, content hosting, analytics, and identity management and expert advice to ensure each journal's development by offering a range of options across all functions as Journal Layout, Production Services, Editorial Services, Marketing and Promotions, Online Functionality, etc. By digitalizing the publishing process, SciOpen widens the reach, deepens the impact, and accelerates the exchange of ideas.
---
Article Title
The sulfolane-based liquid electrolyte with LiClO4 additive for the wide-temperature operating high nickel ternary cathode
Article Publication Date
12-Sep-2022