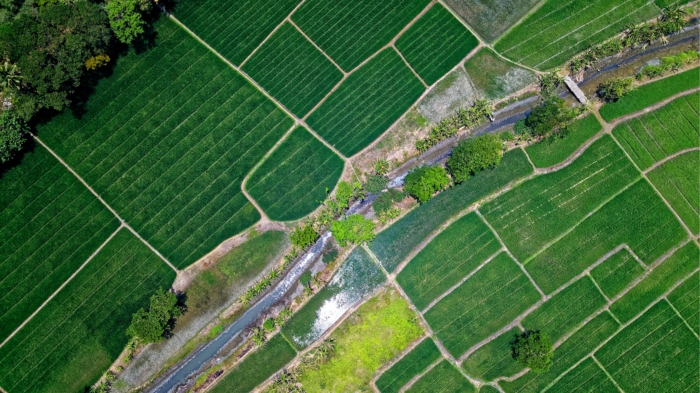 Washington, DC/Nairobi, Kenya, September 14, 2022 – CGIAR and the Linux Foundation have formed a research partnership to develop a standard way of sharing data about agricultural fields at scale, which could deliver global benefits, including for the estimated 500 million smallholder farmers that produce about a third of the world's food.
Accurate data on the location and size of agricultural fields is important for almost all kinds of agricultural analysis. Through the new partnership, CGIAR and Linux Foundation will unify data standards and standard operating procedures to support the sharing and use of field boundary data at scale. The project will support the responsible use of agricultural field data, strengthening analytics for global farming.
Sumer Johal, Executive Director of The AgStack Project at the Linux Foundation, said,
"CGIAR and the Linux Foundation are natural partners. Both are trusted intermediaries with global partner networks, facilitating pre-competitive collaboration and products for the public good. Together we can help remove the blockages around working with field data in a community-driven way."
The Linux Foundation is the world's largest open-source collaboration. Its AgStack Project is building the open-source digital infrastructure to power tomorrow's agriculture needs.
Digitalization is paving the way for extensive transformation in the agricultural sector, but the adoption and use of data-enabled applications is still fragmented and crop specific. Through its new Digital Innovation and Transformation Initiative (DI/DX), CGIAR is supporting the development of cost-effective digital innovations in the sector. Agricultural field data is central to this work.
"Global agriculture is increasingly driven by data. The sharing and exchange of well-described, reusable agricultural data can help develop solutions to some of the global food system's most pressing challenges,"
said Jawoo Koo, Lead of the DI/DX Initiative at CGIAR. "Despite growing demand, poor adoption of standards and fragmentation in the digital agriculture sector have hindered access to the data needed to drive innovation. Our new partnership with the Linux Foundation aims to change this and serve a new generation of digital agri-food services with the speed and scale to revolutionize food, land and water systems."
Accurate data on the location and size of agricultural fields can be used to calculate yields and guide efficient use of agricultural inputs such as fertilizer and seeds, or by financial services providers to develop and tailor innovative digital finance products, including loans and insurance, to meet the needs of smallholder farmers. On a larger scale, these data can be used to help researchers predict shifts in the suitability of crop growing zones and prepare food systems for a changing climate.
---
About CGIAR
CGIAR is a global research partnership for a food-secure future. CGIAR science is dedicated to transforming food, land, and water systems in a climate crisis. Its research is carried out by 13 CGIAR Centers/Alliances in close collaboration with hundreds of partners, including national and regional research institutes, civil society organizations, academia, development organizations, and the private sector. www.cgiar.org
We would like to thank all Funders who support this research through their contributions to the CGIAR Trust Fund.
About The Linux Foundation
The Linux Foundation (LF) is the largest global non-profit organization that is leading the transformation of industries by providing a neutral and trusted structure that connects a global community of technical experts with technical open-source projects. Founded in 2000, LF today has 540,000+ contributing developers from over 19,000 contributing companies across over 40 countries. AgStack is an organization / project within LF which is focused on building an open, trusted, and neutral/vendor-agnostic digital infrastructure for agriculture data and applications. More at: https://www.linuxfoundation.org/ and at https://agstack.org.
---