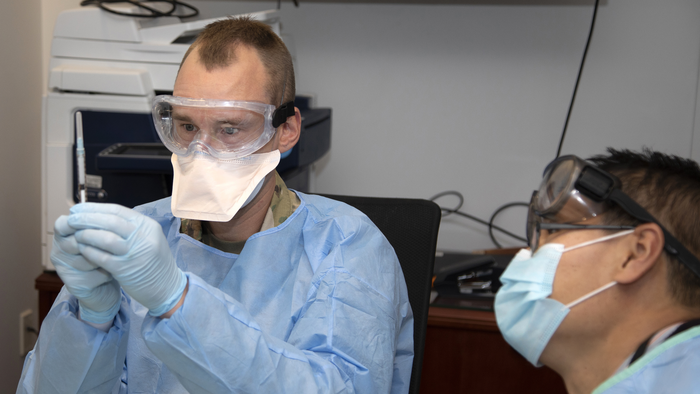 SILVER SPRING, Md. – Researchers from the Walter Reed Army Institute of Research (WRAIR) report the malaria vaccine FMP013 antigen and ALFQ adjuvant combination appears safe and immunogenic for adults in the first-in-human evaluation results published in the Vaccine journal.
Although malaria control efforts yielded steady progress over the past decade, instability introduced by the COVID-19 pandemic has resulted in a resurgence of malaria incidence and mortality. The World Health Organization estimated that, there were 241 million cases of malaria resulting in 627,000 deaths in 2020 alone.
Vaccines continue to be pursued as an important component of the portfolio to overcome these staggering numbers. While impactful, first-generation efforts, such as RTS,S/AS01 (Mosquirix, GSK), provide only moderate (30-50%) protection which wanes within months.
"The search for improved vaccine strategies remains a priority," said Col. Jason Regules, Biologics Research and Development Branch Director.
For more than three decades U.S. Army researchers have developed malaria vaccine candidates, testing their safety and ability to elicit protective immune responses against infection. The current FMP013 candidate primes vaccinated humans to produce antibodies against the circumsporozoite protein (CSP) of the malaria parasite Plasmodium falciparum.
"The vaccine design broadens the host immune response to epitopes that were not included in the RTS,S vaccine and targeting these additional susceptible epitopes on CSP could be key to an improved vaccine," said Dr. Sheetij Dutta, Chief of the Structural Vaccinology Laboratory and inventor of the FMP013 antigen.
The vaccine also contains the adjuvant Army Liposome Formulation with QS-21, or ALFQ, which was developed at WRAIR by the Military HIV Research Program. "ALFQ displays promising immune-enhancing effects and is now being tested with vaccines against a number of infectious diseases," said Dr. Gary Matyas, Chief of the Adjuvants and Formulation Section.
Preclinical studies demonstrated ALFQ to be safe and strongly potent as a vaccine adjuvant, supporting its use in this initial human trial.
"Both high and low dose of FMP013 antigen and the ALFQ adjuvant were found to be safe and well tolerated by adults," said Maj. Jack Hutter, the clinical trial principal investigator. "Both groups exhibited robust humoral and cellular immunological responses and compared favorably with historical responses reported for RTS,S/AS01."
Follow-on safety and efficacy test results in malaria-naïve adults are expected to be released by the end of the year.
###
About the Army-developed FMP013/ALFQ Vaccine
FMP013 antigen and ALFQ adjuvant are both patented products owned by the U.S. Army. The vaccine product development and clinical trials were funded jointly by the United States Agency for International Development Malaria Vaccine Development Program and the U.S. Military Infectious Diseases Research Program. The Congressionally Directed Medical Research Programs Joint WarFighter grant partly funded the adjuvant development.
About WRAIR
The Walter Reed Army Institute of Research (WRAIR), part of the U.S. Army Medical Research and Development Command, provides unique research capabilities and innovative medical solutions to a range of Force Health Protection and Readiness challenges currently facing U.S. Service Members, along with threats anticipated during future operations. WRAIR has been a leader in public health and medical countermeasures research for more than 129 years. An important part of the work has focused on vaccines against diseases such as malaria, HIV, infectious diarrhea, dengue, and SARS-CoV-2. The Biologics Research and Development Branch is an integrated translational capability spanning discovery science to clinical trials. Building off of a legacy in malaria vaccine development, their mission is to develop new vaccines and biologics in collaboration with global and U.S. government partners to address infections of military importance by maintaining robust, expert competency in basic and applied research areas in order to transition candidate products to advanced clinical testing.
New malaria vaccine candidate enters test phase
https://www.wrair.army.mil/node/653
A Trial For The Study of Falciparum Malaria Protein 013 Administered Via Intramuscular Injection in Healthy Adults
https://clinicaltrials.gov/ct2/show/NCT04268420
---
Method of Research
Randomized controlled/clinical trial
Subject of Research
People
Article Title
First-in-human assessment of safety and immunogenicity of low and high doses of Plasmodium falciparum malaria protein 013 (FMP013) administered intramuscularly with ALFQ adjuvant in healthy malaria-naïve adults
Article Publication Date
22-Sep-2022
COI Statement
The authors JNH, LS, KM, VN, PR, EA, DEL, JEM, NCW, MH, HG, CL, LZ, XQ, DRB, ED, JB, XZ, EB, JR declare that they have no known competing financial interests or personal relationships that could have appeared to influence the work reported in this paper. The authors SD, ZB, and GM declare the following financial interests which may be considered as potential competing interests: SD holds a patent on the FMP013 antigen; SD, ZB, GM have filed a patent for the FMP013/ALFQ formulation. The material has been reviewed by the Walter Reed Army Institute of Research and the US Agency for International Development. There is no objection to its presentation and/or publication.