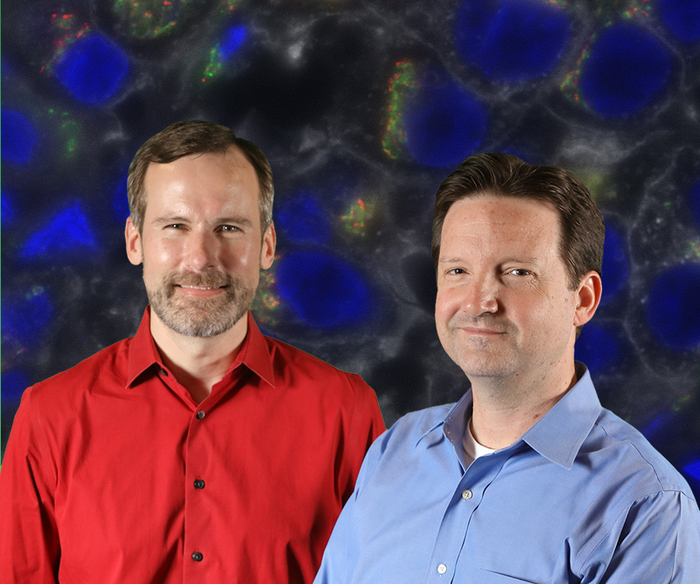 University of Virginia cancer researchers are turning their attention to the smallest components of cancer cells to try to disrupt tumor growth, and they have earned a $12 million award to pursue this promising new frontier in the battle against the deadly disease.
The grant from the National Institutes of Health's National Cancer Institute, announced today, will establish the Center for Systems Analysis of Stress-Adapted Cancer Organelles.
"Ultimately, we aim to bring hope to millions suffering from this terrible disease and its related conditions," said Jennifer L. West, dean of the University of Virginia School of Engineering and Applied Science, which is leading the new center with collaboration from UVA Health and the School of Medicine. "We are grateful to the NIH's National Cancer Institute for its investment in UVA's expertise, with the promise of illuminating new pathways for understanding and fighting cancer."
Cancer hijacks one of the body's most fundamental processes, cell replication, and causes the uncontrolled division of cells, leading to tumors and other health problems. Despite a century and a half of research, cancer remains the second-leading cause of death in the United States and the leading cause of death worldwide.
Until now, cancer research has largely focused on targeting specific genes or proteins involved with cell division and developing drugs for those targets. UVA's new center will go deeper, focusing on how genes and proteins interact with each other within organelles, the "little organs" such as mitochondria that reside within cells and perform specialized functions. By understanding the interactions and processes of organelles as a network, UVA researchers plan to identify different ways to think about therapies that can disrupt tumor growth.
"So far, cancer researchers have done a good job assembling the 'parts list' involved in cancer," said Kevin Janes, the John Marshall Money Professor of biomedical engineering at UVA Engineering and co-director of the center. "Rather than approaching cancer as a parts problem, we hope to discover how cell parts work together in a system when it comes to cancer."
"We hope to reframe how all the parts of a cancer cell work together by organizing the questions around organelles," said Matthew J. Lazzara, professor of chemical engineering and biomedical engineering and center co-director. "This new blueprint should provide fresh clues about therapies."
The National Cancer Institute thinks UVA has the right stuff to make substantial advancements, based on the University's deep expertise in systems biology, cancer biology and biomedical data sciences.
"We are immensely proud of the team of investigators who developed this grant and eagerly await the important scientific advancements that are certain to occur over the next few years as engineers, cancer biologists and oncologists work together toward unraveling cancer biology," said Frederick H. Epstein, UVA Engineering's associate dean for research and the Mac Wade Professor and chair of the Department of Biomedical Engineering.
The new research center has many affiliations with the UVA Cancer Center, one of only 53 cancer centers in the country the National Cancer Institute has designated as comprehensive. The designation recognizes elite cancer centers with the most rigorous standards for innovative research and leading-edge clinical trials.
"An essential feature of a National Cancer Institute-designated comprehensive cancer center is the ability to foster team science that is interdisciplinary in nature," said Dr. Thomas P. Loughran, Jr., director of the UVA Cancer Center. "The new research center is a great example of such success that led to UVA's designation."

Gaining New Views on Cancer at the Perfect Zoom Setting
"The sweet spot for today's cancer systems biology lies within cells – it's at the perfect zoom setting for finding clues about complex pathways and networks," Janes said.
"Cancer research focused on all genes, all proteins or all cells is very dense – so dense that its meaning gets lost in the raw information, even with the aid of computers and the most advanced artificial intelligence methods," he continued. "We need to examine this information at a scale where it naturally organizes – the organelles that make up each cell."
Lazzara said fundamentally new perspectives are needed to advance basic science research in cancer. "Ultimately, new scientific understanding translates into improved therapies," he said. "We feel an urgency, and even a responsibility, to look at the problem in new ways.
At the highest level, the aim of the center is understanding how cancer adapts to the stress of oncogenes – genes that endow cells with the ability to form tumors – in order to proceed to full-blown cancer, Lazzara said.
"We think studying the organelle parts of the system before and after oncogenes are activated and up to the point where cancer takes over the cell is a good approach," he said. "There is little-to-no systems-level understanding of how such adaptations occur and what vulnerabilities might be created for stopping cancer."
The center's plan brings together 14 accomplished researchers and research-active clinicians from across many UVA disciplines. The group has a strong track record of extensive, collaborative research with one another.
The center also seeks to grow the cancer systems biology community further at UVA through pilot grants, which will be supported by cost-sharing from the UVA Cancer Center and the Office of the Vice President for Research. With this growth, the center hopes to cultivate diverse perspectives on cancer and systems biology.
"Through great innovation and collaboration, UVA is now poised to make great discoveries in cancer research in the coming years, and this NIH grant will help our researchers move from prominence to preeminence," said Melur "Ram" Ramasubramanian, vice president for research. "This is an exemplar of convergence that is required to address the challenging questions the researchers will tackle through this center. We look forward to helping this research continue to grow."

New Multidisciplinary Research Team Builds on Bedrock
For more than a decade, the UVA schools of Engineering and Medicine, together with the UVA Cancer Center, have laid the foundation needed to accomplish the new research center's aims.
The strategic and organic evolution of research and collaboration at UVA has provided the resources needed for the new research group to coalesce and approach cancer in a novel way.
"What has been evolving over the last 10 to 15 years at the School of Engineering is a huge upswell in systems biology and computational biology approaches, including in the Department of Biomedical Engineering, where I have my primary appointment, and in the Department of Chemical Engineering, where Matt has his primary appointment," Janes said. "As a group, we have been very active in building connections with the School of Medicine's basic science faculty and clinical faculty."
"Cancer cell biology and cell signaling biology are part of the fabric of UVA," Lazzara said. "Some of our research plans are based on discoveries made at UVA by luminaries in the field decades before Kevin and I arrived here."
The Department of Biomedical Engineering, housed within the UVA Health complex, has become a highly integrated partnership between the UVA schools of Engineering and Medicine. UVA is one of fewer than 10 top research universities with schools of engineering and medicine located so close together, a proximity that fosters close collaboration.
"This center will give us a sophisticated new perspective on cancer and provide insights that could dramatically advance cancer care for patients," said Dr. Melina R. Kibbe, dean of the School of Medicine and chief health affairs officer for UVA Health. "It will be exciting to see this cutting-edge collaboration bring together the wide-ranging expertise at the School of Medicine and School of Engineering to make important strides in cancer research."
UVA has a long track record of translating research into treatments that help patients directly.
"We have clinicians at the UVA Cancer Center who are on our team," Lazzara said. "So many of us have already been working with them for a long time. We believe our research will inform their efforts to develop effective new therapies."
"The possibilities for how to combine approved drugs or investigational drugs for these therapies is immense," he continued. "You can't just guess how to combine these. We're really dedicated to making sure we incorporate the clinical aspect into our research and contribute to eventual discoveries of new treatments."
The new center's research adds to UVA's longtime strength in advanced biomedical imaging by analyzing cell structures through layers upon layers of high-resolution fluorescence images.
With expertise in both advanced imaging and data science, the imaging team will support the new research center's teams by crunching through all the high-content imaging data along with other comparative data, like anonymized patient records and diagnostics.

The Whole is Greater Than the Sum of Its Parts
In addition to providing expertise in their respective research areas and co-directing the center, Janes and Lazzara designed the center's overall research strategy – an intentional framework that supports rapid advancement.
Three complementary cancer projects will be working in parallel on organelles relevant to breast cancer, colorectal cancer and glioblastoma, the most prevalent form of brain cancer.
The center goes beyond its individual research projects through strong communication and feedback among all members, with agile and communal decision-making that guides continuous improvement.
"The magic of real discovery comes when researchers triangulate and see the same types of phenomena, making concurrent predictions in multiple different systems at different scales," Janes said. "Then, you feel like you're onto something and your hypothesis is viable.
"The sum of the center should be greater than the individual parts," he said. "We hope to identify themes in each one of those projects that generalize across the other cancer types. This is how we hope to advance all three research efforts."
The breast cancer project co-led by Janes will study an organelle that has long been involved in cell replication as far back as amphibians in evolution. It is so important to cell division that cancer cells cannot mutate it or they die themselves. Instead, cancer cells change the abundance of the organelle just enough to drive cell division forward while making errors occasionally. Janes' team has built a computer model of this organelle that makes predictions about what changes in abundance are "just right" for the cancer and "just wrong" for the patient.
"Because of the foundational work we are doing, the center's advancements have the potential for application to many cancers," Janes said. "And perhaps other diseases where the same organelles are misregulated."
The center will benefit from Janes' research and perspective as a member of the UVA Center for Public Health Genomics. Research at this center is focused on moving from basic discoveries in genetics and genomics into clinical settings with the goal of improving the delivery of health care and disease prevention.
The new center also will become part of the Cancer Systems Biology Consortium, a domestic research campaign of universities, institutes, companies and national laboratories sponsored by the National Cancer Institute with international partners across the globe. Members of the consortium share data and findings, and centers collaborate with one another across the country.
"This is the new paradigm for cancer systems biology research. Images, data and protocols developed in my lab will be shared with Kevin's lab, and with labs across the consortium, to ask if our findings in glioblastoma translate to other cancer settings," Lazzara said, who is co-leading the glioblastoma project.
"What makes this center so promising is that Matt, Kevin, and their collaborators are developing new understanding of cancer as a team with diverse expertise and perspectives and by using a systems approach that integrates computational modeling," said William S. Epling, the Alice M. and Guy A. Wilson Professor of chemical engineering and chair of the chemical engineering department.
"For me, it's doubly exciting to see fundamental chemical engineering principles applied to understanding cancer in a way that can contribute to accelerated therapeutic discovery."
Replicating Good DNA
This is not the first time that Janes and Lazzara have been involved in NIH-sponsored research centers. Both spent years working in larger teams as trainees at the Massachusetts Institute of Technology.
"Matt and I were contemporaries in a center architecture like what we will initiate here," Janes said. "When you have five or six people teaming up, and larger groups forming, brainstorming and running back and forth between labs, it is magic. There is a feeling that you're doing something important and doing it in a way that no one has ever considered before.
"It's a race to work every day because you're looking forward to whatever new surprises are going to come out from the research. If you surround yourself with like-minded individuals who are equally enthusiastic, it's like nothing else. It is a great way to work on hard problems that have enormous societal benefit."
"Kevin and I were imprinted with the same kind of exciting research experience, working on complex cancer biology problems and making discoveries through team efforts," Lazzara said. "I think in both of our minds we're really hoping that the same thing will happen here.
"We hope that, through the center, we will train the next large cohort of people at UVA who will also think and work this way. And they, too, will go out and start academic labs, run research groups in pharmaceutical and biotechnology companies, or start their own companies.
"It's fascinating that this approach was nucleated in our early training," Lazzara said.
"We're hoping to repeat that experience here and grow it in our own unique way. If what happened with us at MIT is any indication, I think this will have a very durable impact at UVA and beyond."
# # #
About UVA Engineering: As part of the top-ranked, comprehensive University of Virginia, UVA Engineering is one of the nation's oldest and most respected engineering schools. Our mission is to make the world a better place by creating and disseminating knowledge and by preparing future engineering leaders. Outstanding students and faculty from around the world choose UVA Engineering because of our growing and internationally recognized education and research programs. UVA is the No. 1 public engineering school in the country for the percentage of women graduates, among schools with at least 75 degree earners; among the top engineering schools in the United States for the four-year graduation rate of undergraduate students; and the top public engineering school in the country for the rate of Ph.D. enrollment growth since 2015. Learn more at engineering.virginia.edu.
UVA Health is an academic health system that recently expanded to include four hospitals across Charlottesville, Culpeper and Northern Virginia, along with the UVA School of Medicine, UVA School of Nursing, UVA Physicians Group and the Claude Moore Health Sciences Library. With more than 1,000 inpatient beds, approximately 40,000 inpatient stays annually and more than 1 million outpatient encounters annually at UVA Health, more than 1,000 employed and independent physicians provide high-quality, comprehensive and specialized care to patients across the Commonwealth and beyond. Founded in 1819 as just the 10th medical school in America, the UVA School of Medicine – with 21 clinical departments, eight basic science departments and six research centers – consistently attracts some of the nation's most prominent researchers to develop breakthrough treatments to benefit patients around the world. Those research efforts are backed by more than $200 million in grant funding. UVA Medical Center is recognized as the No. 1 hospital in Virginia for children by U.S. News & World Report, with five specialties rated among the top in America. More than 230 UVA physicians are honored on the Best Doctors in America list. For more information, resources, and to follow us on social media, please visit uvahealth.com.
---