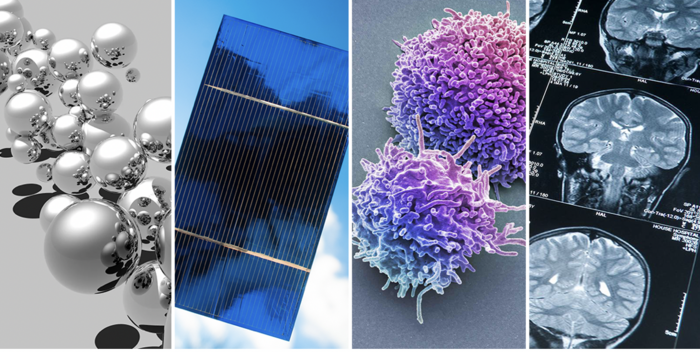 Nanomedicine
Project Title: Development of a wireless stimulating depth electrode for invasive seizure monitoring in epilepsy patients
Investigators: Ausaf Bari; Aydin Babakhani; Inna Keselman
Ausaf Bari, an assistant professor of neurosurgery, leads a multidisciplinary collaboration aiming to better understand and treat epilepsy. He and his colleagues are developing an implantable electrode for wirelessly monitoring and stimulating the brains of people confronted with serious seizure disorders. The device tackles a substantial obstacle for current treatment approaches — locating the section of the brain where seizures originate.
Project Title: Targeted sequencing panel to quantify genetic risk for prostate cancer
Investigator(s): Paul Boutros
Paul Boutros, professor of human genetics and of urology, is pushing forward a technology that may result in a comprehensive, fast and inexpensive genetic test that predicts which cases of prostate cancer will be aggressive, which is a current challenge in treating the disease. The core idea is to combine all existing genetic assessments for prostate cancer in a single test.
Project Title: Discovery of functional T cell receptors targeting prostatic acid phosphatase using nanovial technology
Investigators: Dino Di Carlo; Owen Witte
A team focused on furthering treatment approaches for prostate cancer that employ engineered T cells of the immune system is helmed by Dino Di Carlo, the Armond and Elena Hairapetian Professor of Engineering and Medicine. Applying his technology for sorting single cells and capturing their secretions, the researchers are developing a method to quickly screen T cells for potency in targeting a protein specific to prostate tumor cells.
Project Title: A minimally-invasive bioanalytics-enabled wearable technology for personalized therapeutics
Investigators: Sam Emaminejad; Benjamin Wu
Sam Emaminejad, an associate professor of electrical and computer engineering, is heading up an effort to create inexpensive wearable sensors for precision drug dosing. The devices are designed to measure levels of compounds in the body painlessly from the fluid that fills the spaces between cells, and communicate the results wirelessly. Monitoring of this type for patients prescribed antibiotics has the potential to reduce both harmful side e ects and drug resistance in microbes.
Project Title: AI-based Manufacturing of Lab-grown Human Brain Tissues for Neurological Disease Study
Investigators: Neil Lin; Bennet Novitch; Cho-jui Hsieh
Neil Lin, an assistant professor of mechanical and aerospace engineering and of bioengineering, leads a collaboration aspiring to advance research into neurological disorders such as Alzheimer's disease, Parkinson's disease and brain cancer. The investigators are using artificial intelligence to help brain organoids, lab-grown tissue used to study these conditions, better mimic processes of the actual human brain.
Project Title: Chemoselective radiolabeling with a gold(III) organometallic complex for noninvasive PET imaging of CAR-T cells
Investigators: Jennifer Murphy; Alex Spokoyny; Yvonne Chen
Jennifer Murphy, an associate professor of molecular and medical pharmacology, heads up a project designed to enhance CAR T cell therapy, an innovative treatment for blood cancers in which a patient's own cells are re-engineered to fight cancer. It's currently di cult to monitor the persistence of therapeutic cells in the body — a key indicator of the treatment's success. Addressing this need, Murphy and her colleagues are working on a technique for labeling the cancer-fighting T cells so that they can be seen in a PET scan.
Project Title: 10ps TOF PET Based on Quantum Dot Nanocomposite Scintillator
Investigators: Qibing Pei; Arion Chatziioannou
A project helmed by Qibing Pei, a professor of materials science and engineering, aims to improve positron emission tomography, commonly known as the PET scan. This imaging technology has health applications such as diagnosing cancer and monitoring the progress of its treatment. The researchers are using nanoscale semiconductor particles called quantum dots on a specialized polymer in a bid to dramatically increase the speed and resolution of PET scans.
Project Title: Explore transmission mechanism of different pathological a-synuclein conformations by mathematic modeling and high-throughput functional study.
Investigators: Chao Peng; Robert Damoiseaux
Chao Peng, assistant professor neurology, leads a collaboration examining a specific protein that is misfolded (albeit in dfferent ways) in multiple neurodegenerative disorders, including Parkinson's disease, Lewy-body dementia and about half of Alzheimer's cases. Combining mathematical modeling with state-of-the-art screening methods, Peng and his colleagues want to create new knowledge about the different forms this protein can take, and how the misfolding spreads in the brain. The team's findings could provide the foundation for new therapies.
Project Title: In vitro assays for effective inhibitor screening targeting SARS-CoV-2's RdRp
Investigators: Shimon Weiss; Robert Damoiseuax
Shimon Weiss, the Dean M. Willard Professor of Chemistry, heads up a team advancing drug discovery against COVID-19. The researchers are developing methods for molecular screening with the goal of producing insights into a specific protein that is vital for the reproduction of SARS-CoV-2 and viruses like it — and ultimately identifying ways to disrupt the process.
Sustainability and clean energy technologies
Project Title: Approach Shockley-Queisser limit in CdTe solar cells with pinning-free van der Waals contacts
Investigators: Xiangfeng Duan; Justin Caram; Adam Stieg
A collaboration seeking to improve solar cell technology is led by Xiangfeng Duan, a professor of chemistry and biochemistry. The project takes advantage of van der Waals forces — which control phenomena such as water droplet formation with attraction or repulsion between molecules at very short range — and the special, quantum mechanics-based capabilities shown by certain atomically thin "two-dimensional" materials. With these tools, Duan and his teammates hope to boost the overall e ciency with which solar cells convert sunlight to electricity.
Project Title: Aerogel-based metamaterial selective thermal emitters for radiative cooling of windows
Investigators: Aaswath Raman; Laurent Pilon; Bruce Dunn; Sarah Tolbert
Aaswath Raman, an assistant professor of materials science and engineering, heads up a team developing technology that could lower energy use in buildings. Windows account for up to 30% of buildings' energy needs for heating and cooling, so the researchers' goal is to produce a gel, combining solid and gas, that could be applied to windows as a transparent, thin film and redirect the outward flow of heat straight up to the sky.
Project Title: Engineering microbiome with functional biotic-abiotic interface
Investigators: Yu Huang; Jeff Miller; Hong Zhou
Yu Huang, a professor of materials science and engineering, helms a cross-disciplinary team working on ways to improve the performance of a bacterium, Shewanella oneidensis MR-1, that has shown the ability to produce electrical energy after feeding upon organic waste and carbon dioxide. The investigators are re-engineering the bug using silver nanoparticles, in hopes of enhancing this process and making possible microbial fuel cells that generate energy cleanly.
Research support provided by the Noble Family Innovation Fund will also fund these teams' access to the advanced imaging, screening, fabrication and chemical synthesis facilities available through the CNSI's Technology Centers. Any entrepreneurial ventures that eventually spin off from these projects will be able to apply to join Magnify, the CNSI's startup incubator.
CNSI will continue our series of webinars in fall 2022 to highlight this set of Noble Family Innovation Fund research projects. There will be additional calls for proposals in 2023. Those interested in learning more are encouraged to contact grants@cnsi.ucla.edu.

About the California NanoSystems Institute:

Established in 2000 as one of the Governor Gray Davis California Institutes for Science and Innovation, the California NanoSystems Institute (CNSI) is a hub of interdisciplinary research, translation, and education where scientists from diverse fields find common purpose in addressing grand challenges of the 21st century. With locations at the University of California's Los Angeles and Santa Barbara campuses, the CNSI leverages public and private investment to drive collaborative nanoscience research across disciplines, translates discoveries into knowledge‐driven commercial enterprises, and educates the next generation of scientists and engineers.
---