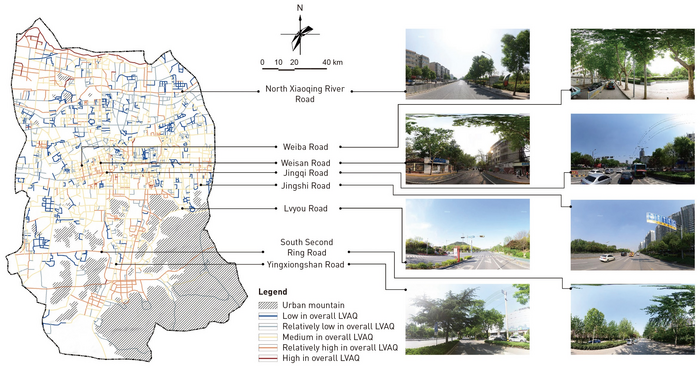 With the increasing demand of urbanization for land, Chinese cities and towns are gradually growing from plains to mountainous areas. Serving as an important ecological base and natural components of urban spatial structure, mountains partly determine a city's overall landscape layout and appearance, especially to mountainous cities. The spatial structure of "mountain–city integration" refers to planning and building urban pattern by taking mountains as structural elements at the city scale, and embodies as an urbanized spread towards the mountains at the neighborhood scale. Urban streets support citizens' daily commuting, leisure and recreation, cultural exchange, and environmental protection. The landscape of pedestrian spaces greatly affect pedestrians' visual aesthetic perception, which is defined by people's visual interaction and feedback with the landscape. In the context of promoting mountain–city integration, research on LVAQ (landscape visual aesthetic quality) assessment of urban mountains in a relatively further visual range is expected.
The study, conducted by An Qi, Xiao Huabin, Guo Yanxin, and Wu Junying, from Harbin Institute of Technology and Harbin Institute of Technology, focuses on the historic downtown of Jinan, a typical mountainous city, analyzes the landscape aesthetic visual characteristics of street pedestrian spaces. It measures the spaces' landscape visual aesthetic quality by using panoramic images; evaluates the visibility of high-visual-aesthetic-quality urban mountainous landscape to urban streets. The work entitled "Landscape Visual Aesthetics Measurement, Assessment, and Improvement of Street Pedestrian Spaces in Mountainous Cities—Case Study on the Historic Downtown of Jinan, Shandong Province " was published on the journal of Landscape Architecture Frontiers (September 14, 2022).
The historic downtown of Jinan, Shandong Province was selected as the study area, which covers an area of about 203.51 km2 and more than 1,300 streets. The study area sits in the region of the Taishan Mountains and accommodates a number of mountain parks and urban scenic areas. The study area, typically mountain–integrated, faces the challenge of how to organically improve the quality of urban slow-lifestyle spaces including street pedestrian spaces.
This study uses massive streetscape data and deep learning methods, combined with an overlay analysis on the visibility of high-visual-aesthetic-quality urban mountainous landscape (HVAQUML), to conduct overall LVAQ evaluation of urban street pedestrian spaces of multiple characteristics based on a large sample size and in an efficient method, in order to provide a reference for improving urban landscapes of mountain-integrated cities. There are mainly four stages: data collection and processing of streetscape images; LVAQ assessment of urban streets pedestrian spaces; evaluation of the visibility of HVAQUML to the streets in the study area; and overall evaluation and optimization of LVAQ of street pedestrian spaces in the study area.
The study found that based on the spatial structure of mountain–city integration in the study area, urban street pedestrian spaces with high LVAQ can not only provide citizens with visual pleasure and slow-lifestyle spaces, but also serve as corridors among mountains and other natural landscape elements in the city, so as to improve the city image by highlighting the aesthetic quality of urban mountains, especially the mountains with high-aesthetic-quality landscapes. Urban street spaces with varied levels and scales were different in terms of their friendliness to walking activities, and the specific elements that affect their visual aesthetics of the landscape also differ. Therefore, for the strategies of optimizing landscape visual aesthetic experience of urban street pedestrian spaces, streets' environmental elements related to characteristics of naturalness, diversity, harmony, openness, and disturbance should be adjusted in line with their level and scale, as well as their cultural, historical, and environmental qualities.
###
Cite this article
An, Q., Xiao, H., Guo, Y., & Wu, J. (2022). Landscape Visual Aesthetics Measurement, Assessment, and Improvement of Street Pedestrian Spaces in Mountainous Cities—Case Study on the Historic Downtown of Jinan, Shandong Province. Landscape Architecture Frontiers, 10(1), 9‒27. https://doi.org/10.15302/J-LAF-1-020061
About Researchers
An Qi, researcher from Key Laboratory of National Territory Spatial Planning and Ecological Restoration in Cold Regions (Ministry of Natural Resources), School of Architecture, Harbin Institute of Technology
Xiao Huabin, professor of School of Architecture and Urban Planning, Harbin Institute of Technology, with research interests of landscape planning and ecological restoration, urban and rural low-carbon ecological space planning and design
Guo Yanxin and Wu Junying, School of Architecture and Urban Planning, Shandong Jianzhu University
About Landscape Architecture Frontiers
Landscape Architecture Frontiers puts its focus on the intersecting spheres of academic research and design practice in landscape architecture, discussing new opinions, theories, and approaches to address environmental and ecological issues through Landscape Architecture; advocating new aesthetics and new culture which benefit the beauty of China and the world by introducing and promoting most recent practice of landscape architecture. It acts as a bridge connecting research and social needs, science and art, leading the development of the discipline. Our audience includes researchers and professional architects, faculties and students, policy makers in related fields, and people who work on the environmental constructions in both urban and rural areas.
About Higher Education Press
Founded in May 1954, Higher Education Press Limited Company (HEP), affiliated with the Ministry of Education, is one of the earliest institutions committed to educational publishing after the establishment of P. R. China in 1949. After striving for six decades, HEP has developed into a major comprehensive publisher, with products in various forms and at different levels. Both for import and export, HEP has been striving to fill in the gap of domestic and foreign markets and meet the demand of global customers by collaborating with more than 200 partners throughout the world and selling products and services in 32 languages globally. Now, HEP ranks among China's top publishers in terms of copyright export volume and the world's top 50 largest publishing enterprises in terms of comprehensive strength.
The Frontiers Journals series published by HEP includes 28 English academic journals, covering the largest academic fields in China at present. Among the series, 13 have been indexed by SCI, 6 by EI, 2 by MEDLINE, 1 by A&HCI. HEP's academic monographs have won about 300 different kinds of publishing funds and awards both at home and abroad.
---
Journal
Landscape Architecture Frontiers
Method of Research
Case study
Subject of Research
Not applicable
Article Title
Landscape Visual Aesthetics Measurement, Assessment, and Improvement of Street Pedestrian Spaces in Mountainous Cities—Case Study on the Historic Downtown of Jinan, Shandong Province
Article Publication Date
14-Sep-2022