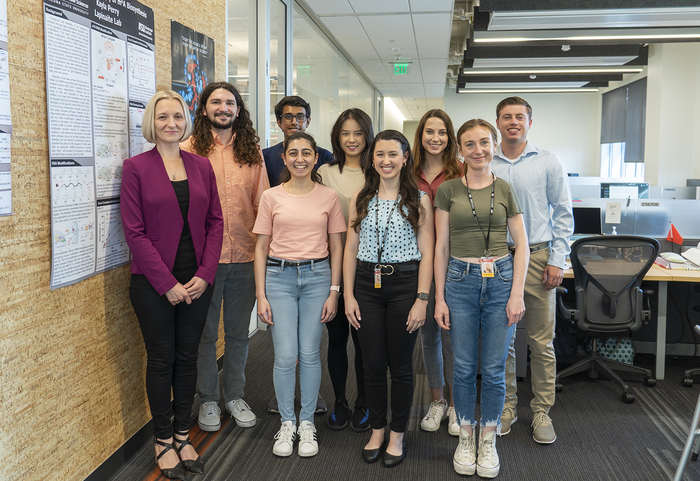 ---
There are many human genetic diseases — for example, sickle-cell disease, cystic fibrosis and Hutchinson-Gilford progeria syndrome — that currently have no cure and are caused by point mutations, for which there is a pressing need to develop precision genome editing tools able to correct these mutations with high efficiency and accuracy.
Assistant Professor Audrey Lapinaite from Arizona State University's School of Molecular Sciences and the Biodesign Institute's ASU-Banner Neurodegenerative Disease Research Center is working on this problem and has just been awarded a prestigious National Institutes of Health (NIH) Director's New Innovator Award.
The New Innovator Award specifically "supports exceptionally creative early-career investigators who propose innovative, high-impact projects," targeting investigators within 10 years of completing their doctoral degree or postdoctoral training.
"This award is the high point of my career so far," said Lapinaite. "I am extremely excited, honored and grateful to receive the NIH's support for my vision of developing next-generation genome editing approaches, which will provide us with unprecedented editing precision. This award enables my team to take more risks and fully immerse in engineering biomolecules that have very specific features and that can perform very specific tasks."
Professor Tijana Rajh, director of the School of Molecular Sciences, said, "Audrey Lapinaite and her group are doing extremely innovative molecular science, developing new genome editing tools. Our younger faculty members in the School of Molecular Sciences have an extraordinary record of achievement, and Professor Lapinaite is an exemplar in this regard."
Current CRISPR-Cas-based precision genome editing tools, such as DNA base editors and prime editors, were designed to perform such targeted conversion of one base pair to another. However, these tools have several drawbacks observed in cells, such as off-target DNA and RNA editing, low efficiency and unintended editing of nucleotides within the neighborhood of the target nucleotide (bystander editing), leading to undesired genomic changes.
Moreover, DNA base editors are able to perform only transitions (interchanging purines (A→G) or pyrimidines (C→T)) but not transversions (interchanging pyrimidines for purines and vice versa). These shortcomings reduce the targeting capabilities of current precision genome editing tools and are the key limitations of using them as therapeutic agents. Building on her recent work, which explains the molecular basis of the DNA base editors' drawbacks (Lapinaite et al. Science 2020), Lapinaite has proposed four innovative strategies to design precision genome editing approaches that address the limitations of current genome editing tools and expand their targeting scope.
To achieve their goals, Lapinaite's group is using a variety of techniques including cryogenic electron microscopy (cryo-EM), directed evolution of biomolecules, rational design and in vitro and in cellulo assays.
The four strategies proposed will yield the next-generation precision genome editing tools that, besides the direct therapeutic corrections of point mutations' in vivo, will also allow interrogating the association between multiple point mutations, gene expression and diseases (neurodegenerative diseases or various types of cancers). Thus, these DNA editing tools will pave the way for investigating the molecular mechanisms of multiple genetic disorders and enable the development of new therapeutic strategies.
Lapinaite stated that this award pushes her research group to think outside the box to make an impact in biomedicine and biotechnology: from broadening our understanding of how human genetic variations impact health, through detection and treatment of genetic disorders, to crop and livestock improvement. Lapinaite would also like to thank her mentors, collaborators, colleagues and group members for their continuous advice and support.
"The science advanced by these researchers is poised to blaze new paths of discovery in human health," said Lawrence A. Tabak, who is performing the duties of the director of NIH. "This unique cohort of scientists will transform what is known in the biological and behavioral world. We are privileged to support this innovative science."
The NIH grant number for this award is DP2GM149550.
---