Feature Story | 5-Oct-2022
Webb Telescope delivers a double
"We got more than we bargained for!"
Arizona State University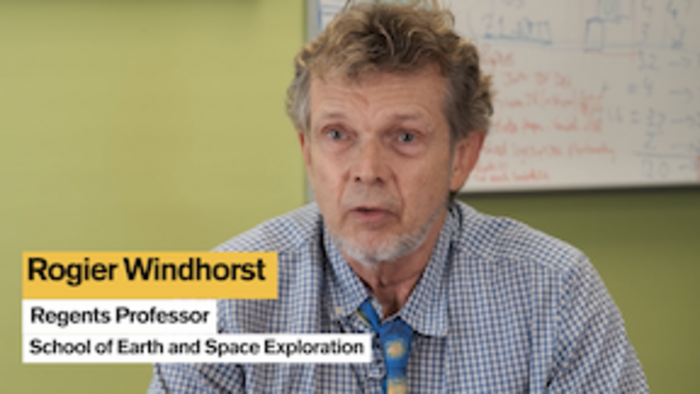 Webb Images Reveal Interstellar Discovery: Traces Light in Bright Elliptical Galaxy
ASU astronomers are sharing one of their first and most beautiful NASA James Webb Space Telescope images of a galaxy pair at a distance of about 700 million light years away from us.
Using Webb's new images and data, the team of scientists were able to trace the light that was emitted by the bright white elliptical galaxy through the winding spiral galaxy in front of it, allowing astronomers to identify the effects of interstellar dust in the spiral galaxy.
Webb interdisciplinary scientist Rogier Windhorst, Arizona State University Regents Professor and his team obtained the data used in these images from early results from the Prime Extragalactic Areas for Reionization and Lensing Science (PEARLS) JWST Guaranteed Time Observation (GTO) programs: GTO 1176 and 2738. Jake Summers, also of Arizona State, performed the pipeline data reduction [CB1]. The dust analysis was led by William Keel of the University of Alabama, while the Hubble data acquisition was led by Benne Holwerda of the University of Louisville in Kentucky. The detailed gravitational-lensing analysis was conducted by Giovanni Ferrami and Stuart Wyithe, both of the University of Melbourne, Australia
"This is a rather unique opportunity to measure how much dust has been produced in this spiral galaxy, like our own, by previous generations of stars. Mind you that this is the kind of dust that the next generation of stars and planets, and in our case people, are also formed from," said Windhorst.
Webb scientists are now able to delineate how star formation can happen in these kinds of galaxies from the gas and the dust that formed in the past. They folded in Hubble images to provide some of the bluish light, but almost all of this light is coming from Webb. The Webb images used for this study observe wavelengths longer than those visible to the naked eye (but are mapped onto our familiar family of colors to make our images). They are combined with Hubble data observing visible light to accurately model both the original light from the background elliptical galaxy, and how much it was reddened by the foreground spiral.
Disclaimer: AAAS and EurekAlert! are not responsible for the accuracy of news releases posted to EurekAlert! by contributing institutions or for the use of any information through the EurekAlert system.