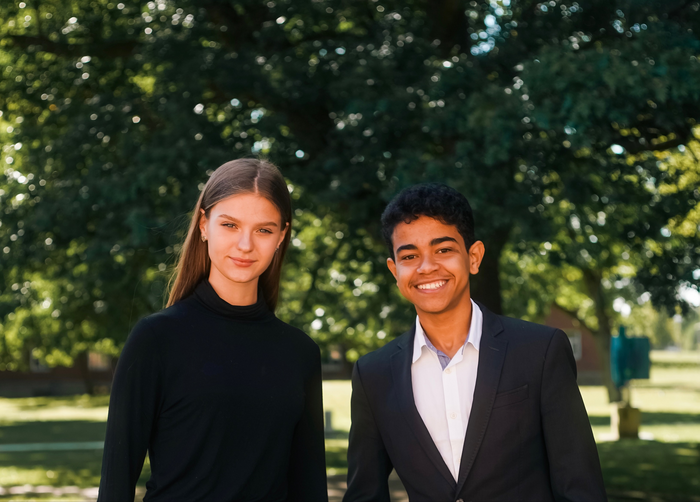 The 24-Hour Hackathon is once again organized by students of Jacobs University: by students for students. The competition will take place from November 5th to November 6th on the campus of Jacobs University in Bremen. In addition to programming, there will also be lectures, games, and workshops to explore.
The Hackathon is open to students from all over Europe and to anyone who has graduated university within the past 12 months. In addition to coding artists and programmers, creatives - such as graphic designers - are also invited to participate in JacobsHack!. The competition is not only focused on coding skills, but also on diversity, experience and creativity.
Those who don't have a team yet will be able to find one during the competition. Furthermore, mentors will accompany the event and offer support where it is needed.
This year's motto is: "Go Green!" With this, the main organizers Jana Galina Hofmann and Mourad Ouazghire take the urgent issues of the climate crisis into account. "We want to inspire young hackers to use their skills to contribute solutions against climate change. Therefore, environmentally friendly ideas for a more sustainable world will be generated and digitally implemented," said Jana, who studies Physics and Global Economics and Management at Jacobs University. Mourad, who studies Robotics and Intelligent Systems as well as Computer Sciences at Jacobs University, has already started doing this himself: He is an experienced hackathon participant and recently worked on a project called "ConnectedBin". It centers around the development of smart waste bins that transmit an alert in time to avoid waste spillage and to prevent environmental pollution.
Catering during the 24-hour competition will be provided for all participants, resting areas will be made available - and naturally, the occasional Nerf Gun Battle will probably occur.
Although the team around Jana and Mourad was already able to win over important sponsors, funding the project still is possible. Interested companies and sponsors can contact the organizers directly until the 25th of October.
So, anyone who wants to participate in JacobsHack! 2022 - whether as a sponsor or a coder - can look forward to exciting networking opportunities with speakers from the technology sector, for exchanges with mentors, as well as with creative, qualified young minds. At the same time, potential new solutions for sustainability and the environment will be created.
Register here: https://jhack2022.herokuapp.com/. Registration-Deadline for participants is the 19th of October.
At a glance:
Contact for Sponsors:
Jana Galina Hofmann: j.hofmann@jacobs-university.de
About Jacobs University Bremen:
Studying in an international community. Obtaining a qualification to work on responsible tasks in a digitized and globalized society. Learning, researching and teaching across academic disciplines and countries. Strengthening people and markets with innovative solutions and advanced training programs. This is what Jacobs University Bremen stands for. Established as a private, English-medium campus university in Germany in 2001, it is continuously achieving top results in national and international university rankings. Its more than 1,600 students come from more than 110 countries with around 80% having relocated to Germany for their studies. Jacobs University's research projects are funded by the German Research Foundation or the EU Research and Innovation program as well as by globally leading companies.
For more information: www.jacobs-university.de
Facebook | Youtube | Twitter | Instagram | LinkedIn
Contact:
Sandra Ruppel | Corporate Communications & Public Relations
presse@jacobs-university.de | Tel.: +49 421 200-4959
---