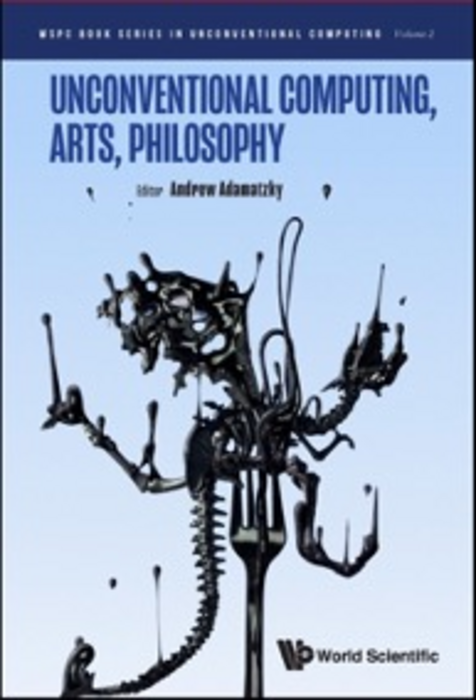 Unconventional computing is computing with novel chemical, living, and physical substrates, achieved by any of a wide range of totally uncommon techniques. While the general theory of computation allows for a variety of models, historically, however, computing technology has largely remained within the realms of Von Neumann computer architecture and the Turing machine. First developed using mechanical methods, computer technology eventually evolved into using electronic techniques—there has been little significant change since. To further computational development significantly, new technologies that have yet to exist need to be developed.
Unconventional Computing, Arts, Philosophy is a collection of a number of articles investigating the mapping and support at the implementation level, using unconventional computing approach, from the perspective of art and philosophy.
The unique compendium re-assesses the value of future and emergent computing technologies via artistic and philosophical means. It encourages scientists to adopt the thinking of artists and philosophers to approach scientific concepts in their works, and not constrain themselves within the confines of Von Neumann architecture.
The useful reference consists of non-typical topics, where artistic and philosophical concepts encourage readers to adopt unconventional approaches towards computing, and to immerse themselves in discoveries of emerging research.
While not every idea presented will necessarily take off to become the bedrock of the next generation of computers, the discussions presented will certainly enlighten readers' understanding of how to think out of the box—beyond the traditional binary system, and silicon.
Unconventional Computing, Arts, Philosophy retails for US$178 / £155 (hardcover) and is also available in electronic formats. To order or know more about the book, visit http://www.worldscientific.com/worldscibooks/10.1142/12870.
###
About the Editor
Andrew Adamatzky is a Professor of Unconventional Computing and head of the Unconventional Computing Group at University of the West of England Bristol (UWE Bristol), UK. His research interests include non-standard and nature inspired computation, theoretical computer science, artificial intelligence and crowd dynamics, mathematical biology and psychology, non-linear sciences. His recent work has included development of logical and arithmetical circuits in excitable chemical media, slime mould, and liquid crystal figures; and also, development of intelligent massively parallel actuator arrays, formal languages and complexity of cellular automata models, novel types of information processing in memristive devices, design of parallel hybrid computers from living slime mould and fungi. He authored 7 research monographs (published in Springer, Elsevier, World Scientific): Identification of Cellular Automata, Computing in Nonlinear media and Automata Collectives, Reaction-Diffusion Computers, Dynamics of Crowd Minds, Physarum Machines, Reaction-Diffusion Automata, Bioevaluation of World Transport Networks, edited 14 monographs (published in the MIT Press, Elsevier, Springer, World Scientific), authored over 300 papers in peer reviewed international journals, founded the Unconventional Computing Lab at UWE, Bristol, founded two international Journals: Int. J. Cellular Automata and Int. J. Unconventional Computing and one book series Emergency, Complexity, Computation. News stories about Adamatzky's research are published in New Scientist, Scientific American, Wired, Technology Reviews, The Guardian, New York Times, etc. He was amongst key figures in the documentary movies The Creeping Garden (2014, UK) and The Blob (2019, France).
About World Scientific Publishing Co.
World Scientific Publishing is a leading international independent publisher of books and journals for the scholarly, research and professional communities. World Scientific collaborates with prestigious organisations like the Nobel Foundation and US National Academies Press to bring high quality academic and professional content to researchers and academics worldwide. The company publishes about 600 books and over 150 journals in various fields annually. To find out more about World Scientific, please visit www.worldscientific.com.
For more information, contact WSPC Communications at communications@wspc.com.
---