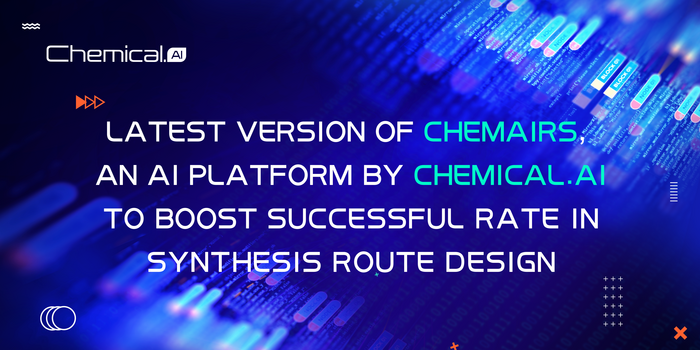 Chemical.AI has released a new version of ChemAIRS on Sep.30th. ChemAIRS is an artificial intelligence empowered chemical synthesis route design system based on AI+ big data, trained from chemists to support chemists' daily research works. There are four modules: retrosynthesis, SA score, forward synthetic, and process chemistry. With enhanced algorithm, the overall performance of ChemAIRS' has been greatly improved and the key takeaways are:
ChemAIRS can perform like a senior experienced chemist.
ChemAIRS can do route searching more efficient and route prediction more feasible.
ChemAIRS can work together with chemists with "Manual Search" function.
ChemAIRS can integrate with internal ELN and BB data and show in the routes.
A dry lab and wet lab fully integrated system with a user-friendly interface.
A free trial is on the air.
Details are stated in the following aspects:
By optimizing the stereochemistry filter model, ChemAIRS can identify reactions that present a risk of introducing chirality. Further optimization of chiral molecular route prediction has been reflected in the prediction of the synthetic route for Pfizer's new drug Paxlovid, where the algorithm gives a route that is almost same as the chemist's design.
The new "Low-Risk" mode, which uses a stricter filter and a new algorithm, can detect the potential regioselectivity issues with an enhanced aromatic nucleophilic and electrophilic reaction model.
The new "Reaction Analysis" mode can provide additional references based on reaction similarity, chemoselectivity and potential side reactions.
Adding functional group conversion module makes route search more efficient.
By optimizing "Protection steps/Protecting groups", ChemAIRS can recognize protection bases in the route and users can easily change specific functional groups for the protecting groups.
The compatibility filter has been optimized to improve feasibility.
The performance of single-step reaction prediction and condition optimization module has been improved in this version.
Based on "Manual Search" function, ChemAIRS shortens the intermediates route generation time by more than half, eliminates long waiting times and enables chemists to design routes independently and quickly.
With the collaboration of experienced algorithms and development teams, ChemAIRS has significantly improved the front-end user experience by improving the clarity of the interface chemistry, increasing the loading response speed by 120% and upgrading the drawing board.
The ChemAIRS system integrates local deployment with ELN data and implements a complete ELN data import solution by importing massive ELN simulation data into internal validation testing, as well as multiple validations by domestic and international customers, and the success rate of ELN response retrieval can reach over 99%.
According to the requirements of different project data permission control scenarios, the local deployment of ELN databases with PBAC (Project Based Access Control) import technology can dynamically configure access rights to ELN data.
Equipped with the ChemAI Lab built by Chemical.AI, ChemAIRS can integrate the intermediate "Quotation Request" module, and users only need to fill in the information online, the system will give a professional synthesis feasibility reply within 24 hours, users will no longer need to brainstorm for intermediate synthesis, ChemAIRS will provide it.
ChemAIRS has added the function of editing reaction conditions, increasing the interactivity between AI and chemists. And the modified reaction conditions can be saved by chemists' experience judgments with one click.
Back in September, XuanZhu BioPharm and Chemical.AI has announced collaboration focusing on cancer, metabolism, digestion and other fields, jointly to develop new drugs with proprietary intellectual property rights. The CEO of Shangdong Xuanzhu, a subsidiary of Xuanzhu Biopharma—Dr. Jiakui Li has commented: "the partnership with Chemical.AI could help to speed up drug discovery process. With ChemAIRS, it provides efficient and feasible routes to improve chemical synthesis efficiency." https://www.eurekalert.org/news-releases/964504
Prior to XuanZhu BioPharm, Chemical.ai also works with Pharmas like Livzon Medicine, top pharma in China, top leading pharma in Europe, and in the United States as well. In addition, several integration efforts have been done with Scilligence, NovAlix, Chemaxon.
Wanna try ChemAIRS yourself? please go to website https://www.chemical.ai/ and register with a promotion code CF41MT to redeem your one-month free trial.
And we will meet you in BioJapan 2022.
About Chemical.AI
Founded in 2018, Chemical.AI is one of the technology leading companies leveraging Artificial Intelligence (AI) and big data to transform research and development to shape the future of chemistry. Core product ChemAIRS boosts success rates in synthesis route design and prediction with diverse synthesis strategies. In 2021, Chemical.ai also established an AIoT automation lab in Shanghai to bring dry lab and wet lab together to provide more professional and efficient chemical synthesis services to the industry. For more information, please go to https://chemical.ai/
For inquires, please contact bd@chemical.ai
---
Subject of Research
Not applicable