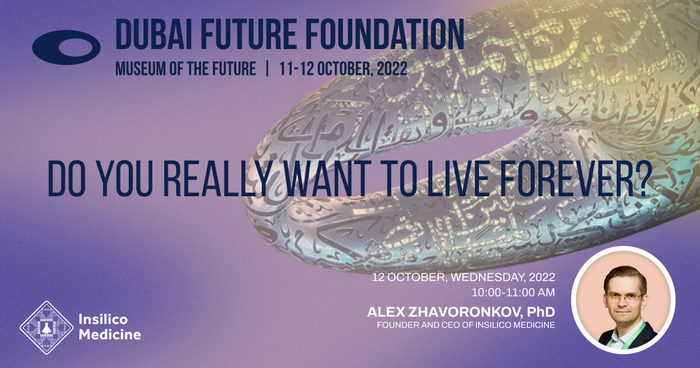 Alex Zhavoronkov, PhD, founder and CEO of clinical stage artificial intelligence (AI)-driven drug discovery company Insilico Medicine, is among a panel of experts addressing the societal impacts of longevity at Dubai Future Forum. In the Oct. 12 panel, titled "Do You Really Want to Live Forever?" speakers will address the potential repercussions of efforts to extend human longevity and reverse the aging process and disease. In addition to Zhavoronkov, the panel will feature Dr. Jose Cordeiro, Vice Chair of Humanity Plus; Dr. Hanan Al Suwaldi, Chief Business Officer of Dubai Academic Health Corporation; and Dr. James Kirkland, Noaber Foundation Professor of Aging Research at Mayo Clinic. Bronwyn Williams, cofounder and Chief Commercial Officer of Metatonic, is serving as moderator.
"I have dedicated my life to extending healthy productive longevity for everyone on the planet," says Zhavoronkov. "And Insilico Medicine's end-to-end artificial intelligence platform is capable of targeting both aging and disease. These advances must be accompanied by a thoughtful approach and rigorous scientific inquiry."
Based on the adoption of its AI platform, Pharma.AI, and related collaborations, the team at Insilico Medicine estimates that approximately 40% of large pharmaceutical companies have initiated exploratory research projects in aging research. Some of these projects have already transitioned into early-stage therapeutic discovery programs.
Zhavoronkov was one of the early founders of the Aging Research and Drug Discovery conference, which had its 9th meeting at the University of Copenhagen in September. The event is now the largest gathering of experts in aging research from academia, industry, the startup community, and venture capital.
In March, the journal Aging published a paper showing how Insilico Medicine used its drug discovery platform, PandaOmics, to identify 145 aging-related therapeutic targets across various age-related diseases like Alzheimer's, Parkinson's, and osteoarthritis in under two months. These were narrowed down into nine highly promising dual aging-and-disease targets. By training deep neural networks (DNNs) on human "omics" data, the Company has been able to generate massive quantities of synthetic data with age as a generation condition and use these DNNs to better understand human disease and aging biology. Insilico now has the first AI-discovered and AI-designed drug in Phase 1 trials for idiopathic pulmonary fibrosis.
The inaugural Dubai Future Forum, hosted by the Dubai Future Foundation, brings together over 400 of the world's top futurists across 30 sessions. The event is being held Oct. 10-12 at the Museum of the Future in Dubai, United Arab Emirates.

About Insilico Medicine
Insilico Medicine, a clinical stage end-to-end artificial intelligence (AI)-driven drug discovery company, is connecting biology, chemistry, and clinical trials analysis using next-generation AI systems. The company has developed AI platforms that utilize deep generative models, reinforcement learning, transformers, and other modern machine learning techniques to discover novel targets and to design novel molecular structures with desired properties. Insilico Medicine is delivering breakthrough solutions to discover and develop innovative drugs for cancer, fibrosis, immunity, central nervous system (CNS) diseases and aging-related diseases.
For more information, visit www.insilico.com
For media inquiries, please contact media@insilicomedicine.com
---