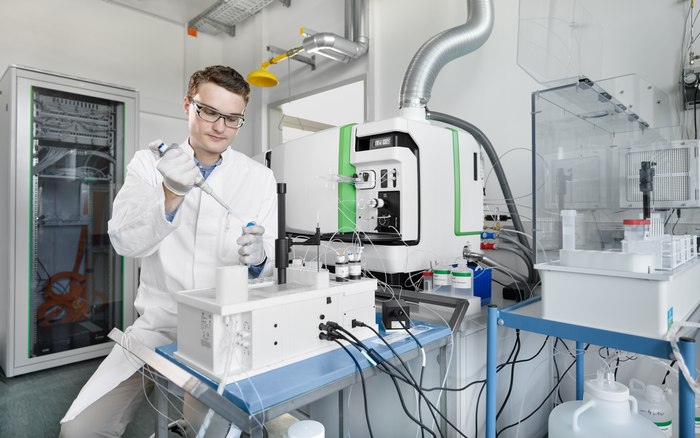 Casein makes up the majority of the proteins in cheese and quark. Although casein itself does not taste bitter, its digestion in the stomach also produces bitter-tasting protein fragments (peptides). This has been proven for the first time in a study led by the Leibniz Institute for Food Systems Biology at the Technical University of Munich (LSB). The study also suggests that the bitter peptides are able to stimulate acid secretion from gastric cells via their cellular bitter receptors. A mechanism that, according to the research team, could contribute to the long-known satiating effect of milk protein.
Not only the gut, but also the stomach is involved in hormonal hunger-satiety regulation. "We know from our own and other studies, that bitter substances can stimulate gastric acid secretion, increase serotonin release from gastric cells, delay gastric emptying, as well as exert a satiating effect," explains principal investigator Veronika Somoza. "Interestingly, protein building blocks such as the bitter-tasting amino acid L-arginine are also among the bitter substances with a satiety effect," she continues.
This gave Veronika Somoza's team the idea of testing whether casein digestion in the stomach produces peptides that, like L-arginine, can act directly on gastric cells.
Enzymatic digestion releases bitter substances
To do this, the team used pigs as an animal model, since their digestive tract is very similar to that of humans. As the study results show, physiologically relevant amounts of bitter peptides are indeed also produced during the natural casein digestion in the stomach. "We were able to demonstrate this exemplarily for five peptides using state-of-the-art food chemistry analysis methods and with the help of sensory tests," says first author Phil Richter, who holds a doctorate at LSB and contributed significantly to the study.
Further molecular biology studies by the team also demonstrate that three of these peptides are capable of boosting acid secretion from human gastric cells in a cellular assay system. The peptides are six, eight and seventeen amino acids in length. Gene expression analyses of the gastric cells and knock-down experiments also suggest that the peptides exert their effect via two gastric cell-specific bitter receptor types. The latter are also found on the tongue and are relevant there for the taste perception of bitter substances.
Peptides and bitter receptors with regulatory potential
Veronika Somoza, director of the LSB, concludes: "Our results suggest that the bitter peptides released from casein already stimulate regulatory mechanisms in the stomach that are partly responsible for the satiating effect of milk protein. Two bitter receptors are probably also involved in these." According to the Leibniz director, clinical studies are now needed to further test the regulatory potential of such peptides and also that of extraoral bitter receptors. "If our hypothesis is confirmed, it would be conceivable in the future to target non-bitter, palatable proteins for foods from which more bitter but satiating peptides are released in the stomach. These could help regulate food intake and ultimately maintain a healthy body weight," adds Phil Richter.
Publication:
Richter, P., Sebald, K., Fischer, K., Behrens, M., Schnieke, A., and Somoza, V. (2022). Bitter Peptides YFYPEL, VAPFPEVF, and YQEPVLGPVRGPFPIIV, Released during Gastric Digestion of Casein, Stimulate Mechanisms of Gastric Acid Secretion via Bitter Taste Receptors TAS2R16 and TAS2R38. J Agric Food Chem. 10.1021/acs.jafc.2c05228. https://pubs.acs.org/doi/full/10.1021/acs.jafc.2c05228
More Information:
L-arginine, gastric acid and serotonin release:
There is evidence that not only gastric distension, but also gastric acid secretion induced by L-arginine leads to peripheral serotonin release. Serotonin is a tissue hormone and a neurotransmitter involved in satiety regulation.
Source: Holik AK et al (2021). Gastric serotonin biosynthesis and its functional role in L-arginine-induced gastric proton secretion. Int J Mol Sci. 10.3390/ijms22115881. www.ncbi.nlm.nih.gov/pmc/articles/PMC8199169/
Function of extraoral bitter receptors:
A growing body of scientific work is demonstrating that bitter compounds and their receptors are important for more than just taste perception. Although bitter receptors are found on the tongue, other organs such as the stomach, heart or lungs also have these taste receptors. Which physiological functions they fulfill there is the subject of current investigations, also at the LSB.
Contact:
Scientific contact:
Prof. Dr. Veronika Somoza
Director of the Leibniz Institute for Food Systems Biology
at the Technical University of Munich (LSB)
Lise-Meitner-Str. 34
85354 Freising
E-mail: v.somoza.leibniz-lsb(at)tum.de
Phil Richter
Research Group Metabolic Function & Biosignals at the LSB
Phone: +49 8161 71-2727
E-mail: p.richter.leibniz-lsb(at)tum.de
Press contact at LSB:
Dr. Gisela Olias
Knowledge Transfer, Press and Public Relations
Phone: +49 8161 71-2980
E-mail: g.olias.leibniz-lsb(at)tum.de
www.leibniz-lsb.de
Information about the Institute:
The Leibniz Institute for Food Systems Biology at the Technical University of Munich (LSB) comprises a new, unique research profile at the interface of Food Chemistry & Biology, Chemosensors & Technology, and Bioinformatics & Machine Learning. As this profile has grown far beyond the previous core discipline of classical food chemistry, the institute spearheads the development of a food systems biology. Its aim is to develop new approaches for the sustainable production of sufficient quantities of food whose biologically active effector molecule profiles are geared to health and nutritional needs, but also to the sensory preferences of consumers. To do so, the institute explores the complex networks of sensorically relevant effector molecules along the entire food production chain with a focus on making their effects systemically understandable and predictable in the long term.
The LSB is a member of the Leibniz Association, which connects 97 independent research institutions. Their orientation ranges from the natural sciences, engineering and environmental sciences through economics, spatial and social sciences to the humanities. Leibniz Institutes devote themselves to social, economic and ecological issues. They conduct knowledge-oriented and application-oriented research, also in the overlapping Leibniz research networks, are or maintain scientific infrastructures and offer research-based services. The Leibniz Association focuses on knowledge transfer, especially with the Leibniz Research Museums. It advises and informs politics, science, business and the public. Leibniz institutions maintain close cooperation with universities - among others, in the form of the Leibniz Science Campuses, industry and other partners in Germany and abroad. They are subject to a transparent and independent review process. Due to their national significance, the federal government and the federal states jointly fund the institutes of the Leibniz Association. The Leibniz Institutes employ around 21,000 people, including almost 12,000 scientists. The entire budget of all the institutes is more than two billion euros.
+++ Stay up to date via our Twitter channel twitter.com/LeibnizLSB +++
---
Journal
Journal of Agricultural and Food Chemistry
Method of Research
Experimental study
Subject of Research
Human tissue samples
Article Title
Bitter Peptides YFYPEL, VAPFPEVF, and YQEPVLGPVRGPFPIIV, Released during Gastric Digestion of Casein, Stimulate Mechanisms of Gastric Acid Secretion via Bitter Taste Receptors TAS2R16 and TAS2R38
Article Publication Date
2-Sep-2022
COI Statement
The authors declare no competing financial interest.