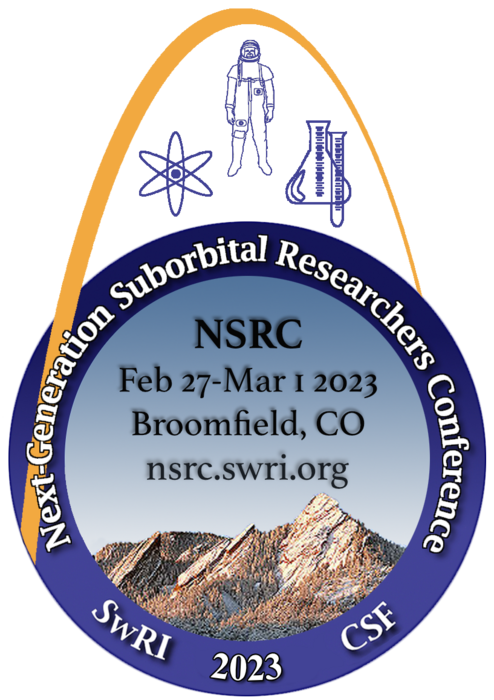 BOULDER, COLO. — Oct. 11, 2022 — As the pace of commercial and civil suborbital space missions on rockets and balloons continues to climb, so does the number and diversity of research and educational payloads and payload specialists flying on these missions. The 2023 Next-Generation Suborbital Researchers Conference (NSRC-2023) will convene February 27 to March 1 in Broomfield, Colorado, bringing together hundreds of suborbital researchers, educators, flight providers, spaceport operators and government officials. In suborbital flight, spacecraft reach the edge of space for short durations.

NSRC is the premier conference for the suborbital space research and education community. NSRC-2023 will provide an in-depth forum for attendees to discuss funding, new research and education missions aboard the many suborbital flight vehicles in operation and under development, as well as new results from recent suborbital missions. Representatives from NASA, the Federal Aviation Administration, numerous spaceports, suborbital vehicle operators, as well as researchers and educators and aerospace news media, will attend.

"The new era of frequent commercial flights to suborbital altitudes for both payloads and for researchers and educators themselves is real now and accelerating rapidly," said Dr. Alan Stern, NSRC meeting organizer and associate vice president at Southwest Research Institute (SwRI). "The NSRC-2023 conference will explore this acceleration and how space science engineering, education and public outreach have benefited as a result. The meeting will also provide a key networking opportunity for researchers and educators to meet with flight providers, funding agency representatives, and spaceport officials from across the U.S. and other nations as well."

Organized by SwRI and the Commercial Spaceflight Federation (CSF), NSRC-2023 will feature dozens of keynote and invited presentations, as well as panel discussions, workshops, local aerospace company tours, presentations, posters and extensive networking opportunities.

"The commercial suborbital launch market has arrived, accommodating both tourists, researchers and educators, opening up numerous possibilities for research discoveries and educational opportunities," added Karina Drees, president of the CSF. "The unique content at NSRC-2023 will further escalate research, education and other advancements in suborbital spaceflight."

The NSRC-2023 conference follows seven previous highly successful NSRC meetings since 2010. For information on the program, sponsors, registration, logistics and other conference details, visit http://nsrc.swri.org. Use the green link at the bottom of the page to submit an indication of interest form. For sponsorship opportunities, contact NSRC meeting convener Dr. Alan Stern at astern@swri.org. For additional meeting information, contact NSRC meeting organizer Cindy Conrad at cc@boulder.swri.edu, or +1 720 240 0126.
---