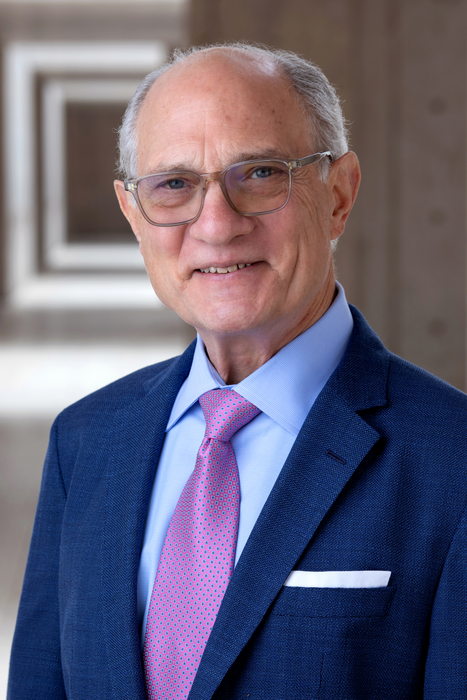 LA JOLLA (October 10, 2022)—Salk Institute Professor Geoffrey Wahl has received the 2022 Brinker Award for Scientific Distinction in Basic Science from Susan G. Komen®, the world's leading breast cancer organization. According to the foundation, the award recognizes leading scientists who have made the most significant advances in breast cancer research and medicine. Wahl was honored for his significant contributions to the field of cancer genetics, including the mechanisms of drug resistance and genome stability. He will present a keynote lecture at the 45th annual San Antonio Breast Cancer Symposium in early December 2022.
"Geoff is well deserving of the prestigious Brinker Award for Scientific Distinction," says Salk President and Professor Rusty Gage. "His work has led to numerous discoveries about the initiation and progression of breast cancer that has not only advanced the field of breast cancer research but also led to new approaches for the development of individualized therapies."
Wahl, who is a member of the Gene Expression Laboratory and holds the Daniel and Martina Lewis Chair, explores the links between cell development, cell repair and cancer to understand how breast cancers initiate and progress to metastasis. His team examined mammary development, cell by cell, using mice to provide the first evidence that mammary gland stem cells arise in the fetus. This discovery allowed them to ask whether human breast cancers have cells that resemble these primitive mammary gland cells, an idea first suggested more than 150 years ago. Wahl's team found that some of the most lethal types of breast cancer reprogram their genetic material to resemble these early-stage cells. They are now using this fundamental knowledge to understand how conditions that increase breast cancer risk, such as aging and obesity, may create changes in the genetic material of an adult cell to enable it to act more like the cells in early mammary development that are designed to divide more frequently and invade adjacent tissue as a part of their normal behavior.
These studies provide a comprehensive understanding of normal breast development and the underlying signaling changes that influence the onset and progression of breast cancer. Wahl's work has paved the way for future discoveries in breast cancer research and treatment, including identifying opportunities for targeted drug therapies. His lab has also developed a variety of molecular techniques and tools to enable exploration of problems that were previously inaccessible and to rapidly disseminate the information and material to academics worldwide to accelerate discoveries in broad areas of scientific research.
"Wahl's dedication to innovation and discovery has led to new methodologies and expanded our understanding of breast cancer initiation. His innovative approaches and vision have allowed for major advancements in research and engagement with the breast cancer community," says Jennifer Pietenpol, chief scientific advisor at Koman and chief scientific and strategy officer at Vanderbilt University Medical Center.
"Wahl's impact on my life has been nothing short of profound," says Bianca Lundien Kennedy, breast cancer advocate in Wahl's lab and member of the Komen Advocates in Science program. "Our years working together have given my life more meaning because I see there's hope for the development of new, effective breast cancer therapies."
In addition to breast cancer, the Wahl lab also studies pancreatic cancer. They found that a rare type of cell generated during pancreatitis, a precursor of pancreatic cancer, secretes substances that aid the healing of the damaged pancreas. Harnessing this knowledge may lead to new treatments for preventing pancreatitis from turning into pancreatic cancer.
"Geoff is both a mentor and a dear friend. He mentored me throughout my graduate studies, and he helped me on my journey to become a faculty member at the Salk Institute, where I now study the mechanisms driving pancreatic cancer," says Assistant Professor Dannielle Engle, holder of the Helen McLoraine Developmental Chair. "His continued commitment to mentorship has been an inspiration in starting my own lab. Geoff's support both scientifically and personally has propelled my aspirations and scientific discoveries."
Wahl has also worked outside the laboratory to advance cancer research and improve the lives of cancer patients. For example, he was elected as president of the American Association for Cancer Research, the oldest and largest cancer research organization in the world. As president, he frequently went to the US Congress to advocate for increased levels of funding to tackle the numerous and complex diseases given the single name "cancer."
Wahl has been recognized for his seminal contributions to many scientific areas. He received a National Cancer Institute (NCI) Outstanding Investigator Award and has been elected as a Fellow of the American Association for the Advancement of Science (AAAS), the American Academy of Arts and Sciences, and the American Association for Cancer Research. He was also honored as an inaugural Scholar of Susan G. Komen.
About the Salk Institute for Biological Studies:
Every cure has a starting point. The Salk Institute embodies Jonas Salk's mission to dare to make dreams into reality. Its internationally renowned and award-winning scientists explore the very foundations of life, seeking new understandings in neuroscience, genetics, immunology, plant biology, and more. The Institute is an independent nonprofit organization and architectural landmark: small by choice, intimate by nature, and fearless in the face of any challenge. Be it cancer or Alzheimer's disease, aging, or diabetes, Salk is where cures begin. Learn more at: salk.edu.
---