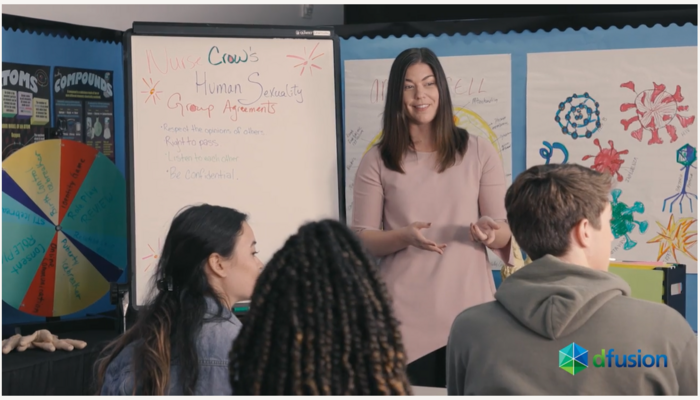 Perhaps more than ever, students need educational spaces that address trauma and adverse experiences, while educators need tools to create healing-centered classrooms. Meeting these needs can be difficult for students and educators alike. The subject matter is sensitive, and educators can be ill prepared as to how to thoughtfully address these topics.
Enter SkillFlix for Educators, http://www.dfusioninc.com/skillflix/, an innovative short-skills video teacher training platform where educators can learn the communication skills and trauma-informed strategies required to create a healing-centered classroom. The platform was designed and developed by dfusion, a social and behavioral science R&D firm in Scotts Valley.
Conference participants at this year's YTH Live 2022 conference – ETR's premier virtual global event showcasing the latest youth-centered innovations in technology, research, and practice – can learn about this digital training platform from Mia Barrett, M.Ed., a sexuality educator and researcher at dfusion. This virtual conference runs from October 12 - October 13. .https://yth.org/ythlive/about/
Through informal interviews, and a behind-the-scenes look at the process of developing a trauma-informed teacher training tool, attendees will follow the story of creating a classroom that promotes healing and healthy behavior change. The presentation will illustrate the process behind the development of this short-skills video teacher training program and the impact the program can have using data, interviews, and storytelling. Attendees will also learn three strategies they can implement on the first day of class for creating a healing-centered classroom.
Barrett notes that she is "excited to learn from the educators, professionals, and youth at YTH Live as well," adding that "the conference provides us with the opportunity to be inspired by diverse perspectives and experiences."
The SkillFlix for Educators project was directed by Principal Investigators Regina Firpo-Triplett, CEO of dfusion, and Tamara Kuhn, VP of dfusion. Barrett served as the Project Director. The project was funded by the Eunice Kennedy Shriver National Institute of Child Health & Human Development (grant # 1r44hd102288-01a1).
---