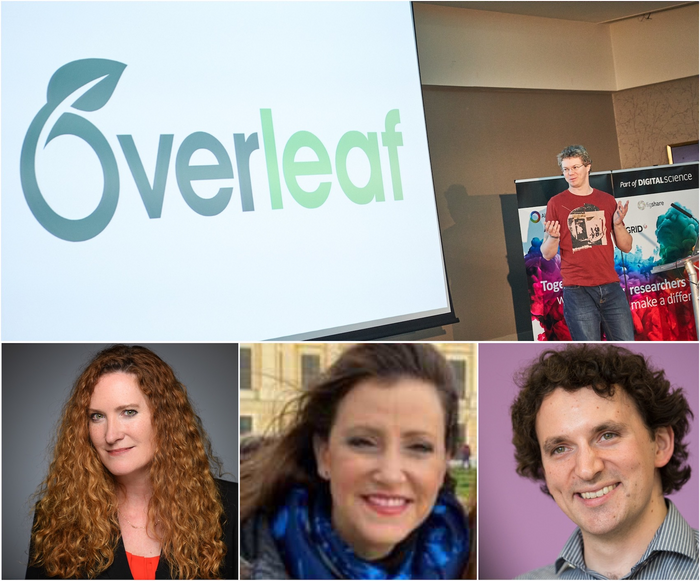 In a major milestone for fast-growing technology company Overleaf, its CEO and Co-founder John Hammersley is moving on from his position to take up a broader role within parent company Digital Science as VP Researcher and Community Engagement.
Directly reporting to Digital Science CEO Daniel Hook, Dr Hammersley will continue to champion and promote Overleaf, but will also be looking more widely at how Digital Science can best serve the broad research community, with a particular focus on the end users of all its different products.
As a result of this change, John is handing over the day-to-day running of Overleaf to its senior team. Lee Shalit will be moving from her COO/CFO role to take on the CEO role. Mary Anne Baynes will expand her remit as Chief Commercial Officer and become President, while Co-founder and CTO John Lees-Miller will continue to lead the Product and Engineering side of the business, with a new focus on B2C growth. These changes take effect from today.
Part of Digital Science, SaaS company Overleaf enables its users to collaboratively write, edit and publish scientific documents, with an editing tool that utilizes the open-sourced LaTeX (pronounced either LAH-tek or LAY-tek) document preparation system.
Overleaf is the world's market leader in this collaboration technology, with more than 10 million users worldwide. The service assists academics, students and organizations to effectively and efficiently collaborate, publish and share their work, helping to make science and research faster, more accessible and more transparent.
John Hammersley says: "I've had an amazing time over the past 10 years, helping Overleaf grow into the success it is today, and when I look back it's hard to believe all the things we've done together! Now felt like the right time to step into a role that allows me to take the core of Overleaf's values and ethos to an even broader audience, and one which is still very connected with the community that enabled Overleaf to grow so successfully.
"I'm looking forward to continuing to work with researchers and their institutions in my new role, as Overleaf is very much leading the way in helping researchers and students and I'm aiming to bring some of that learning into Digital Science.
"I'd like to thank Lee, Mary Anne and John for stepping up into their new roles, and I'm excited to see how they take Overleaf forward with everyone's support. This is an opportunity for Overleaf to continue to grow as a significant and influential part of Digital Science, not only with my new contribution to Digital Science overall, but with a renewed focus from Lee, Mary Anne and John on the company culture and continued commercial growth," he says.
New President Mary Anne Baynes says: "I couldn't be more excited, humbled and proud to be asked to expand my role to President of Overleaf. The incredible growth and success I've seen over the past (almost) eight years has been unbelievable! Overleaf helps millions of people all over the world write and collaborate on research - helping bring research and innovation to the world more quickly and easily. What an amazing organization!"
Daniel Hook, CEO of Digital Science, says: "John and the Overleaf team have done amazing work over the last decade to make Overleaf into a much-loved tool by researchers. Our aspiration across Digital Science has always been to help researchers to achieve more and hence I am so pleased that John has agreed to work at the center of Digital Science to engage more with the researcher community around the world to ensure that all our tools are as loved as Overleaf has become."
Overleaf's new CEO Lee Shalit adds: "John Hammersley and John Lees-Miller have taken Overleaf from an idea to a widely used and loved platform, all around the world. This is the legacy that will always be part of us, and now it's time to take it to the next level. I joined Overleaf because I believed in the platform and the good things it brings to people, and together, with digital transformation all around us, we will ensure that Overleaf is truly 'the go-to place for scientific writing' for researchers, students and enterprises in five and 10 years from now."
About Overleaf
Overleaf was founded in 2012 by two mathematicians who built a light-weight collaboration system and used it for writing research papers. It was simple and intuitive to use – all you needed was a web browser. This intuitive online platform has since seen rapid adoption across science and research, and Overleaf's award-winning collaboration technology is now in use by over 10 million researchers, students and technical writers in institutions, labs and industry worldwide.
Part of Digital Science, and working in collaboration with international publishers and organizations, Overleaf is helping to make science and research faster, more accessible and more transparent by bringing the whole scientific writing process into one connected place in the cloud — from idea, to writing, to review, to publication.
About Digital Science
Digital Science is a technology company working to make research more efficient. We invest in, nurture and support innovative businesses and technologies that make all parts of the research process more open and effective. Our portfolio includes admired brands including Altmetric, Dimensions, Figshare, ReadCube, Symplectic, IFI CLAIMS, Overleaf, Ripeta and Writefull. We believe that together, we can help researchers make a difference. Visit www.digital-science.com and follow @digitalsci on Twitter.
Media contacts
Jamie Liu, Marketing Manager, Overleaf: +1 (202) 417-6343, jamie.liu@overleaf.com
David Ellis, Press, PR & Social Manager, Digital Science: Mobile +61 447 783 023, d.ellis@digital-science.com
---