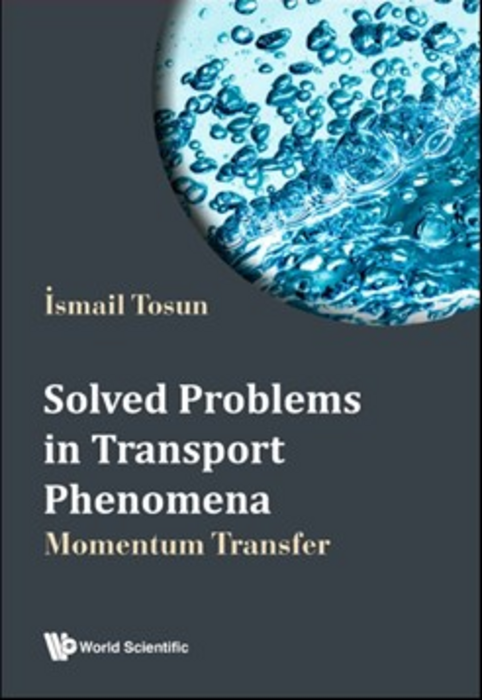 The publication of the world-renowned book Transport Phenomena by R. B. Bird, W. E. Stewart, and E. N. Lightfoot (University of Wisconsin-Madison professors) in 1960 caused a paradigm shift in chemical engineering education. Since then, many authors have published various books on the subject. However, from the students' point of view, courses on transport phenomena are extremely difficult since it requires blending physical principles with mathematical vigor. Solved Problems in Transport Phenomena: Momentum Transfer lays out a wealth of complex concepts in a digestible way.
This unique compendium covers momentum transfer at the microscopic and macroscopic levels in a format that does not overwhelm students with a large repertoire of problems. It uses clear highlights and easy-to-follow concept presentations to help students grasp the methodology in problem solving.
As stated by Tosun, "in fluid flow problems involving simple geometries, students usually take everything for granted. For example, laminar flow under steady conditions through a circular pipe is a classical problem solved in transport phenomena courses. Students solve the problem by assuming the pressure and velocity to be dependent on axial and radial directions, respectively, but never question the reasoning behind it. The difficulty arises in flow through more complex geometries."
The book shows the students how to tackle a problem as if they were going to solve it for the first time in their lives. A balanced approach between obtaining the model equation representing a physical phenomenon and exploiting various mathematical techniques to solve them is employed in the book. This approach helps students to gain physical intuition and mathematical skills.
Solved Problems in Transport Phenomena: Momentum Transfer retails for US$98 / £80 (hardcover) and is also available in electronic formats. To order or know more about the book, visit http://www.worldscientific.com/worldscibooks/10.1142/12834.
###
About the Author
İsmail Tosun is an emeritus professor of chemical engineering at Middle East Technical University (METU), Turkey. He received his BS and MS degrees from METU, and a PhD degree from the University of Akron, USA, all in chemical engineering. His research interests are mathematical modeling, solid-liquid separation processes, and multiphase transport phenomena.
About World Scientific Publishing Co.
World Scientific Publishing is a leading international independent publisher of books and journals for the scholarly, research and professional communities. World Scientific collaborates with prestigious organisations like the Nobel Foundation and US National Academies Press to bring high quality academic and professional content to researchers and academics worldwide. The company publishes about 600 books and over 140 journals in various fields annually. To find out more about World Scientific, please visit www.worldscientific.com.
For more information, contact WSPC Communications at communications@wspc.com.
---