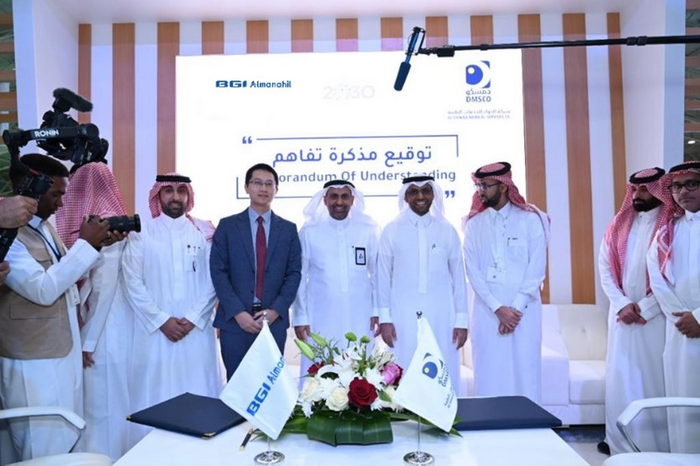 BGI Almanahil, a subsidiary of BGI Genomics, signed a Memorandum of Understanding (MOU) with Al-Dawaa Medical Services Company (DMSCO) on October 13, 2022, in the presence of the Saudi Minister of Health His Excellency Mr. Eng. Fahad Al Jalajel. The two parties reached a preliminary agreement on cooperation on medical sample logistics and health management services to enhance contributions to the Saudi health care industry.
DMSCO is one of the leading pharmaceutical retail companies in Saudi Arabia, it was established in 1993 and has over 900 pharmacies in 130 cities and towns across the Kingdom.
The signing of this MOU means that BGI Genomics has further promoted a key section of its MENA project center: healthcare service in the Saudi market. This partnership further strengthens BGI Genomics presence in the MENA market by combining its product advantages with DMSCO's infrastructure and wide geographical reach which will enhance accessibility to the healthcare services.
At the event, both parties and other participants expressed their heartfelt congratulations and recognition of this partnership.
About BGI Almanahil
BGI Almanahil Health for Medical Service is BGI Genomics's subsidiary company which headquartered in Riyadh, Saudi Arabia, serving customers in the MENA region, which also includes Bahrain, Kuwait, Qatar, Turkey, Oman, and Egypt.
---