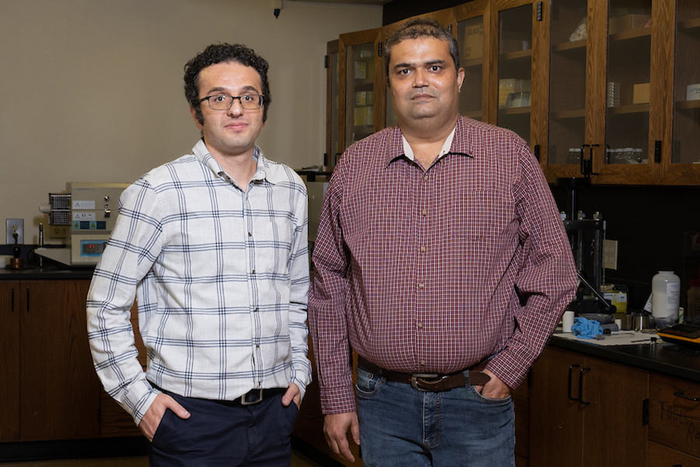 Two professors in Kennesaw State University's Department of Physics have earned $400,000 through the National Science Foundation (NSF) to explore the magnetic, electronic and out-of-equilibrium properties of matter at the theoretical and experimental levels.

Assistant professors Mahmoud Asmar and Chetan Dhital earned their grants through the National Science Foundation, Division of Materials Research, through a highly competitive program aimed at Launching Early-Career Academic Pathways in the Mathematical and Physical Sciences (LEAPS-MPS program).
"For two researchers in the same department, and in the same sub-field of physics, to have two independent NSF LEAPS-MPS grants at the same time is impressive," said Asmar. "This will go a long way toward building this department into something even more special, where high research activity meets student involvement."
Condensed matter physics is the largest subfield of physics with a diverse set of topics that deal with the physical properties of matter including semiconducting, optical, and magnetic materials. Discoveries in the field have driven innovation, with applications ranging from basic transistors to long-awaited quantum computers.
"Condensed matter physics is an exciting, fast-growing, and competitive field," said Dhital. "Our understanding of matter and its interactions with electric fields, magnetic fields, and light leads to a better grasp of the versatile range of emerging applications in electronic and optical technologies and helps us prepare our students for cutting-edge careers in high-tech industries."
Asmar arrived at Kennesaw State in the Fall of 2021. His research focuses on the theories that govern condensed matter systems, specifically the interactions between light and matter. His research will also expose not only undergraduates to condensed matter physics, but also local high school teachers and students.
"This is a modern and exciting area of physics, and I want to introduce as many people as possible to it," Asmar said. "I want to work with teachers and the community to introduce these interesting concepts that can lead to all kinds of new applications and devices."
Dhital has worked in the College of Science and Mathematics since 2018. He deals with the experimental aspects of condensed matter physics. Dhital's award supports the creation and investigation of new materials that possess unconventional magnetism. His research looks at applications to enable energy-efficient, fast-paced, and reliable information storage. His research also provides undergraduates from underserved communities with critical lab experience that can help lead them to graduate studies and professional opportunities.
"Our research combines the material synthesis techniques with the advanced characterization of electrical and magnetic properties using state-of-the-art technologies available in National Laboratories," Dhital said.
---