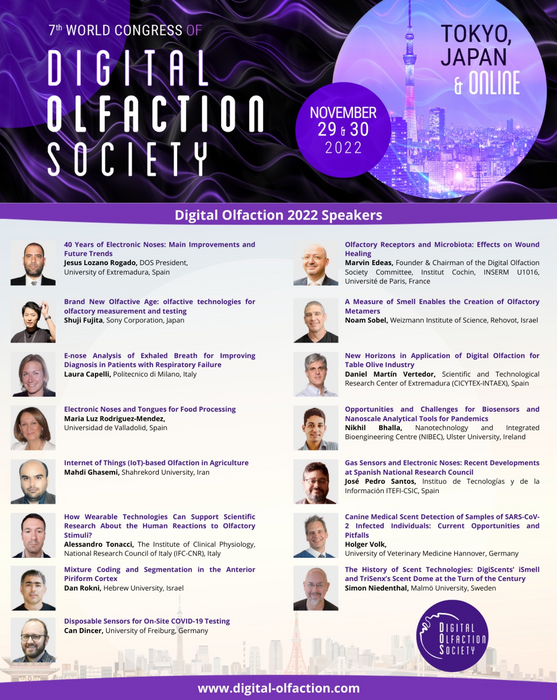 The 7th International Meeting of the Digital Olfaction Society (DOS) will take place on November 29-30 at Tokyo, Japan, and Online. This meeting is headed by Prof. Jesús Lozano Rogado, President of DOS, University of Extremadura, Spain.
DOS Displaying & Demonstrations
During the 7th DOS Annual Meeting, several demonstrations will be displayed. Each team will have a dedicated space to show, demonstrate, explain and discuss their project.
Among the DOS 2022 Demonstrations:
Demonstration by DOS President
Jesus Lozano Rogado, President of DOS, University of Extremadura, Spain
Brand New Olfactive Age: Olfactive Technologies for Olfactory Measurement and Testing
Shuji Fujita, Sony Corporation Olfactory Business Development Office, Japan
Digital Olfaction Innovation by RICOH
Katsuya Ujimoto, Ricoh Company, Ltd., Japan
Demonstration of Aroma Oil Recognition by Deepsniffer
Chuanjun Liu, U.S.E. Co., Ltd, Japan
You are also invited to present your innovations and products in the olfaction and digital olfaction world. More information.
Industrials attending the DOS 2022 Meeting:
Sony, Ricoh Company, ALPHA-MOS, Aroma Republic, Aromyx, Aryballe, GEMFluidix, International Flavors & Fragrances, LG Japan Lab, Moodify, Olfasense GmbH, Procter and Gamble, Sanyo Chemical Industries, Sentech GMI, Suntory Global Innovation Center, TAKASAGO, U.S.E. Co. Ltd. and others.
Among DOS 2022 Supporters: Sony Corporation, Ricoh Company.
About the Digital Olfaction Society
The aim of DOS is to create devices which not only can record smells, turn them into digital data but also transmit and restitute them where we like. The objective of DOS is also to gather, share, and complete the knowledge recently established about olfactory digitization. Our perspective is to build up constructive links between leading researchers and industrialists in order to set up appropriate strategies in order to implement Research & Development through practical applications with a high impact on our lifestyle thanks to the potential of olfactory digitization. We want to move from the Stone Age of odorous substance toward a New Age by means of digital fragrance, aroma and smell technologies.
DOS Website | Youtube | LinkedIn | Facebook.
---