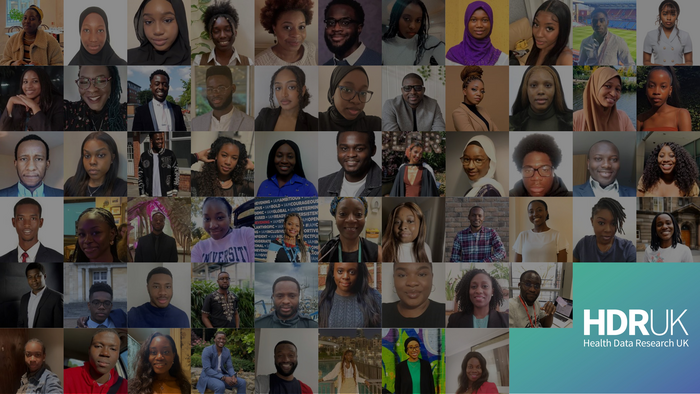 From Friday 1 November, Health Data Research UK (HDR UK) is taking applications from interns and host organisations for its Health Data Science Black Internship Programme for 2023.
The programme, run in partnership with the UK Health Data Research Alliance and 10,000 Black Interns, is helping to tackle the underrepresentation of Black people within science, technology, engineering, and mathematics (STEM) careers by providing opportunities to work on health data science projects with some of the UK's leading health, research and academic organisations.
The UK has an urgent need for new health data scientists in this rapidly expanding field which has the potential to transform the future of health and care for all. A report commissioned by The Royal Society states that for the years spanning 2007/08 to 2018/19, just 3.5% of Black STEM academic staff held a professor post compared to 6.6% of Asian staff and 11.9% of White staff.
This programme, shortlisted for CorpsComms Magazine's Best diversity and inclusion initiative awards event on 17 November, is just one of HDR UK's schemes which supports our belief that health data science should be as effective as possible in serving and reflecting the needs of the entire UK population.
HDR UK's internship programme provides interns with hands-on experience, using real-world data and host organisations with motivated students and graduates ready to use their skills.
Shaun Cochrane, Deputy Director of Biomedical Research Centre Operations at St Guy's and St Thomas's NHS Foundation Trust, said:
"It was fantastic to host the interns within our facility. Their experience included working with world-class research teams such as King's College, London. They also learnt coding and programming using Python, as well as health data analysis using NumPy and Pandas."
Sarah Cadman, Director of Talent and Training at Health Data Research UK (HDR UK) said:
"Following the success of last year's programme where 100% of participants said they would recommend the programme, we are delighted to welcome interest from both interns and host organisations for 2023! It is incredibly exciting to once again be supporting the next generation of health data scientists."
Organisations interested in finding out how to become a host can register for a webinar taking place on Tuesday 29 November at 13:00.
To register their interest in the programme, prospective host organisations simply need to complete a 2-min pledge form by 16 January 2023.
Interns should read the information for applicants before completing an application form by 9 January 2023.
HDR UK's Black Internship Programme is aimed at Black people who are either studying an undergraduate degree or who have recently graduated from any UK university.
The internship will be for 8-weeks from Monday 3 July – Friday 25 August 2023.
About Health Data Research UK  
Health Data Research UK (HDR UK) is the national institute for health data science. HDR UK's mission is to unite the UK's health data to enable discoveries that improve people's lives. HDR UK is funded by UK Research and Innovation, the Department of Health and Social Care in England and equivalents in Northern Ireland, Wales and Scotland, and leading medical research charities.         
 
www.hdruk.ac.uk 

ENDS
Note to editors 
For more information, please contact Clare Leahy Communications Lead at HDR UK on clare.leahy@hdruk.ac.uk or 07748016062 
Black Internship FAQs: https://www.hdruk.ac.uk/careers-in-health-data-science/internships/health-data-science-black-internship-programme/faqs/
---
Method of Research
Data/statistical analysis
Subject of Research
Not applicable