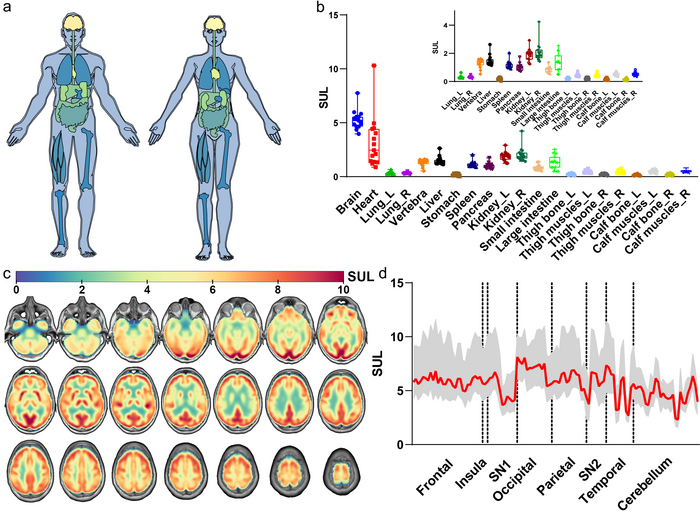 Positron emission tomography (PET) is a powerful tool for the visualization of metabolism, especially the measurement of glucose uptake in vivo. Previous studies have assessed glucose uptake in several tissues such as the brain, visceral adipose tissue, and liver using PET imaging. However, due to the inadequate axial field of view of the existing PET scanners, simultaneous measurement of glucose uptake in major organs and parts across the entire human body has not yet been achieved.
A recent study published in Life Metabolism provides an atlas of glucose uptake across the entire human body via the state-of-the-art total body PET/CT system. (https://academic.oup.com/lifemeta/advance-article/doi/10.1093/lifemeta/loac030/6775914)
The researchers used the uEXPLORER total-body PET/CT scanner to generate a detailed profile of glucose uptake across the entire human body (Figure 1), and then explored the effect of age, sex, and laterality on glucose uptake, as well as the differences of glucose uptake across the whole body between healthy and overweight groups.
This study has demonstrated the utility of PET/CT in the understanding of human metabolism and metabolomics. A glucose uptake atlas might also be useful in diagnosing and treating malignancies, obesity, diabetes, and other metabolic disorders.
###
About Higher Education Press
Founded in May 1954, Higher Education Press Limited Company (HEP), affiliated with the Ministry of Education, is one of the earliest institutions committed to educational publishing after the establishment of P. R. China in 1949. After striving for six decades, HEP has developed into a major comprehensive publisher, with products in various forms and at different levels. Both for import and export, HEP has been striving to fill in the gap of domestic and foreign markets and meet the demand of global customers by collaborating with more than 200 partners throughout the world and selling products and services in 32 languages globally. Now, HEP ranks among China's top publishers in terms of copyright export volume and the world's top 50 largest publishing enterprises in terms of comprehensive strength.
About Life Metabolism
Life Metabolism is a fully open access, peer-reviewed journal that publishes one volume per year online, providing a platform for the publication of works of high significance and broad interest in all areas of metabolism. Life Metabolism welcomes several different article types, including original article, review article, research highlight, letter, editorial, perspective, and so on. Once a paper is accepted, Life Metabolism can publish a precopyedited, preproofed version of the paper online within 48 hours of receiving a signed licence, and this will be replaced by a copyedited, proofed version of the paper as soon as it is ready. The Editors-in-Chief are professors Peng Li at Tsinghua University and John R Speakman at University of Aberdeen, UK. In the first three years, there will be no publication costs for publishing in Life Metabolism, and Open Access fees will be waived.
---
Method of Research
Imaging analysis
Subject of Research
People
Article Title
An atlas of glucose uptake across the entire human body as measured by the total-body PET/CT scanner: a pilot study
Article Publication Date
27-Oct-2022