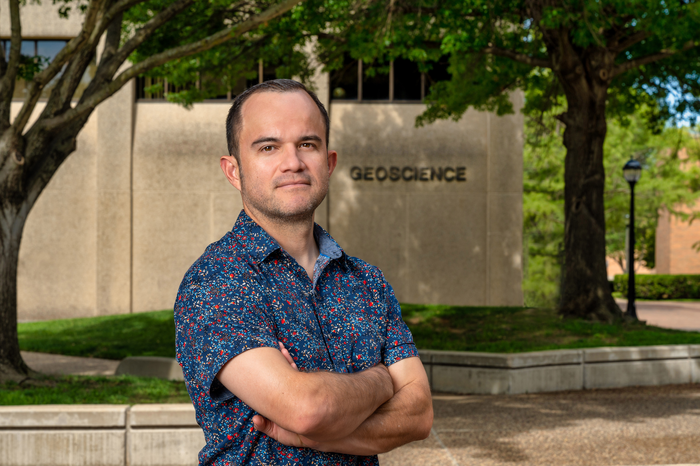 The National Academy of Sciences has selected an associate professor at The University of Texas at Arlington as an early career research fellow in its prestigious Gulf Research Program.
Ricardo Sánchez-Murillo, a tracer hydrologist and associate professor of earth and environmental sciences, received a two-year fellowship to support research that will advance scientists' ability to predict and prepare for ecosystem changes in the Gulf of Mexico. His research will focus on the aftermath of hurricane landfalls and passages in the region using a method he calls baseflow isotope tempestology.
"The Gulf of Mexico and the Caribbean Sea basins are highly sensitive to global climate variabilities," Sánchez-Murillo said. "It is imperative that we improve our understanding of tropical storm rainfall impacts on natural and human-altered ecosystems."
Sánchez-Murillo will partner with collaborators in the Caribbean Sea basin and U.S. Gulf Coast to monitor the genesis, development and landfall of tropical storms and analyze the region's groundwater responses after tropical storm inputs.
In the past, tempestology studies have mainly focused on the use of hydrometric information to estimate individual storm contribution to the annual mean precipitation and streamflow responses. This information is useful for flooding assessments but doesn't contribute to knowledge on the impact of storms on the Gulf ecosystem, Sánchez-Murillo said.
"To date, the tracer studies of the impact of hurricanes have been quite limited," he said. "Much of the literature focuses on the period when water is rising, but little research has been done as the water recedes."
Sánchez-Murillo will investigate how stormwater is recharged and redistributed. Information on baseflow, or water runoff, after a storm is important for decision-making related to the allocation of resources, water-quality standards and the prioritization of water conservation, Sánchez-Murillo said.
"With this information, water managers and environmental agencies could prioritize efforts and resources in areas where potential future storms may drastically affect overall ecosystem services," he said.
Arne Winguth, chair and professor of the Department of Earth and Environmental Sciences, will serve as Sánchez-Murillo's mentor throughout the fellowship.
"Dr. Sánchez-Murillo is an enthusiastic water scientist. He is hard working and has a strong understanding of water tracer applications in natural and urban environments," Winguth said. "I am highly confident he will be a very successful fellow for the Gulf Research Program."
---