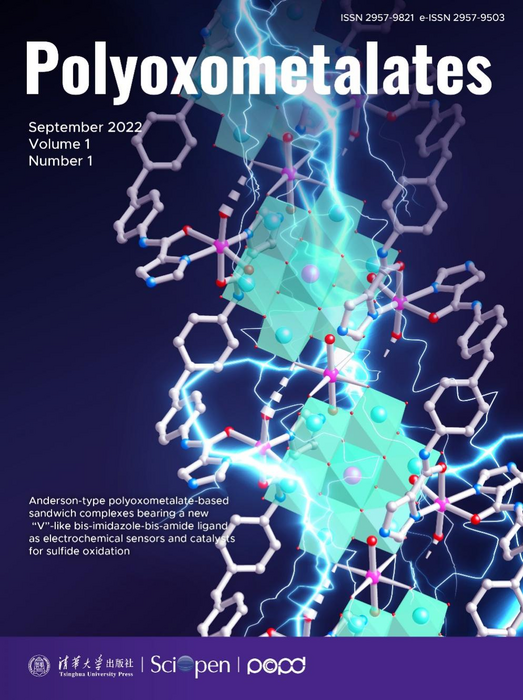 Recently, Polyoxometalates (POM), an open access international academic journal sponsored by Tsinghua University, was officially released on SciOpen.
Polyoxometalates (POM) is a peer-reviewed interdisciplinary research journal that focuses on all aspects of polyoxometalates. Submissions are solicited in all topical areas, ranging from basic aspects of the science of polyoxometalates to practical applications of such materials. The journal is published quarterly by Tsinghua University Press, and publicly released on SciOpen, an international digital publishing platform for STM journals independently developed by Tsinghua University Press.
This journal is at the forefront of disseminating and communicating scientific knowledge and impactful discoveries to researchers, academics and the public worldwide. It offers readers an attractive mix of authoritative and comprehensive Reviews, original cutting-edge research in Communication and Full Paper formats, Comments, and Highlight. Rapid review to ensure quick publication is a key feature of Polyoxometalates.
Polyoxometalates publishes articles that focus on, but are not limited to, the following areas:
Synthesis, characterization and manipulation of polyoxometalates
Application of polyoxometalates in the field of catalysis
Application of polyoxometalates in the field of biology or medicine
Application of polyoxometalates in the field of energy
Application of polyoxometalates in the field of environment
Polyoxometalates device
Supramolecules based on polyoxometalates
Functional materials based on polyoxometalates
The modeling and simulations of polyoxometalates
1 editorial, 1 review article and 5 research articles have been released. These articles are fully open access at the journal home:
https://www.sciopen.com/journal/2957-9821
##
About SciOpen
SciOpen is a professional open access resource for discovery of scientific and technical content published by the Tsinghua University Press and its publishing partners, providing the scholarly publishing community with innovative technology and market-leading capabilities. SciOpen provides end-to-end services across manuscript submission, peer review, content hosting, analytics, and identity management and expert advice to ensure each journal's development by offering a range of options across all functions as Journal Layout, Production Services, Editorial Services, Marketing and Promotions, Online Functionality, etc. By digitalizing the publishing process, SciOpen widens the reach, deepens the impact, and accelerates the exchange of ideas.
About Tsinghua University Press
Established in 1980, belonging to Tsinghua University, Tsinghua University Press (TUP) is a leading comprehensive higher education and professional publisher in China. Committed to building a top-level global cultural brand, after 41 years of development, TUP has established an outstanding managerial system and enterprise structure, and delivered multimedia and multi-dimensional publications covering books, audio, video, electronic products, journals and digital publications. In addition, TUP actively carries out its strategic transformation from educational publishing to content development and service for teaching & learning and was named First-class National Publisher for achieving remarkable results.
---