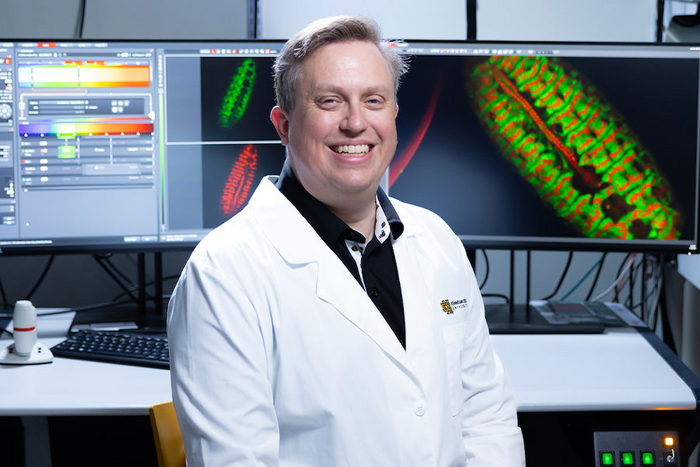 A decade after discovering the role of a specific protein in muscle formation, a Kennesaw State University associate professor of biology has earned a $400,000 grant from the National Institutes of Health (NIH) to delve deeper into that process.
The study could play a role in the creation of treatments to repair damaged heart and skeletal muscles in humans.
Scott J. Nowak of the Department of Molecular and Cellular Biology plans to use the three-year grant to bring undergraduates and graduate students into his laboratory to investigate the role of the protein Akirin in building muscle.
"We'll study how both the skeletal and heart muscles of a fruit fly are built and patterned," he said. "By studying those muscles in fruit flies, we can make informed guesses as to how the same process is governed in a mammal, like a human."
Nowak joined the faculty at Kennesaw State in 2011, and two years later earned an NIH grant to continue work related to his initial discovery of the role of Akirin. He said that work led to funding from the American Heart Association to later apply his research to the development of heart muscle specifically, and his research under both of those grants yielded further findings about Akirin's role in forming skeletal muscle.
"It's been stated that every good scientific experiment solves one question and brings up three more," Nowak said. "We've identified this process in a fly, so I wonder if the same gene is involved in humans. As we're moving into the era of personalized medicine and personalized genomes, it may help provide an informed cure for a human disease."
In addition to the groundbreaking work on muscle formation, Nowak estimates that he has mentored around 60 students during his 11 years at KSU, and two-thirds of them have gone on to careers or further education in STEM fields. The grant will make it possible for Nowak to continue employing both graduate and undergraduate researchers.
"I live for showing students that didn't think that research was a career to the possibility of pursuing science as a career," he said. "This grant allows me to keep a lab open for students to pursue projects where they'll generate data, publish papers and present at conferences. That's how the field grows."
---