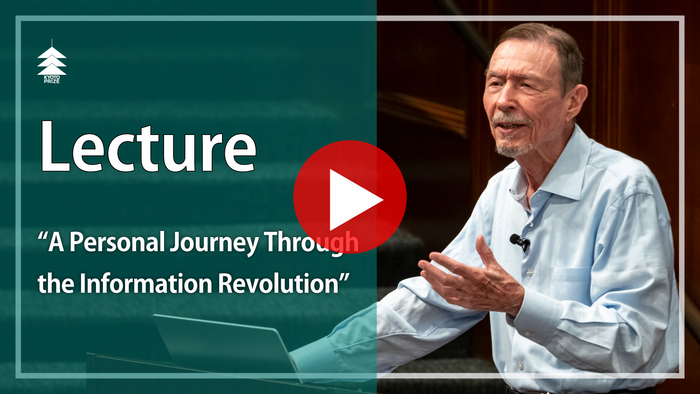 Carver Mead, an electronics engineer and applied physicist, has been awarded the 2022 Kyoto Prize in Advanced Technology for leading contributions to the establishment of guiding principles for very large-scale integration (VLSI) systems design. Mead's Commemorative Lecture, "A Personal Journey Through the Information Revolution" is now available on the 2022 Kyoto Prize Special Website.
In his lecture, Mead reveals a number of innovations that were foundational to permitting practical design of complex integrated circuits containing millions of transistors and creation of mask patterns for their production.
How did he arrive at the guiding principles for VLSI system design using billions of transistors? How did he create a unified view of the physical integrated circuit and incorporate it in an academic course? Click here to learn more.
Carver Mead
Gordon and Betty Moore Professor of Engineering and Applied Science, Emeritus, California Institute of Technology
Mead and the other two 2022 Kyoto Prize laureates are featured on the 2022 Kyoto Prize Special Website with information about their work, personal profiles, and five-minute introductory videos.
---
The Kyoto Prize is an international award of Japanese origin presented to individuals who have made significant contributions to the progress of science, the advancement of civilization, and the enrichment and elevation of the human spirit. The Prize is granted in the three categories of advanced technology, basic sciences, and arts and philosophy. Each category comprises four fields, representing a total of 12 fields. Every year, one Prize for each of the three categories is awarded with prize money of 100 million yen per category.
One of the distinctive features of the Kyoto Prize is that it recognizes both "science" and "arts and philosophy" fields. This is because its founder, Kazuo Inamori, held the conviction that the future of humanity can be assured only when there is a balance between scientific development and enrichment of the human spirit.
---