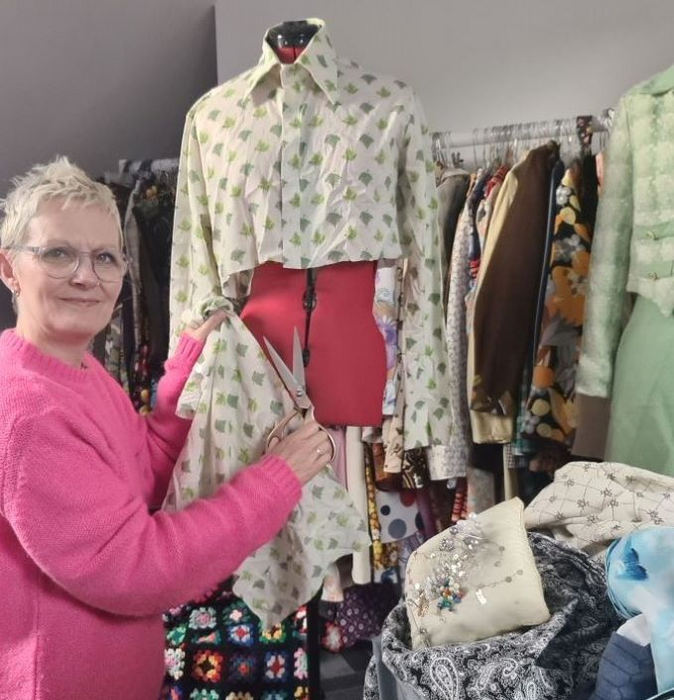 As policymakers at COP27 are to discuss the effects of the fashion industry on the environment, an Aston University scientist has been helping a clothes designer measure and tackle their carbon emissions.
Debbie Murphy runs Missfit Creations which provides an alternative to fast fashion.
She saves clothes from clogging up landfill by restoring and reworking second-hand and vintage clothing, from de-mob suits and 1970s psychedelia, to the present day.
Dr Maria Pimenta da Costa Ocampo, a researcher from the Energy & Bioproducts Research Institute (EBRI) at Aston University, has been identifying the impact the business is having on reducing carbon emissions.
By analysing the recirculation of second-hand clothes alone, she found Debbie's current fashion collection has the potential to save the CO2 equivalent of three tonnes – equal in size to at least three semi-detached houses.
The support provided to Tamworth-based Missfit Creations was through EBRI's European Regional Development Fund (ERDF) programme that helps West Midlands companies develop low carbon goods and services.
Debbie said: "It was eye-opening to work with Aston University.

"I collect and restore a huge amount of old, unwanted clothes that would otherwise have ended up in landfill, so I decided to find out what impact my business has on the environment.

"I knew my business would help tackle the effects of fast fashion, but I didn't realise I've
been able to prevent the production of so much CO2.

"Raising awareness of second-hand clothes over fast fashion, and the increased awareness
of clothing care efficiency will help reduce the carbon footprint of the textile industry."
The Aston University report also suggests ways the business can further decrease emissions. As a result, it will be introducing a 'take-back' scheme, offering vouchers or exchanges in return for previous purchases. Debbie will also be changing production methods by ensuring all packaging is biodegradable, ironing fabrics less and switching to a more sustainable energy provider.
The COP27 fashion charter event (11 November) will explore whether the sector's planned transformation to net zero is underway, practical solutions that are being applied and what is needed to achieve the goal.
However, Dr Pimenta-Ocampo said: "Every single action taken towards the production and recirculation of clothing has an environmental impact.
"For example, we calculated that by recirculating vintage clothing, Missfit Creations was reducing CO2 equivalent by almost two tonnes just by diverting clothes from landfill.
"And by outsourcing their vintage clothes for cleaning services that don't use tumble driers, not taking into account transport emissions, Missfit Creations is reducing CO2 equivalent by another one tonne.
"There is a great need for the textile industry to monitor and provide accurate data and to become more transparent, specially when global supply chains are involved.
"However, the creation of a protocol and standardisation of the Life Cycle Assessment, which measures a product's environmental impact from raw material to final disposal, is also required. Without it, it will be impossible to produce results that can be representative."
ENDS
Notes to Editors
European Regional Development Fund
This project part funded by the England European Regional Development Fund as part of the European Structural and Investment Funds Growth Programme 2014-2020. The Ministry of Housing, Communities and Local Government (and in London the intermediate body Greater London Authority) is the Managing Authority for European Regional Development Fund. Established by the European Union, the European Regional Development Fund helps local areas stimulate their economic development by investing in projects which will support innovation, businesses, create jobs and local community regenerations. For more information visit https://www.gov.uk/european-growth-funding.
About Aston University
Founded in 1895 and a university since 1966, Aston University is a long-established university led by its three main beneficiary groups – students, business and the professions, and the West Midlands region and wider society. Located in Birmingham at the heart of a vibrant city, the campus houses all the University's academic, social and accommodation facilities for our students. Professor Aleks Subic is the Vice-Chancellor & Chief Executive.
Aston University is ranked 22 in the Guardian University Guide, based on measures including entry standards, student satisfaction, research quality and graduate prospects. The Aston Business School MBA programme was ranked in the top 100 in the world in the Economist MBA 2021 ranking.
For media inquiries in relation to this release, contact Nicola Jones, Press and Communications Manager, on (+44) 7825 342091 or email: n.jones6@aston.ac.uk
Be first to get the latest news, research and expert comment from Aston
by following us on Twitter
Need an expert for your story? Browse our expert directory
---