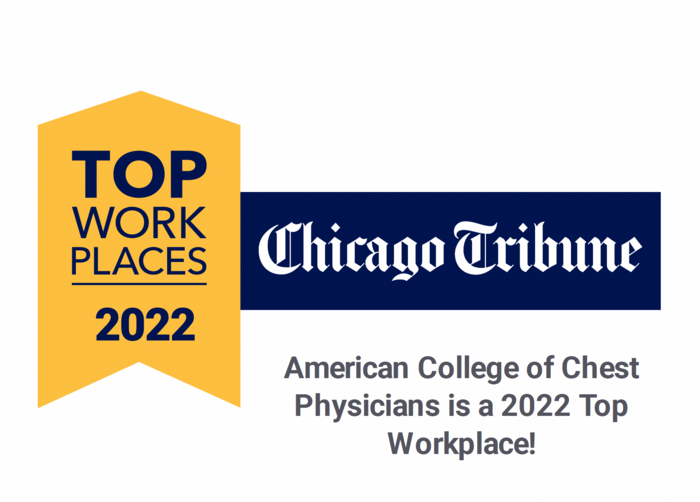 Glenview, Illinois - American College of Chest Physicians (CHEST) has been awarded a Top Workplaces 2022 honor by the Chicago Tribune Top Workplaces based solely on employee feedback.
Presented to companies with high worker satisfaction, the list is curated through a third-party survey administered by employee engagement technology partner Energage, LLC. The confidential survey uniquely measures 15 culture drivers that are critical to the success of any organization, including alignment, execution, and connection.
"It's especially humbling to be recognized as a top workplace after nearly three years of a global pandemic that required all of us to rethink how we work together. As our clinician members continued to work on the frontlines, this team became even stronger, rallying to support them every step of the way," says Robert Musacchio, Ph.D., CEO of the American College of Chest Physicians. "To be at your best when everything is easy is one thing, but to rise up when everything is incredibly hard says everything about this team."
Recently, CHEST President, David Schulman, MD, MPH, FCCP, recognized the hard work of the CHEST staff by awarding them the Presidential Citation during the CHEST Annual Meeting 2022 in Nashville, TN. The award is a reflection of the mutual respect that exists between CHEST staff and the association leaders and members they serve.
Ranked as one of the top small (under 249 employees) Chicagoland workplaces, this is the first year the American College of Chest Physicians is receiving this award.
"Earning a Top Workplaces award is a badge of honor for companies, especially because it comes authentically from their employees," said Eric Rubino, Energage CEO. "That's something to be proud of. In today's market, leaders must ensure they're allowing employees to have a voice and be heard. That's paramount. Top Workplaces do this, and it pays dividends."
ABOUT THE AMERICAN COLLEGE OF CHEST PHYSICIANS
The American College of Chest Physicians® (CHEST) is the global leader in the prevention, diagnosis, and treatment of chest diseases. Its mission is to champion advanced clinical practice, education, communication, and research in chest medicine. It serves as an essential connection to clinical knowledge and resources for its 19,000+ members from around the world who provide patient care in pulmonary, critical care, and sleep medicine. For information about the American College of Chest Physicians, and its flagship journal CHEST®, visit chestnet.org .
ABOUT ENERGAGE
Energage is a purpose-driven company that helps organizations turn employee feedback into useful business intelligence and credible employer recognition through Top Workplaces. Built on 16 years of culture research and the results from 27 million employees surveyed across more than 70,000 organizations, Energage delivers the most accurate competitive benchmark available. With access to a unique combination of patented analytic tools and expert guidance, Energage customers lead the competition with an engaged workforce and an opportunity to gain recognition for their people-first approach to culture. For more information or to nominate your organization, visit energage.com or topworkplaces.com.
---