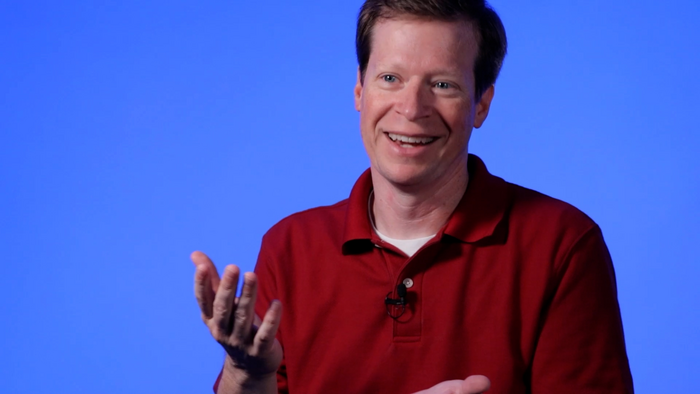 James Gilchrist, the Ruth H. and Sam Madrid Professor of Chemical and Biomolecular Engineering at Lehigh University, has been elected as a Fellow of the American Institute of Chemical Engineers (AIChE), in recognition of significant professional accomplishments and contributions in engineering. AIChE is the world's leading organization for chemical engineering professionals, with more than 60,000 members from more than 110 countries. Fellow is considered the highest grade of membership across the global organization.
"I am truly humbled and very proud of this honor," says Gilchrist. "Being named a Fellow is important recognition; I hold AIChE and the group of amazing professionals it represents in high regard. This honor is a testament to the inspiring work of my amazing students, postdocs, collaborators, and mentors, and to the support I've received from Lehigh University, over the past 18 years."
Gilchrist joined the Lehigh faculty in 2004, and held Lehigh's P.C. Rossin Assistant Professorship from 2007-2010 and the Class of 1961 Associate Professorship from 2013-2015. He directs the Laboratory for Particle Mixing and Self-Organization, with research interests spanning various areas of particle technology, including nanoparticle self-assembly, suspension rheology and transport, coatings, microfluidics, chaotic mixing, and granular dynamics. Applications of this work impact a broad range of crucial technologies, such as solar energy, optoelectronic and nanostructured materials, bioseparation, and technologies for pharmaceutical, automotive, architectural, and optically-adaptive coatings.
"It is rare to find a person at this stage of their career who has made so many contributions to the chemical engineering profession in leadership, research, and teaching," says Richard Lueptow, a professor of mechanical engineering and chemical and biological engineering at Northwestern University, who has frequently collaborated with Gilchrist. "Jim's leadership roles in AIChE alone are reason enough for him to be named as Fellow."
Julio Ottino, Gilchrist's PhD advisor who now serves as Dean of Northwestern's R.R. McCormick School of Engineering and Applied Sciences, was equally enthusiastic about Gilchrist's impact as an academic leader and contributor to the chemical engineering profession. "Jim's work involves elegant experiments supported by the right amount of analysis and computation," he says. "A combination of PhD and post-doctoral work and a unique combination of skills have placed Jim Gilchrist in an unusual position, one that allows him to blend the fluids/chaos/self-organization side of particle research with nano/colloids/micro-fluidics."
"I am proud to welcome Jim to the rank of the AIChE Fellow," says Elsa Reichmanis, Professor and Carl Robert Anderson Chair in Chemical Engineering at Lehigh. "His research success is well documented, as is his service to AIChE. As an educator, Jim also continues to find novel and exciting ways to make the profession of chemical engineering a more relatable, more inviting space for all. The development of Lehigh's Coffee and Cosmetics course is a great example. Its curriculum engages those already exploring our field in a new way, and enables a broad range of students from other disciplines to appreciate the sheer relevance of chemical engineering to our lives—an innovative approach to education befitting an AIChE Fellow."
Gilchrist will be inducted into the AIChE Fellows during its 2022 Annual Meeting, set for November 13-18 in Phoenix, AZ. He will join an impressive list of Lehigh scholars in this capacity—including Professors Reichmanis, Mayuresh Kothare, and Arup SenGupta.
About Professor Gilchrist
Professor Gilchrist's research and scholarly activities are designed to impact both science and engineering through fundamental studies of particulate systems. From an engineering viewpoint, particle technology is ubiquitous, including pharmaceutical, chemical, agricultural, food, cosmetic, ceramic, electronic, and mining processes and in an uncountable number of natural processes including sediment transport in rivers, dune formation, and blood flow. An overarching objective of Gilchrist's research is to develop a better understanding of these far-from-equilibrium particulate processes exhibiting complexity and self-organization.
Gilchrist manages the Laboratory for Particle Mixing and Self-Organization, where he and his team investigate phenomena ranging from the nano- to macro- scales, typically divided into colloidal and granular systems. Researchers in the lab identify prototypical complex systems for study and develop new experimental, computational, and analytical methods of investigation and analysis. Projects include suspension transport in chaotic flows, suspension rheology and microstructure, convective deposition, suspension dielectrophoresis, and granular dynamics in vibrated systems. Paired with this fundamental research is collaborative development of applications involving novel processes, materials, and devices such as microfluidic- and industrial-scale mixing and separation, light emitting diode and dye sensitized solar cell coating and internal structure fabrication, fabrication of BioMEMS sensor platforms, and dynamic powder density measurement for online process analysis. Much of his work has been performed in particle-laden coatings. The long term goal of this work is to further fundamental understanding of suspensions and granular processes and to devise novel ways of controlling these systems.
Professor Gilchrist received his BS in chemical engineering from Washington University in St. Louis and PhD from Northwestern University. Prior to joining the faculty of Lehigh University in 2004, he was a postdoctoral research associate in the Department of Materials Science and Engineering at the University of Illinois working with Professor Jennifer A. Lewis (currently at Harvard University). He held Lehigh's P.C. Rossin Assistant Professorship from 2007-2010 and the Class of 1961 Associate Professorship from 2013-2015. He received the North American Mixing Forum Young Faculty Award in 2007. Gilchrist was a visiting professor in the Department of Chemical Engineering at the California Institute of Technology for the 2011-2012 academic year, and a Visiting Professorial Fellow at the University of New South Wales in 2016.
---