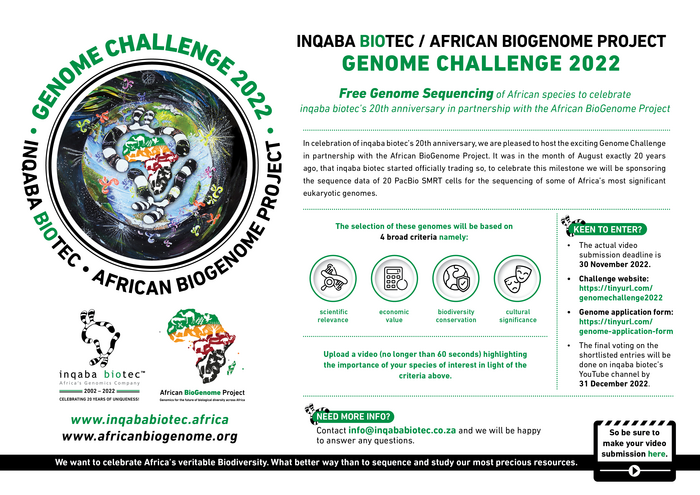 The African BioGenome Project has partnered with Inqaba Biotechnical Industries to organise the Inqaba Biotec / African BioGenome Project Genome Challenge 2022.
"In celebration of inqaba biotec's 20th anniversary, Inqaba will be sponsoring the genome sequence data of 20 PacBio SMRT cells for the sequencing of some of Africa's most significant eukaryotic genomes". This is an estimated 10 genomes to be "sequenced for free".
Deadline to nominate your African endemic species is 30th November, 2022. For further details please see links and poster below as well as attachment above:
2022 Genome Challenge website: https://tinyurl.com/genomechallenge2022
Genome Challenge application form: https://tinyurl.com/genome-application-form
Inqaba biotec will be sponsoring 20 PacBio SMRT cells (to the value of around USD 100 000) to this Genome Challenge which will be dedicated to the sequencing of some of Africa's most significant eukaryotic genomes.
The selection of these genomes will be based on 4 broad criteria namely:
Scientific relevance: In what ways will your genome impact science?
Economic value: Is there potential to develop your project into a marketable product?
Biodiversity conservation: Does this study benefit your countries biodiversity conservation goals?
Cultural significance: What makes this project a cultural priority?
If you have a non-human, eukaryotic species that fits well into one (or several) of the criteria then you are invited to participate by making a video submission of your genome sequencing project. Winning entries will be awarded at least 1 SMRT cell, depending on the genome size of your organism. Deadline for submissions is the 30 November 2022.
A committee of the African BioGenome Project (AfricaBP) will then shortlist applications after their evaluation based on the competition criteria. The shortlisted videos will then be posted on inqaba biotec's YouTube channel for the public vote by the 31 December 2022.
Please note, videos should be in mp4 format, recorded in landscape orientation and not exceed 60 seconds. Follow this link to see an example video.
Please submit your proposal on the following Google form https://tinyurl.com/genome-application-form. If you need more info, please contact us at info@inqababiotec.co.za
---