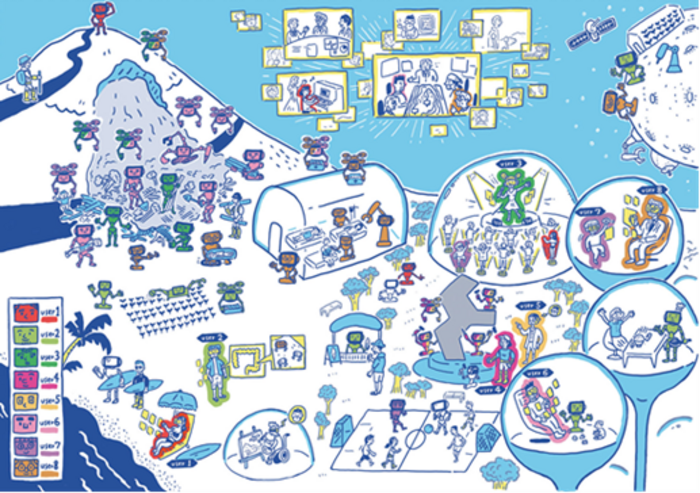 The use of cybernetic avatars(1) (CAs) will allow their operators to take part in social activities without being physically present at a particular location, thereby enhancing the efficiency of business operations. Further productivity increases will be achieved if a single individual operates multiple avatars. For operations that must be carried out by a designated person (e.g., those in which a designated responsible party must provide some explanation), a CA that closely resembles the individual will create the impression that they are on site, allowing work to be carried out remotely. However, a CA closely resembling the operator may be equated with the individual, even when it is operated by a different person or by artificial intelligence. To realize the use of CAs within social activities, problems related to their "identity" must be taken into consideration: that is, whether perceiving the doings of a CA as the same as those of its operator is acceptable. Such problems should be considered not only by specialists engaged in the design of social systems but also by those experienced with using CAs.
As part of the Moonshot Research and Development Program lead by the Cabinet Office and promoted by the Japan Science and Technology Agency, the group lead by Takahiro Miyashita, director of the Interaction Science Laboratory at Advanced Telecommunications Research Institute International (ATR), and Professor Hiroshi Ishiguro of the Osaka University Graduate School of Engineering Science are aiming to create highly hospitable CAs capable of moral discourse and conduct; they will conduct a proof-of-concept test using a government minister's CA to determine the norms for a CA society.
The current project will seek to undertake a proof-of-concept test using the CA of Taro Kono, Minister of Digital Affairs, by the year-end. Using a physical CA, the test will assess whether people feel that the minister is addressing them, whether they are more receptive to what the minister is saying, among other potential effects. Further, a broad range of people will be asked to consider whether it is acceptable to equate the actions of a CA with those of its operator, to aid the determination of new social norms for a CA society.
This initiative is curried out with the cooperation of the Guardian Robot Project, Riken led by a team leader, Dr. Takashi Minato.
(1) Cybernetic Avatar: Cybernetic Avatar is a concept that includes not only remote avatars using robots and 3D images as proxies but also augmentations of physical/cognitive abilities of humans using ICT and robotics. It aims to allow for free action within the cyber-physical environment of Society 5.0. CAs may have various functions and forms that aim to remove the natural limitations of the body, brain, space, and time.
Moonshot Research and Development Program
Moonshot Goal 1: Realization of a society in which human beings can be free from limitations of body, brain, space, and time by 2050.
Program Director (PD): Hagita Norihiro, Chair and Professor, Art Science Department, Osaka University of Arts
The program will utilize a superior level of cyborg- and avatar-related technologies to promote the development of CA technologies that will expand human physical, cognitive, and perceptual abilities, while considering social acceptability. This shall be undertaken in the hope of creating a society wherein humans are liberated from the limitations of body, brain, space, and time, by 2050.
Project: The Realization of an Avatar-Symbiotic Society where Everyone can Perform Active Roles without Constraint
Project Manager: Ishiguro Hiroshi, Professor, Graduate School of Engineering Science, Osaka University
The project will see multiple highly hospitable CAs capable of moral dialogue , which act according to users' reactions while being operated remotely, allowing for participation in a range of daily activities (work, education, healthcare and other everyday activities) without being physically present at a particular location. By the year 2050, lifestyles will have changed markedly in terms of location choice, the use of time, and the expansion of human capacities. Nonetheless, this project will seek to achieve a society wherein people and avatars coexist harmoniously.
---
Method of Research
News article
Subject of Research
Not applicable