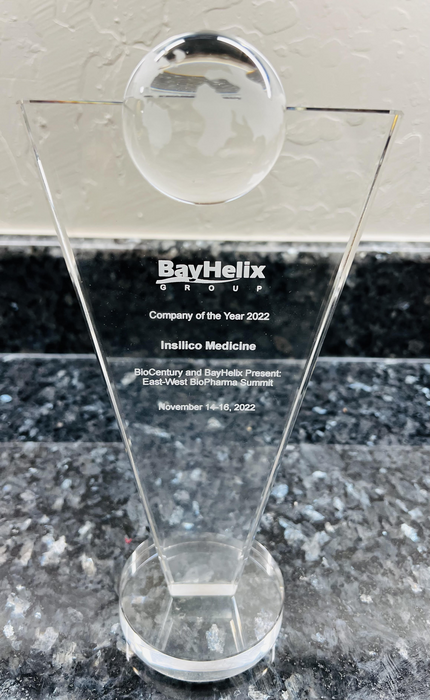 Insilico Medicine was named Company of the Year at the BioCentury-BayHelix East-West Summit on November 15. The clinical stage artificial intelligence (AI)-driven drug discovery company is among over 50 companies presenting at the event in Redwood City, California, which is focused on the globalization of drug discovery and development, as well as cross-border collaborations between the East and West.
Insilico Medicine's Chief Business Officer, Michelle Chen, PhD, received the award on behalf of the company. "Global partnerships are essential to accelerating AI-powered drug discovery," she said. "This year we have done a number of strategic collaboration deals including a recent deal with Sanofi, one with EQRx, and one with Fosun Pharma. As more drug candidates in our pipeline mature, we are looking forward to what the new year will bring in terms of international collaborations." Dr. Chen is presenting at the Biomarker Technologies and AI-Guided Discovery Track and the Biopharma AI Scorecard panel at the BioCentury-BayHelix event.
"Insilico Medicine received multiple awards this year from top industry bodies indicating rapid growth and substantial acceleration in the company R&D," said Alex Zhavoronkov, PhD, founder and CEO of Insilico Medicine. "However, we are especially delighted to be named Company of the Year by BioCentury-BayHelix because Insilico Medicine has participated in many BioCentury events with other companies in our field, and we are the only end-to-end AI drug discovery company to get this award as the industry consolidates around a few rapidly growing players."
While Zhavoronkov leads the company's AI innovation, co-CEO Feng Ren, PhD, who has held leadership roles at GSK and Medicilion, leads the company's drug discovery and development efforts. Insilico Medicine has been expanding both its AI capabilities and internal pipeline through the strength of its end-to-end AI platform for target discovery, drug design, and clinical trial prediction known as Pharma.AI. There are over 30 drugs in Insilico's pipeline, including for cancer, fibrosis, central nervous system diseases, and COVID-19, and its lead AI-discovered and AI-designed drug for idiopathic pulmonary fibrosis is currently in Phase 1 trials.
"We are honored by this recognition and committed to advancing scientific collaboration to bring new therapies to patients in need," said Dr. Ren. "As a truly global company, Insilico Medicine works with partners in AI software, drug discovery, clinical trials, and robotics in regional centers of technical and pharmaceutical expertise around the globe."
About Insilico Medicine
Insilico Medicine, a clinical stage end-to-end artificial intelligence (AI)-driven drug discovery company, is connecting biology, chemistry, and clinical trials analysis using next-generation AI systems. The company has developed AI platforms that utilize deep generative models, reinforcement learning, transformers, and other modern machine learning techniques to discover novel targets and to design novel molecular structures with desired properties. Insilico Medicine is delivering breakthrough solutions to discover and develop innovative drugs for cancer, fibrosis, immunity, central nervous system (CNS) diseases and aging-related diseases. Headquartered in Hong Kong, Insilico Medicine has additional offices in Shanghai, Suzhou, Taipei, New York, Montreal and Abu Dhabi.
For more information, visit www.insilico.com
For media inquiries, please contact media@insilicomedicine.com
For business development, please contact bd@insilicomedicine.com
---