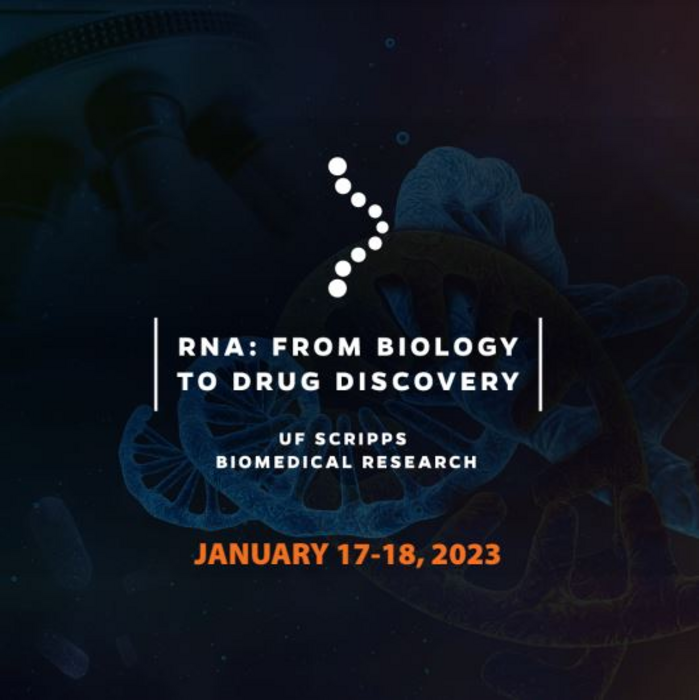 WHAT: Experts in RNA biology and drug design will gather at UF Scripps Biomedical Research for a two-day symposium on the state of the science that is changing preventive medicine and opening once-undruggable diseases to innovation.
Titled "RNA: From Biology to Drug Discovery," the free conference is geared toward students and scientists working or considering careers in the fields of RNA research and drug discovery. Attendees will hear from scientific luminaries who have revealed facets of the biology and structure of RNA, and meet some of the researchers who have engineered compounds that target, bind, edit and degrade disease-associated RNAs. A poster session will feature the work of students and postdoctoral researchers who are producing new, emerging research in the field. Special programming geared to postdoctoral researchers' career development in RNA research is planned as well.
Until recently, most researchers deemed RNA to be undruggable as a disease target. No more. The recent success of mRNA vaccines against COVID-19 have shown that understanding and harnessing the activities of RNA can lead to both preventive and curative therapeutics.
Registration is required. Please visit https://scripps.ufl.edu/departments/chemistry/rnasymposium/.
WHEN: Jan. 17-18, 2023
WHERE: UF Scripps Biomedical Research, 120 Scripps Way, Building B; Jupiter, Florida 33445
WHO: Speakers at "RNA: From Biology to Drug Discovery" include experts in computation and biophysics, protein assembly and treatment of diseases.
The event, sponsored by UF Health, the University of Florida's academic health center, is hosted by three scientists from UF Scripps and one from UF in Gainesville, all known for their advances in RNA biology and drug discovery:
In addition to the hosts, the confirmed speakers of "RNA: From Biology to Drug Discovery" include:
Susan Ackerman, Ph.D.
HHMI Investigator, Stephen W. Kuffler Chair in Biology
Department of Neurobiology
UC San Diego
Howard Chang, M.D., Ph.D.
Virginia and D.K. Ludwig Professor of Cancer Research
Professor of Genetics Dermatology
Stanford University
Rachel Green, Ph.D.
Bloomberg Distinguished Professor of Molecular Biology
Johns Hopkins School of Medicine
Department of Molecular Biology and Genetics
Dan Herschlag, Ph.D.
Professor of Biochemistry and Chemical Engineering
Stanford University
Jeannie Lee, M.D., Ph.D.
Professor of Genetics and Molecular Biology
Massachusetts General Hospital and The Blavatnik Institute
Harvard Medical School
Roy Parker, Ph.D.
Professor, Cech-Leinwand Endowed Chair of Biochemistry
University of Colorado Boulder
Anna Marie Pyle, Ph.D.
Sterling Professor of Molecular, Cellular and Developmental Biology and Chemistry
Investigator, Howard Hughes Medical Institute
Yale School of Medicine
CONTACT: For media questions, contact Stacey DeLoye at s.deloye@ufl.edu or 561-307-3111. For event questions, contact scrps-disneylabadm@mail.ufl.edu.
About UF Scripps Biomedical Research
The scientists of UF Scripps Biomedical Research work at the interface of chemistry and biology, blending leading-edge expertise and resources to illuminate the molecular basis of health and disease. Founded by Scripps Research, one of the world's most innovative nonprofit biomedical research organizations, the Florida institute joined the University of Florida, one of the nation's top 5 public universities, in 2022. Together, UF Health and UF Scripps work to advance science, science education and medicine for the benefit of humanity. Learn more at https://scripps.ufl.edu/.
-30-
---