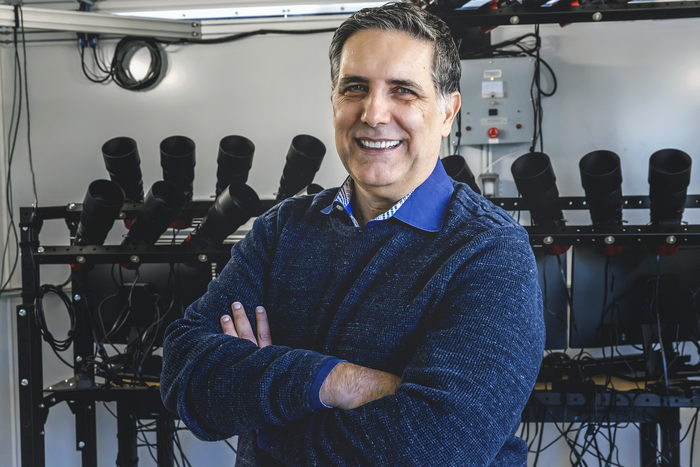 Roberto Furfaro, a University of Arizona professor of systems and industrial engineering, has been awarded $4.5 million to lead the development of improved guidance, navigation and control systems for autonomous vehicles operating at hypersonic speeds. The three-year proposed research is sponsored by the Joint Hypersonic Transition Office through the University Consortium for Applied Hypersonics (UCAH).
Hypersonic speed – of Mach 5 or higher – is speed that exceeds five times the speed of sound. As the United States works to develop hypersonic technologies, research in the field has never been more important.
"Many conventional systems are designed using linear theory, and are not designed to fly or intercept at that speed," Furfaro said. "There are a lot of things happening in hypersonic flow that are so nonlinear that they are not fully understood, and that we need to characterize if we want to design systems that work under these conditions."
Consider how, when a car is moving at 80 mph, a one-second delay in the driver's decision making can have catastrophic results. Hypersonic vehicles, which travel thousands of miles per hour and face additional factors such as shockwaves and extreme heat, have even less room for error.
UArizona is home to the Arizona Research Center for Hypersonics, where researchers conduct simulations and wind tunnel tests to learn more about how vehicles behave in extreme environments. The artificial intelligence-powered guidance, control and navigation methods Furfaro and his team develop will act as the "brain" of hypersonic vehicles – including interceptors, which are high-speed, maneuverable vehicles designed for defense against enemy aircraft.
"This investment is a major win for our burgeoning hypersonic research program," said David W. Hahn, the Craig M. Berge Dean of the College of Engineering. "Roberto has a broad range of expertise in areas including space flight mechanics and machine learning, making him and his team exceptionally well qualified to lead this effort."
To train hypersonic systems to navigate and react to extremely complex, high-speed situations on their own, the team is using a type of machine learning called meta-reinforcement learning.
"With meta learning, we can train it not only on one scenario, but on many scenarios," Furfaro said. "The system is able to learn over a distribution environment, and every time it converges faster to the next one. By enabling this continuous learning, we are basically able to have a system that continually adapts."
A strong team builds a test environment
UArizona alumnus Brian Gaudet, research engineer in the university's Space Systems Engineering Laboratory, is playing a critical role in developing and implementing the AI system. Other collaborators and co-investigators include aerospace and mechanical engineering professor Samy Missoum, who is working on Department of Defense-funded work to characterize hypersonic environments; and materials science and engineering professor Erica Corral, who serves as the co-director of industrial and national lab engagement and workforce development for UCAH's Consortium Engagement Board.
Furfaro will also work with aerospace and mechanical engineering faculty members Alex Craig and Jesse Little, who work in experimental aerodynamics, and Kyle Hanquist, an assistant professor in the same department who specializes in computational fluid dynamics. Other collaborators are at the University of Texas at Austin and Raytheon Missiles and Defense.
"The University of Arizona has a nationally prominent hypersonics research program, which received $10 million in federal and state support in 2021 to enhance our research facilities," said University of Arizona President Robert C. Robbins. "Many of the field's top experts agree that artificial intelligence will play an increasingly important role in the advancement of the field, and Professor Furfaro's receipt of this highly competitive grant will bring together many areas of expertise to advance this critical area."
The researchers will use this data – gathered from simulations and wind tunnel tests about how vehicles behave in hypersonic flow – to characterize and create a simulated environment for training the adaptive brain of the system.
"We're incredibly supportive of the University of Arizona's work in developing hypersonic technologies and talent," said Wes Kremer, president of Raytheon Missiles & Defense. "The advancements Professor Furfaro and his team will make to guidance, navigation and control systems will directly impact our nation's ability to develop advanced hypersonic capabilities."
---