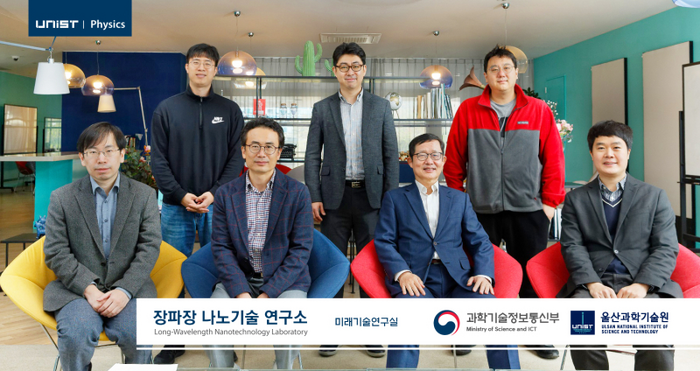 UNIST has announced that its Long-Wavelength Nanotechnology Laboratory has been selected for the Nano·Material Technology Development Program, which is held by the Ministry of Science and ICT (MSIT) and the National Research Foundation of Korea (NRF). With this selection, the center will receive 4.75 billion won in support under the theme of 'New materials and nanotechnology for high-speed, high-sensitivity infrared sensors.'
Organized by MSIT, the 'Nano·Material Technology Development Program' has been designed to solve technological challenges through the implementation of global-level emerging technologies that will drive the creation of new markets and industries for the long and intermediate-term. Organized by NRF, the 'Future Technology Support Program' is worth about 730 billion won. In the second half of 2022, a total of 9 projects have been selected, thereby securing 4.75 billion won in funding over the next five years. This includes five in the materials and parts sector and four in the nano-semiconductor sector.
The center will be participated by 7 professors in related disciplines. This includes Distinguished Professor Daeshig Ghim, Professor Hyeong-Ryeol Park, Professor Seon Namgung, Professor Changhee Sohn, Professor Kunook Chung, Professor Young Chul Jun, and Professor Jongwon Lee.
The Long-Wavelength Nanotechnology Laboratory boasts world-class research capabilities in various fields, such as new materials and infrared spectroscopy. Through this project, it will secure domestic original technology for infrared sensors, which are expected to increase demand.
Meanwhile, the center has cooperative relationships with various companies and institutions. As a participating company, i3system, which has the best ROIC-based uncooled infrared detector and manufacturing technology thereof, is a joint research institute with Professor Jun-Bo Yoon from KAIST, who has world expertise in MEMS process and structure design. In addition, it has also established an R&D consortium with Professor Jongduk Baek and Professor Hyungjin Kim from Yonsei University, which boasts synthesis technique of carbon nanotubes and the next-generation of 2D semiconductor materials on MEMS structure.
---