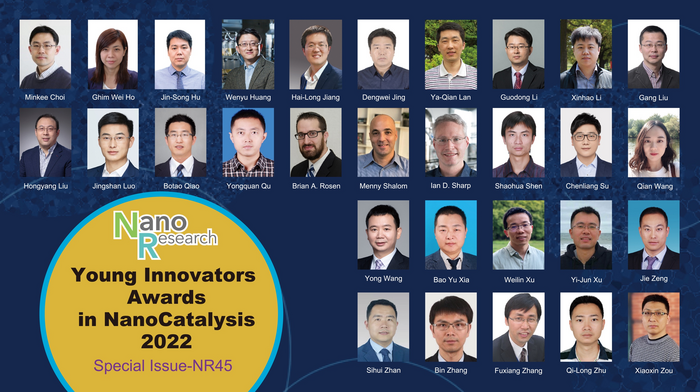 On December 5, 2022, Nano Research announced awardees of the 2022 Nano Research Young Innovators (NR45) Awards in nanocatalysis. Thirty outstanding young investigators under the age of 45 were selected for their extraordinary contributions to the development of well-designed metals, metal oxides, single-atoms, and carbon-based nanocatalysts for important catalytic reactions related to energy applications. They were selected through a competitive process by an award committee from Nano Research's editorial board. Congratulations to all the 30 awardees in 2022!
The NR45 Awards aims to recognize young researchers under the age of 45 for their distinguished accomplishments and/or their great potential to make substantial contributions in various fields of nanoscience and nanotechnology. Since the inaugural NR45 Awards launched in 2018, 154 innovators in nanobiotechnology, nanoenergy, two-dimensional materials, and nanocatalysis have been selected by the journal's editorial board.
The 2022 NR45 Awards highlight the research topic of nanocatalysis. All the awardees were invited to submit research or review papers that underwent through a rigorous peer-review process. Nano Research has published a Special Issue featuring their work in Volume 15, Issue 12, 2022. In this special issue, 15 research articles and 15 review articles have been released at the journal home: https://www.sciopen.com/journal/join_journal/stage_page?stage=5&id=1400285564990251009&issn=1998-0124.
Since young scientists are generally more active, energetic, and innovative, Nano Research attaches great importance to the wonderful work from young scientists. The editorial office would quickly review young scientists' papers and provide convenient academic services for them. Nano Research will announce the selection details of the next NR45 Awards in the end of this year. All researchers in this community would be welcome to nominate outstanding young innovators in various fields for the NR45 awards in the upcoming years. See you in 2023!
##
About Nano Research
Nano Research is a peer-reviewed, international and interdisciplinary research journal, publishes all aspects of nano science and technology, featured in rapid review and fast publishing, sponsored by Tsinghua University and the Chinese Chemical Society. It offers readers an attractive mix of authoritative and comprehensive reviews and original cutting-edge research papers. After 15 years of development, it has become one of the most influential academic journals in the nano field. In 2022 InCites Journal Citation Reports, Nano Research has an Impact Factor of 10.269 (9.136, 5 years), the total cites reached 29620, ranking first in China's international academic journals, and the number of highly cited papers reached 120, ranked among the top 2.8% of over 9000 academic journals.
About Tsinghua University Press
Established in 1980, belonging to Tsinghua University, Tsinghua University Press (TUP) is a leading comprehensive higher education and professional publisher in China. Committed to building a top-level global cultural brand, after 41 years of development, TUP has established an outstanding managerial system and enterprise structure, and delivered multimedia and multi-dimensional publications covering books, audio, video, electronic products, journals and digital publications. In addition, TUP actively carries out its strategic transformation from educational publishing to content development and service for teaching & learning and was named First-class National Publisher for achieving remarkable results.
---