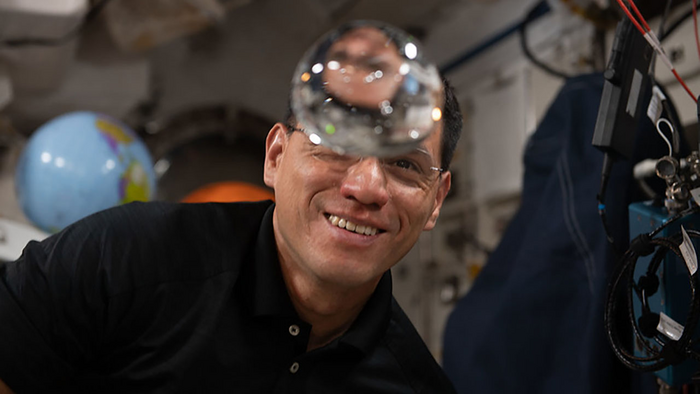 KENNEDY SPACE CENTER (FL), December 7, 2022 – For the eighth year, the Center for the Advancement of Science in Space, Inc. (CASIS) and U.S. National Science Foundation (NSF) have partnered to solicit transport phenomena and fluid dynamics research leveraging the International Space Station (ISS) National Laboratory.
NSF will provide up to $3.6 million for multiple projects to utilize the space station's research facilities for fundamental research in the areas of fluid dynamics, particular and multiphase processes, thermal transport, combustion and fire systems, and nanoscale interactions.
Some forces that affect the behavior of fluids on Earth are absent in microgravity, so the sustained microgravity environment onboard the ISS provides benefits for several areas of study. Responsive proposals will describe how the proposed research will utilize the unique conditions available on the ISS to advance fundamental and translational research to benefit life on Earth.
A physical science investigation funded through a past NSF/CASIS joint solicitation launched to the space station on a recent resupply mission. Researchers from the University of California San Diego seek to better predict, and possibly prevent, catastrophic mudslides after wildfires by studying how burned soil reacts with air and water in microgravity. This fluid dynamics investigation was designed to gather data and create a baseline of material behaviors that could lead to breakthroughs in stabilizing soil after wildfires. Results from this research could help to better protect life and property in the communities where wildfires happen.
Fundamental science is a strategic focus area for the ISS National Lab, and knowledge gained from such research leads to advances that bring value to our nation and further informs the scientific community. Through this partnership, the ISS National Lab will facilitate hardware implementation and in-orbit access to the ISS, and NSF will fund the selected projects to further fundamental science in the areas of transport phenomena and fluid dynamics.
Prior to submitting a full proposal to NSF for this solicitation, all interested investigators must submit an ISS National Lab Feasibility Review Form. The information provided in this form is used to evaluate the operational feasibility of the proposed research to be conducted onboard the ISS.
The deadline to submit a Feasibility Review Form is January 12, 2023. Only investigators whose concept passes this Feasibility Review will be invited to submit a full proposal. NSF will close this solicitation on March 6, 2023.
For more information on this solicitation, including how to submit a Feasibility Review Form, visit the ISS National Lab solicitation webpage. To visit the full solicitation, please visit the NSF solicitation page.
To learn more about previous ISS National Lab and NSF research collaborations and additional opportunities to leverage the space station, please visit www.ISSNationalLab.org.
---