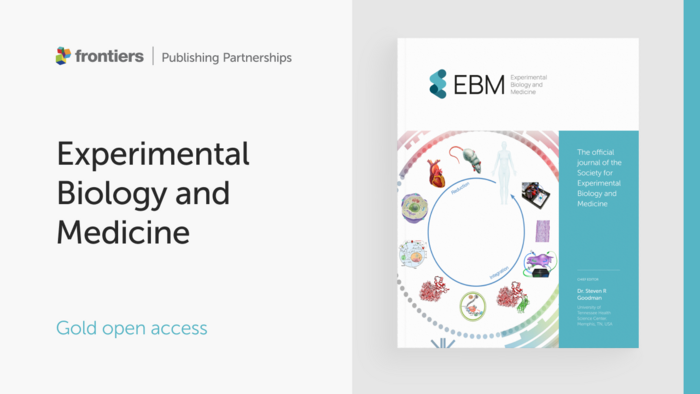 Gold open access publisher Frontiers is pleased to announce that the journal Experimental Biology and Medicine (EBM), currently published by SAGE, will be transferring to Frontiers. The transition is thanks to a newly signed agreement with the Society for Experimental Biology and Medicine (SEBM).
The partnership, finalized in October 2022, represents a major step forward for open access publishing in the field of experimental biology and medicine. Previously published under a hybrid model, EBM will open for submissions on Frontiers' fully open access platform in late 2023. The first papers are expected to be published in early 2024. The partnership is an important addition to Frontiers' growing community of society partners in North America, which also includes the Canadian Society for Pharmaceutical Sciences, the Dystonia Medical Research Foundation, and the International Drug Abuse Research Society.
Commenting on the agreement, EBM's Editor-in-Chief Dr. Steven Goodman said: 'Moving EBM to a fully open access model is a significant step that will enable us to better support our global community of researchers. We look forward to working with Frontiers to build on EBM's long history of success.'
SEBM was founded in 1903 and is a not-for-profit society which promotes investigation in the biomedical sciences. The peer reviewed journal EBM is core to the society's mission to encourage and facilitate the exchange of scientific information between disciplines. The society, which has over 1,600 members, also supports regional and national conferences and works to foster career development of students and early career investigators.
Robyn Mugridge, Head of Publishing Partnerships at Frontiers, commented: 'We are delighted to be partnering with SEBM to transition EBM to a fully open access model and contribute to the growing commitment to open access publishing in the field of experimental biology.'
ENDS
---
Method of Research
News article
Subject of Research
Not applicable