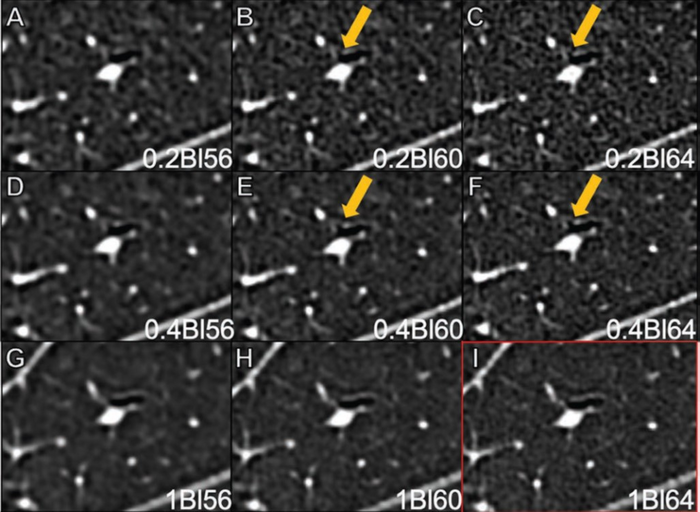 Leesburg, VA, December 8, 2022—An accepted manuscript published in ARRS' American Journal of Roentgenology (AJR) guides optimization of clinical protocols when implementing ultra-high-resolution photon-counting detector (UHR PCD) CT of the lungs, providing insights on the association of reconstruction kernel and slice thickness with image quality.
Evaluating the impact of kernel and slice thickness on image quality of UHR PCD CT of the lungs using a 1024x1024 matrix, "the sharpest evaluated kernel, BI64, was the optimal kernel, consistent with the current clinical-reference technique," wrote corresponding author Helmut Prosch from the department of biomedical imaging and image-guided therapy at the Medical University of Vienna in Austria.
In this AJR accepted manuscript, 29 patients (17 women, 12 men; median age, 56 years) underwent noncontrast chest CT using a first-generation PCD scanner (NAEOTOM Alpha, Siemens Healthineers, Forchheim, Germany) from February 15 to March 15, 2022. All acquisitions used UHR mode. Nine image sets were reconstructed for all combinations of three sharp kernels (BI56, BI60, BI64) and three slice thicknesses (0.2, 0.4, 1.0 mm). Three radiologists independently reviewed reconstructions for measures of visualization of pulmonary anatomic structures and pathologies using clinical-reference: BI641.0-mm
Ultimately, when performing PCD CT of the lungs in UHR mode, reconstruction using BI64 kernel and 0.4-mm slice thickness was the only assessed reconstruction to yield improved bronchial division identification and bronchial wall and pulmonary fissure sharpness, without loss in pulmonary vessel sharpness or conspicuity of nodules or other pathologies.
In comparison, a 0.2-mm slice thickness—the thinnest reconstruction possible—was "associated with decreased visualization of various anatomic and pathologic findings," the authors of this AJR accepted manuscript added.
An electronic supplement to this AJR accepted manuscript is available here.
---
North America's first radiological society, the American Roentgen Ray Society (ARRS) remains dedicated to the advancement of medicine through the profession of medical imaging and its allied sciences. An international forum for progress in radiology since the discovery of the x-ray, ARRS maintains its mission of improving health through a community committed to advancing knowledge and skills with the world's longest continuously published radiology journal—American Journal of Roentgenology—the ARRS Annual Meeting, InPractice magazine, topical symposia, myriad multimedia educational materials, as well as awarding scholarships via The Roentgen Fund®.
MEDIA CONTACT:
Logan K. Young, PIO
44211 Slatestone Court
Leesburg, VA 20176
703-858-4332
---
Journal
American Journal of Roentgenology
Method of Research
Imaging analysis
Subject of Research
People
Article Title
Ultra-High-Resolution Photon-Counting Detector CT of the Lungs: Association of Reconstruction Kernel and Slice Thickness With Image Quality
Article Publication Date
8-Dec-2022