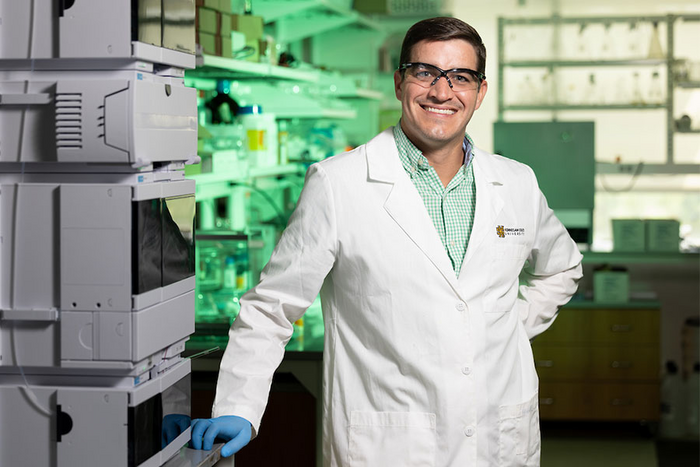 By discovering a process that could simplify the manufacturing of advanced materials used in consumer electronics, Kennesaw State University assistant professor of chemistry Graham Collier has earned a nearly $400,000 grant from the National Science Foundation (NSF) to expand his research.
Synthetic polymers are used to make electronics and other technological tools, so there is a demand for research into streamlining the synthesis of polymeric materials, which Collier said can require around 20 steps and taxes natural resources, such as petroleum and water.
Shortly after Collier arrived at Kennesaw State in 2020 his research uncovered a chemical building block that simplifies the polymer synthesis process. That building block, called pyrrolopyrrole, is made under ambient conditions and does not require tedious purifications.
"The hypothesis was that we could exploit this simple process to more easily create polymers," Collier said.
According to Collier, the future for the research could involve collaboration with manufacturers and engineers seeking quicker and more sustainable processes for producing electronics. The broad technological applications for polymers make the research relevant beyond the laboratory.
"You don't need a Ph.D. to come into my lab and make the materials that we work with," Collier said. "If you think about the screens for your phones, your smart watches, and your e-readers like a Kindle or a Nook, these polymers are everywhere."
The three-year grant also includes a component for engaging undergraduate and graduate researchers in the work, particularly those from underrepresented communities.
"The work my undergraduates are doing for their own projects directly contributes to this research under the NSF grant," Collier said. "Those students are adding an important dimension, too, and that's going in a direction of recyclability and sustainability of our polymers. It's pretty exciting."
The research project will benefit not only manufacturers and consumers, but Kennesaw State students, as well.
"With this award, our lab can contribute to KSU's mission of becoming a top-tier research university," he said. "I can buy supplies for students and pay students to do summer research, which allows me to impact a lot of people over the next three years. That's ultimately going to help shape the future of KSU."
---