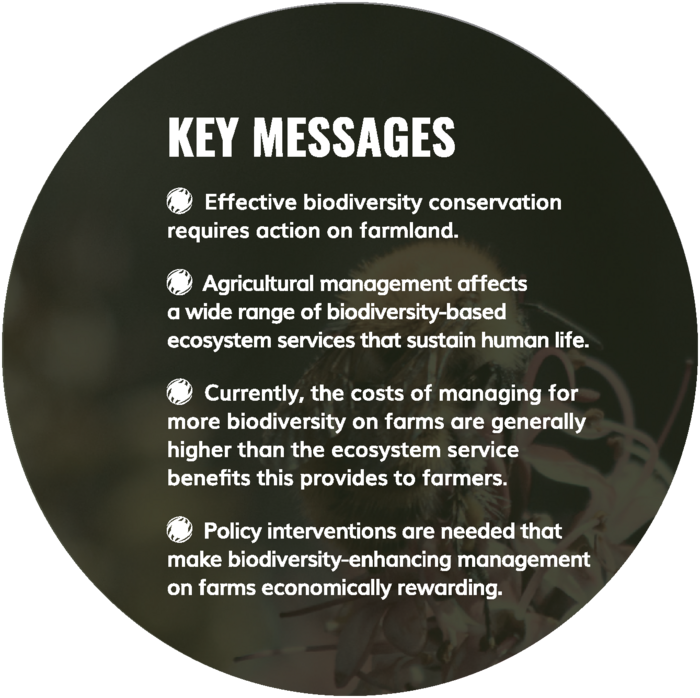 SHOWCASE's first policy brief will be distributed at a side event of the 15th meeting of the Conference of the Parties to the UN Convention on Biological Diversity (COP15). The side event – titled "Pollinator protection: strengthening policies, knowledge exchange and engagement" – will take place on 10 December, Saturday, and will discuss a number of topics, among which agricultural biodiversity.
With mounting evidence of the negative impacts of modern agriculture on biodiversity, an increasing number of countries are taking steps to induce farmers to enhance biodiversity on their lands. However, recent studies conducted by participants of the H2020 research project SHOWCASE indicate that "the costs of managing for more biodiversity on farms are generally higher than the ecosystem service benefits this provides to farmers."
In an attempt to improve the status quo, SHOWCASE issued its first policy brief providing policymakers with concrete research-based recommendations on how "Bending the curve of biodiversity loss requires rewarding farmers economically for conservation management". Created under the leadership of project coordinator Prof. David Kleijn with the valuable input of several SHOWCASE partners, the policy brief identifies five specific actions policymakers can take to trigger an uptake of nature-positive farming systems that reinforce biodiversity. For example, to support agricultural products issued from biodiversity-enhancing farming systems with subsidies going beyond compensating the loss of income.
"Currently, world trade regulations force farmers to produce at the lowest costs. Society should acknowledge that we cannot expect farmers to manage their land in a more biodiversity-friendly way if they bear most of the costs but society reaps most of the benefits such as more wildlife, clean water and reduced greenhouse gas emissions. If we want to change the way they farm, we should make it economically interesting for them."

– Prof. David Kleijn, coordinator of the SHOWCASE project
Read the full policy brief here.
.
#################################
This project receives funding from the European Union's Horizon 2020 research and innovation programme under grant agreement No 862480.
Views and opinions expressed are those of the author(s) only and do not necessarily reflect those of the European Union or the European Commission. Neither the EU nor the EC can be held responsible for them.
---