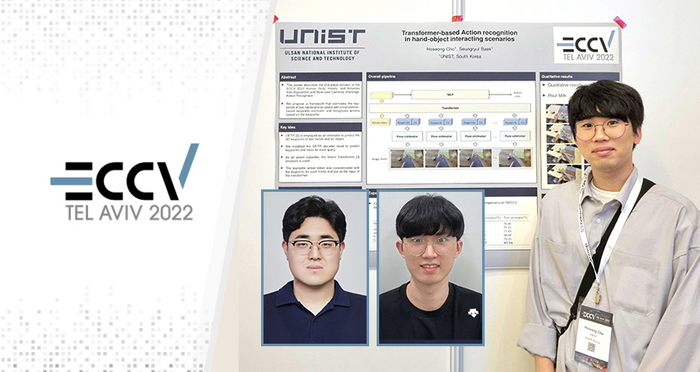 A research team, led by Professor Seungryul Baek in the UNIST Artificial Intelligence Graduate School has announced that they attained excellent results from the Human Body, Hands, and Activities from Egocentric and Multi-view Cameras (HBHA) workshop, which took place at the 2022 European Conference on Computer Vision (ECCV).
The HBHA workshop is an event that brings together computer vision researchers and software engineers from across the globe where they compete against one another based on their performance. In the competition, which consists of four challenges, the success of related application programs for 3D human pose and shape estimation in the presence of egocentric and multi-view cameras have been evaluated.
In this competition, Professor Baek and his team attracted considerable attention for winning a total of two ECCV 2022 challenges, including the 'Hand Pose Estimation' and 'Action Recognition.'
The first challenge was about hand pose estimation from an egocentric (or first-person) perspective,. In this challenge, the research team aimed to estimate global 3D hand poses from the input image where two hands and an object are interacting on the egocentric viewpoint. "The proposed algorithm works well even when the hand sizes are various for each person," noted the research team.
The second challenge was about action recognition, which aims to recognize hand-object interaction in an egocentric (or first-person) perspective. Professor Baek's team was awarded the second prize for proposing a framework that estimates keypoints of two hands and an object with a Transformer-based keypoint estimator and recognizes actions based on the estimated keypoints. As a result, they achieved a top-1 accuracy of 87.19% on the testset.
"Human behavior and hand gesture recognition are fast-growing field and will continue to grow," says Professor Baek. "Our laboratory presents a technology that has been recognized for its competitiveness both at home and abroad." He adds, "We will continue to work on R&D and display continuous good performance."
Meanwhile, ECCV is globally known as one of the three highest-ranking peer-reviewed venues in computer vision, and is held biennially. It serves as a place where researchers from all over the world gather to share research results and information and discuss future computer vision industries and technologies.
At the workshop, about 6,000 papers were introduced in the following fields of 'movement and motion recognition', 'body and pose', 'dataset and evaluation', 'movement tracking', and 'neurogenesis model.'
---