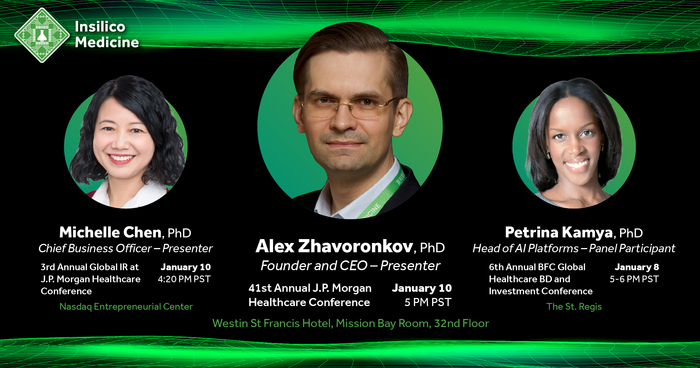 Alex Zhavoronkov, PhD, founder and CEO of Insilico Medicine ("Insilico"), a clinical stage end-to-end artificial intelligence (AI)-driven drug discovery company, will reveal major company milestones and updates when he presents at the 41st Annual J.P. Morgan Healthcare Meeting on Tuesday, January 10, 2023, 5pm PT on the 32nd floor of the Westin St. Francis Hotel.
While saving details for the talk, Zhavoronkov hints that he plans to unveil news related to the Company's lead AI-discovered and AI-designed drug for idiopathic pulmonary fibrosis, the first such drug to reach Phase 1 clinical trials. The Company has an additional 30 drugs in its internal pipeline available for partnering and licensing, for indications including cancer, fibrosis, immunology, and COVID-19.
Additionally, Insilico Medicine Chief Business Officer Michelle Chen, PhD, will present at the 3rd annual Global IR @ JPM on Jan. 10, 2023, 4-6pm at the Nasdaq Entrepreneurial Center in San Francisco. Insilico Medicine Head of AI Platforms, Petrina Kamya, PhD, will participate in a panel at the 6th Annual BFC Global Healthcare BD and Investment Conference on Sunday, January 8, 2023, 5-6pm at The St. Regis in San Francisco.
At last year's J.P. Morgan conference, Insilico announced a partnership with Fosun Pharma, and soon after the Company nominated a preclinical candidate for Fosun's QPCTL program and initiated IND-enabling studies. In November 2022, Insilico signed its largest partnership deal to date, a strategic research collaboration with Sanofi worth up to $1.2B.
In addition to updates on its lead candidate, Zhavoronkov will share news about the Company's AI-powered fully autonomous robotics lab which is scheduled to open soon and will further strengthen its Pharma.AI platform with validating experiments and data.
Founded in 2014, Insilico Medicine has raised over $400m in funding to date from notable biotech and tech investors and has won numerous awards, including, in 2022, the BioCentury-BayHelix Company of the Year award and Top 100 AI Companies by CB Insights.
About Insilico Medicine
Insilico Medicine, a clinical stage end-to-end artificial intelligence (AI)-driven drug discovery company, is connecting biology, chemistry, and clinical trials analysis using next-generation AI systems. The company has developed AI platforms that utilize deep generative models, reinforcement learning, transformers, and other modern machine learning techniques to discover novel targets and to design novel molecular structures with desired properties. Insilico Medicine is delivering breakthrough solutions to discover and develop innovative drugs for cancer, fibrosis, immunity, central nervous system diseases and aging-related diseases. Headquartered in Hong Kong, Insilico Medicine has additional offices in New York, Montreal, Shanghai, Suzhou, Taipei, and Abu Dhabi. www.insilico.com
For media inquiries, please contact media@insilicomedicine.com
For business development, please contact bd@insilicomedicine.com
---