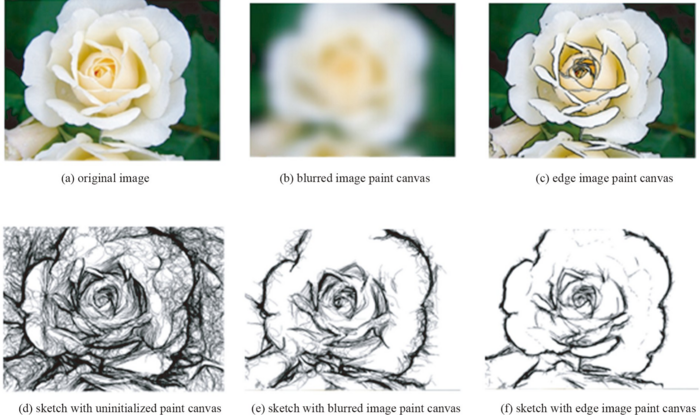 Artists create gesture drawings using fluid and rapid hand motions that generate loose and roughly drawn lines to capture the feeling of a subject. Layers of lines are built, progressively refining the appearance of the subject. This layering technique produces errant lines and overdrawn regions that are embellished at the expense of a clean depiction. Simple shading is often added to enhance the feelings or emotions created by the subject.
A style transfer is a state-of-the-art method for non-photorealistic rendering. Such an approach uses deep learning and neural networks to apply the style of one image to another image. Other methods for producing sketches and drawings focus on contours and consider stylistic features such as overdrawing after drawing the initial sketch, and thus the final sketches often appear clean and rigid. Gesture drawings tend to be loose, fluid, and rough, with an overdrawn appearance, as opposed to being clean and rigid.
In this paper, a 2D gesture drawing algorithm was presented that renders the contours, silhouettes, and textures similar to existing 2D and 3D algorithms but produces rough, loose, and fluid sketches with an overdrawn appearance. This algorithm can also be used to reproduce tones with rough-hatched strokes. A variety of painterly renderer parameters, such as the stroke length and curvature, provide additional stylistic control and flexibility without requiring artistic brushes or postprocessing methods. Artistic flexibility is also gained by pre-initializing the paint canvas, enabling the algorithm to produce pen-and-ink and colored pencil sketches. This work can be extended by identifying and clearly defining sets of parameters deemed favorable through a field study. Other studies can focus on extending the algorithm to non-sketching media, such as conte, pastel, silhouetting, and halftoning. This algorithm is also limited by its non-interactivity. In particular, the user may wish to modify individual brush strokes during the painting stage (i.e., between the generations of each layer) or just before mapping to the sketch lines. The user may also wish to modify the input parameters between layers (e.g., image flow, tau, and error map). These remain as potential subjects of future research.
---
Journal
Virtual Reality & Intelligent Hardware
Article Title
A Simple, Stroke-Based Method for Gesture Drawing
Article Publication Date
2-Nov-2022