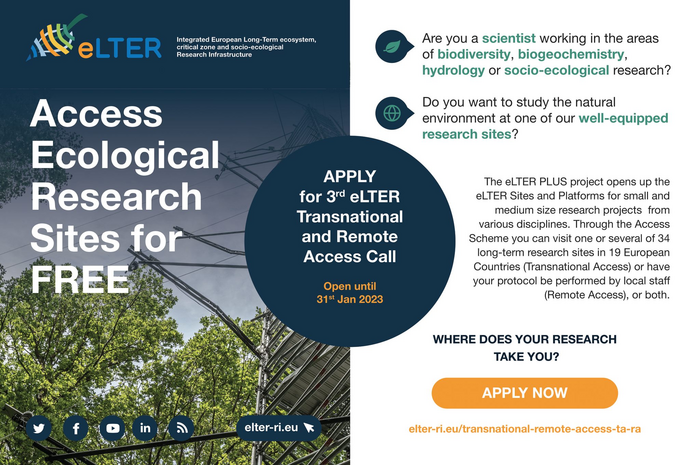 eLTER has launched its latest call for funded Transnational Access (TA) and Remote Access (RA) for scientists working in the areas of biodiversity, biogeochemistry, hydrology or socio-ecological research. So far, we have granted €400k to over 60 scientists. You could be next!
All 34 sites in 19 countries are equipped with state-of-the-art instrumentation to enable comprehensive ecological measurement and experimental campaigns. Long-term data on these sites is available for comparison with other data or used as a reference. Likewise, state-of-the-art socio-economic research is conducted at several of them. IT facilities are provided for data upload, storage and processing. Financial support is available.
The sites, which were selected to represent all European biogeographic zones, are described on the eLTER website and in the eLTER Site Catalogue.
Deadline for Submissions: 31 January 2023.
Evaluation and notification of outcome: 31 March 2023.
eLTER responds to the challenge of understanding the complex interactions between people and nature over the long term. eLTER catalyzes scientific discovery and insights through its state-of-the-art research infrastructure, collaborative working culture, and transdisciplinary expertise. This enables the development and application of evidence-based solutions for the wellbeing of current and future generations.
The pan-European, in-situ research infrastructure will serve multiple scientific communities with high-level central facilities and distributed, well-instrumented eLTER Sites and socio-ecological eLTSER Platforms (henceforth called eLTER facilities). Optimized overall operation will coordinate between the central and national components, and facilitate their integration under one coherent and sustainable RI. Continent-wide, novel data services and products will result from combining harmonized standard observations at the sites with information from a wide range of other sources.

This project has received funding from the European Union's Horizon 2020 research and innovation programme under grant agreement No 871126 (eLTER PPP) and No 871128 (eLTER PLUS).
---