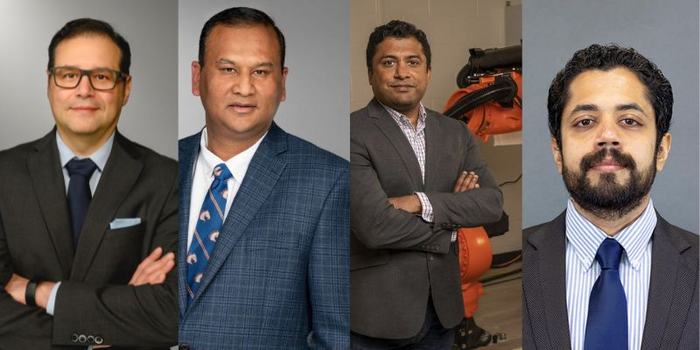 Four faculty members in the Mechanical and Aerospace Engineering Department at The University of Texas at Arlington have earned Defense University Research Instrumentation Program (DURIP) grants totaling nearly $3 million from the Office of Naval Research (ONR) and the Air Force Office of Scientific Research.
The researchers will use the funding to examine battlefield brain injuries, develop customized instrumentation to replicate microscale manufacturing conditions and increase the power supply to UTA's arc-jet-heated hypersonic wind tunnel, which is used in research on counter-hypersonic laser technology. DURIP grants are intended to improve the capabilities of accredited U.S. institutions of higher education to conduct research and to educate scientists and engineers in areas important to national defense by providing funds for the acquisition of equipment or instrumentation.
"For a university to earn three DURIP awards in the same cycle is noteworthy, but to have three awards in the same department is exceptional," said Erian Armanios, chair of the Mechanical and Aerospace Engineering Department. "These grants are integral to our ability to innovate while maintaining our leadership on leading-edge research in the field."
Luca Maddalena, professor of aerospace engineering and director of the Aerodynamics Research Center, and Vijay Gopal, assistant professor of aerospace engineering, received $1.5 million—the maximum amount allowed—from ONR. The funds are intended for new equipment that will nearly double the hypersonic wind tunnel's capability, which will allow researchers to replicate the higher velocities and steeper trajectories of hypersonic vehicles.
"We are grateful to the Navy for continuing to invest in our facility," Maddalena said. "This upgrade will impact multiple projects across the Aerodynamics Research Center and makes us even more remarkable in our ability to perform hypersonics research that mimics the trajectory profile and environmental conditions of actual vehicles."
Ashfaq Adnan, professor of mechanical engineering, received $1 million from ONR to build a system to collect data connected to rapid acceleration and deceleration of the head, then mimic it in a laboratory setting to determine effects on the brain. Examples of these rapid acceleration and deceleration events include a speedboat traveling at high speed through waves, blows suffered during contact sports and shockwave injuries on the battlefield.
"We will build a system to collect on-field data remotely and then mimic the events in our lab to determine the risk of injury in specific environments," Adnan said. "Brain injuries in sports or due to blast exposure can be broken down to rapid head motion, so this system will allow us to understand the injury risk and design advanced materials to mitigate that risk."
Paul Davidson, assistant professor of mechanical engineering, earned a grant from the Air Force Office of Scientific Research to develop custom-designed instrumentation that combines non-destructive chemical analysis techniques with optical microscopy and mechanical loading. The unique instrument will enable him to study materials under load, pressure, temperature and chemical changes and replicate manufacturing conditions experienced by materials at the micro-scale.
"This tells us how much stress is built up while manufacturing the material to predict when it might fail and how it will perform when used in actual structures," Davidson said. "We will use this data to create computational models to design new materials and combine disparate materials to predict their properties."
Written by Jeremy Agor, College of Engineering
---